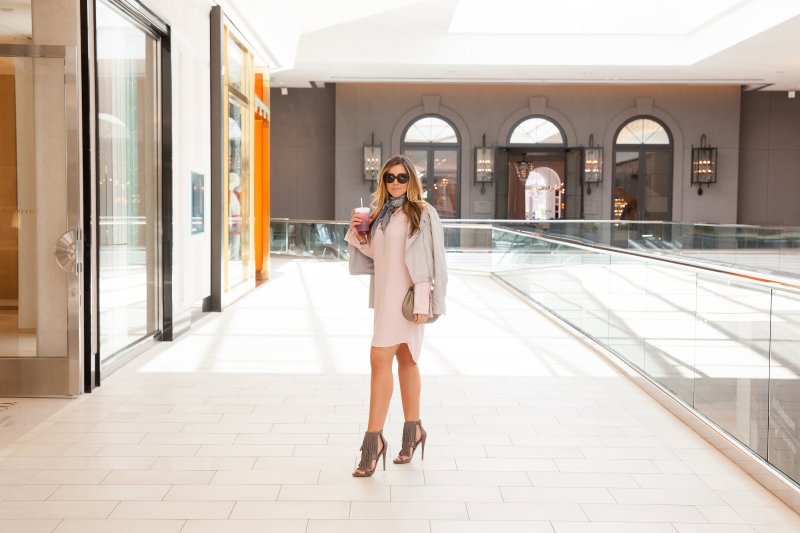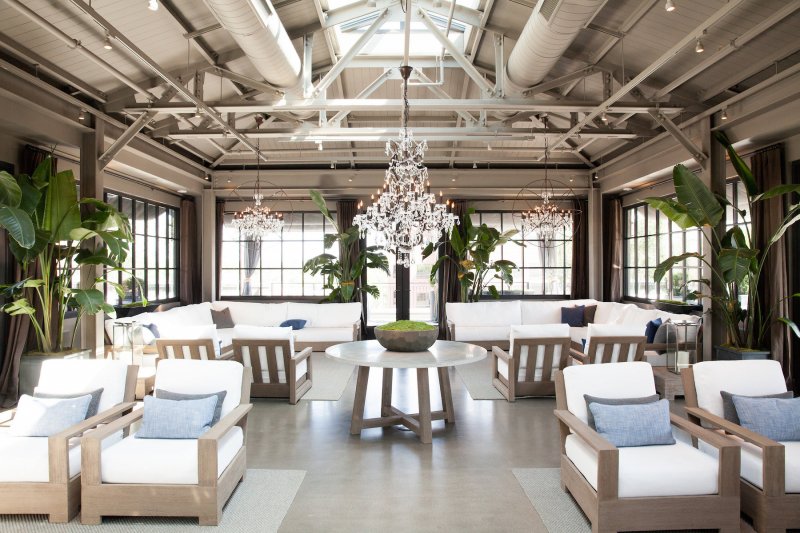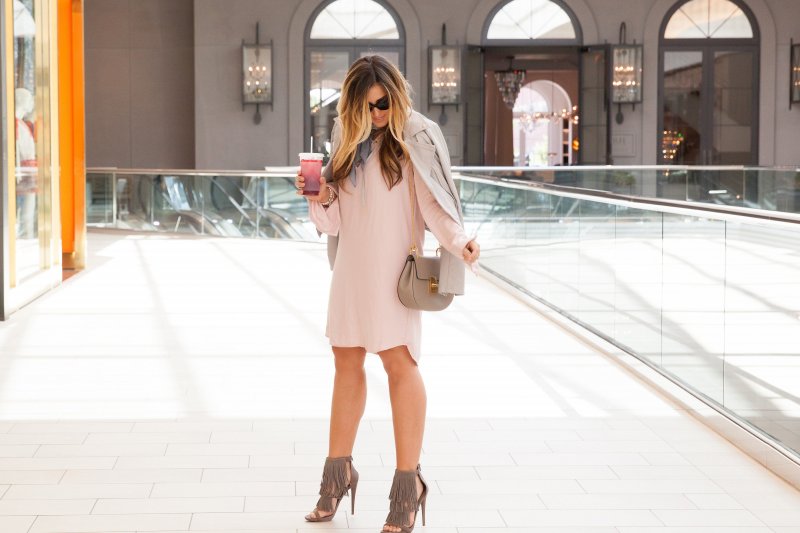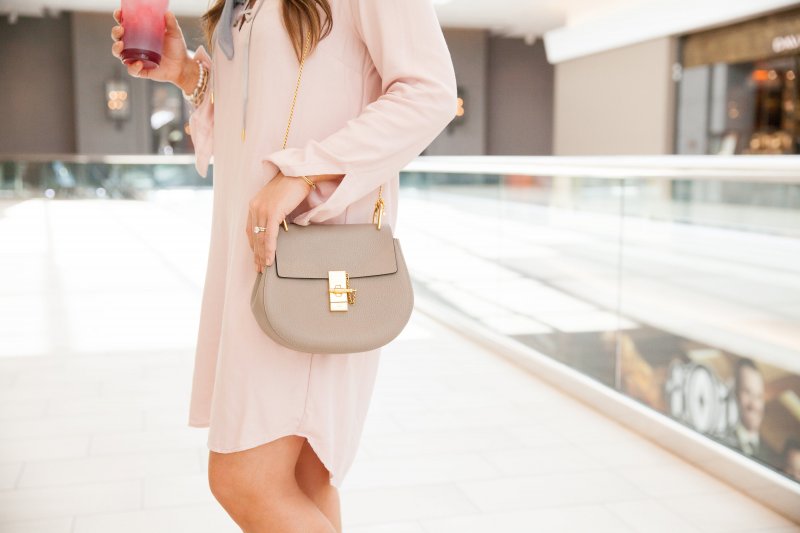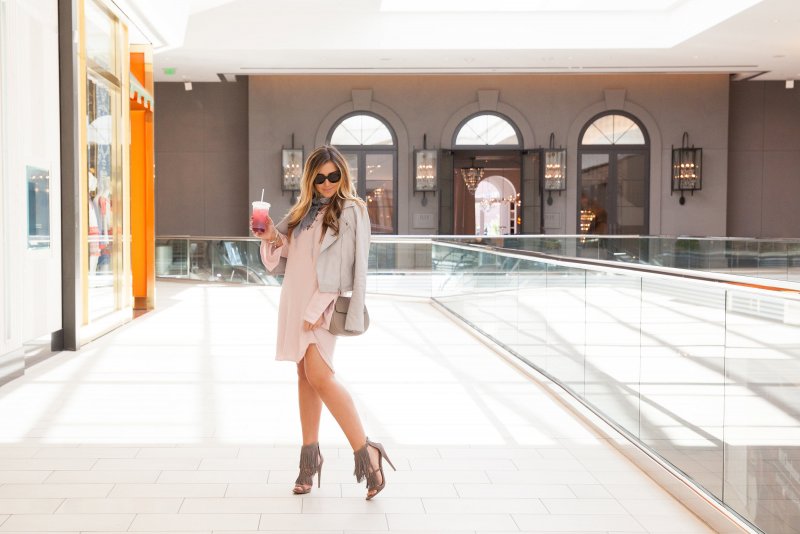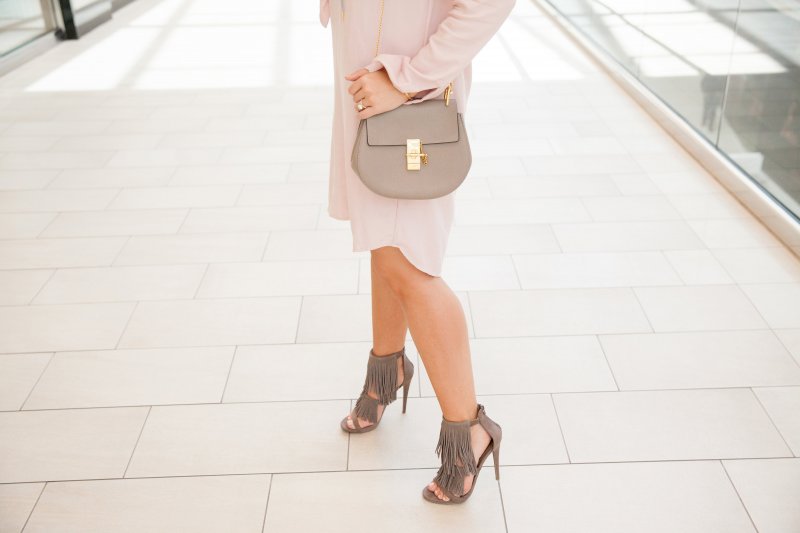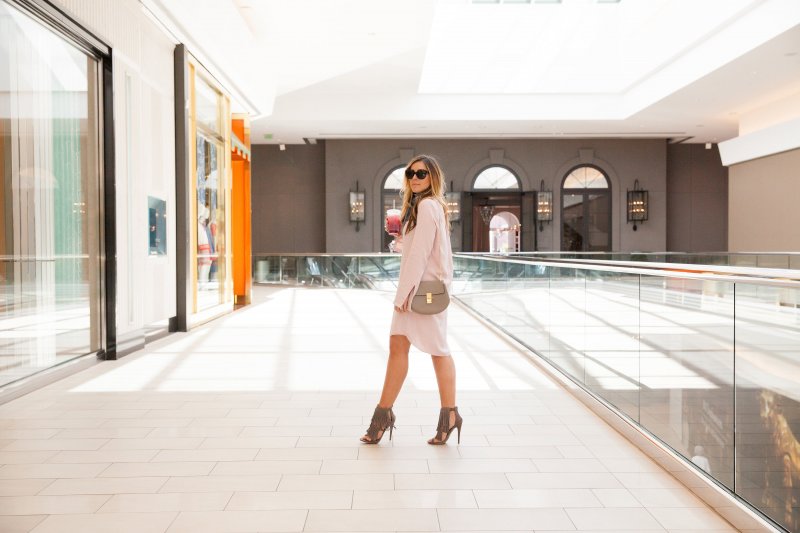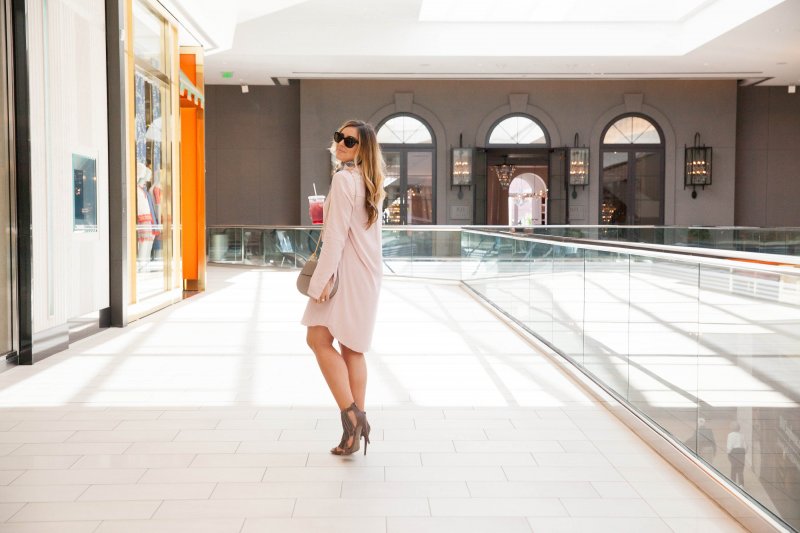 Jacket.  Sunnies.  Dress.  Bag.  Shoes.  Similar Scarf.
The beautiful Restoration Hardware store in the Cherry Creek Shopping Center is a place I go often for decor inspiration. (I previously did a blog post with its exterior as my backdrop.) My recent trip to RH was to scope out some new curtain rods and hardware, as I wasn't thrilled with the ones I originally ordered for my closet re-do and ended up returning them. I can't wait to show you the new closet when I've added all the finishing touches. The color scheme will contain my favorite colors at the moment… Blush pink and soft dove grey.
And speaking of blush pink and soft dove grey, the one I'm wearing above is one of my most versatile and comfortable outfits for spring/summer. The dress is by local Denver designer Never A Wallflower, and I love the lace-up detail that can be dressed up or dressed down. My favorite feature of this dress is the way the soft fabric gently hints at the body's curves so it avoids being potato sack straight as many shirt dresses do. Instead, this dress remains feminine while moving with your body and is lightweight enough to be worn in high temps.
I accessorized the pink dress with soft grey accessories like my favorite faux leather moto jacket. I added my Chloé Drew Bag and these great heels I was thrilled to discover for under $35. I can't sort out why the online version shows metal fringe detail as my pair of heels doesn't have that. I'm not sure if it's something you could easily pull off if you didn't want it on? But I love the suede fringe either way.
The last accessory I wanted to mention is my gray bandana I'm wearing as a neck scarf. Ever since I went to Paris for the first time as a little girl, I admired the way French women wore the most beautiful scarves around their neck with anything from simple tees to dresses. Neck scarves are proof that the simplest touch can add so much to an outfit! I've linked a similar scarf, but really all you need is a small-ish square scarf to get the same look. If you'd like, I could do a little blog post or video on my favorite way to wear neck scarves and how to fold them.
Last but not least, I wanted to share my favorite summer drinks to grab on the go. The first is this Teavana drink I'm sipping in the photos. I order an iced Winterberry Tea (Strawberry Lemonade Herbal Tea and Strawberry Grapefruit Xue Long Green Tea combo) then I ask them to add Silver Yin Zhen White Tea Pearls… It's fruity, tangy, and light. The second drink I love is one I recently Instagrammed from Starbucks… Their much talked-about "Pink Drink"!! It's a Strawberry Acai Refresher with coconut milk instead of water. It is sweet and delicious! Let me know if you've tried either of these.