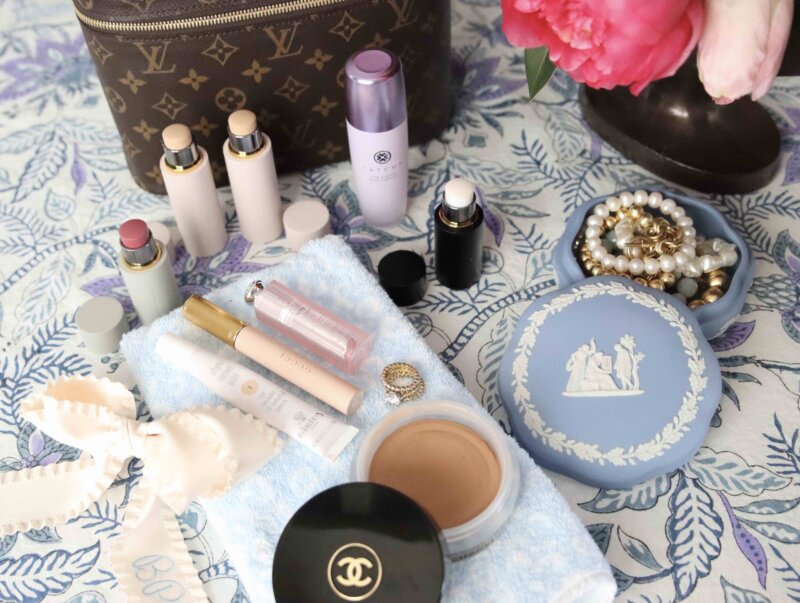 Primer. Eye Concealer. Bronzing Base. Foundation Stick. Blush Stick. Highlight Stick. Mascara. Lip Glow.
I feel as if it's been ages since I've tried some new products and wrote a proper review. (I'll blame it on having a baby.) But this summer I've been enjoying taking a little time to get myself ready during Georgie's morning nap and as a result, I've stumbled across some new favorites I had to share with you.
Just because many of us are raising littles or working from home or hidden behind face masks, it doesn't mean we have to sacrifice the little things that make us feel great about ourselves each day. For me, taking the time to make myself presentable makes a huge difference in how I feel and even increases my productivity for the day. Lately I've been doing a really natural look that focuses on glowy skin, lashes, and rosy cheeks. Here's to pretty packaging and products worth the spend…
1. Tatcha Liquid Silk Canvas: Featherweight Protective Primer
In the past, I've struggled with finding really great primers; it seemed like the ones everyone was raving about would never work for me. I saw this primer during a sale, was intrigued by the clean beauty stamp, and decided to try it. As soon as I applied this over my moisturizer I saw a visible difference in my skin. My pores and even my under-eye circles were minimized, my skin looked smoother, and my skin had an almost filtered appearance. I am sold on this primer, ladies. Never letting this one go!
2. Sisley Eye Concealer with Botanical Extracts
I have had dark under-eye circles for years; I think I started noticing them in college, but they've definitely gotten worse since I developed allergies and became a permanently-tired mama. It's difficult to find products that conceal them without looking cakey… Until I discovered this little tube of magic. I wear shade #2 and I think that's key for concealing because it has a peach pigment that counteracts blue and purple undertones. It brightens my under-eye area and conceals beautifully. Sometimes I apply with my BeautyBlender and sometimes I apply with the little concealer brush it comes with. Either way, this is a godsend as I no longer look like I may be auditioning for a vampire series when I apply it. This is definitely the chef's kiss of under-eye concealers.
3. Soleil Tan de Chanel Bronzing Makeup Base
I discovered this dream product last summer when I was pregnant. It's a creamy bronzing base that also offers beautiful coverage. It comes in a sleek little tub and you can use fingers, a brush, or a sponge to apply.
My preference? After moisturizing and/or priming (sometimes I use this product in place of primer) I apply a little concealer with a damp BeautyBlender, then use the same sponge to dab and blend this product all over my face. Remember to blend down onto your neck – it's important since this product does give you a little dose of bronzed color. Et voila! You'll have a glowy, sun-kissed daytime look. You can add foundation on top of this for even more coverage and a more "finished" evening look. This has become a "Holy Grail" product for me. When my skin is looking a little dull or pale, I add this into my routine and I instantly look fresh and brightened up.
4. Westman Atelier Vital Skin Foundation Stick
While this product line is new to me, the makeup artist Gucci Westman who created it is not. Before I became a wife and mama, I worked for a skincare and cosmetics company. Gucci Westman is known to everyone in the industry as the skin goddess to models and celebrities. Her artistry for balancing skin tone and creating a flawless canvas are unparalleled. So when I was sent some Westman Atelier products to try, I was thrilled.
I was a bit nervous to use a stick foundation, but I jumped in with both feet, ignoring my foundation brush and using my fingers to melt the product and blend into skin a la Gucci herself. To be honest, I was floored. At the risk of sounding cheesy but being completely honest here… My skin looks like I'm wearing one of those Instagram filters when I have it on. The stick formula is easy to build where I need it and gives me beautiful, barely-there coverage where I don't. In the eloquent words of my UPS delivery man, who I see nearly every day, "What did you do to your face? You look twenty-one today." Thank you, sir. The first time I wore this foundation I got ready around 11 AM for friends to come over and they didn't leave until 8:30 PM when I finally checked my face; the foundation still looked great and hadn't creased at all.
I use shades Atelier II and III and blend them according to my skin tone at the moment. I love placing the slightly darker shade along my hairline and forehead, down the sides of my nose, under cheekbones, and around my jawline for a natural, effortless looking contour.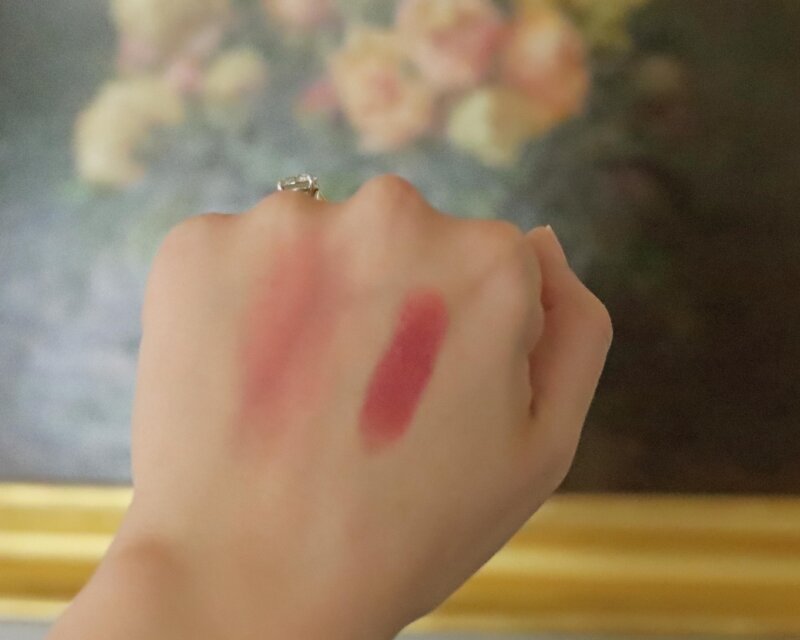 5. Westman Atelier Baby Cheeks Blush Stick in "Dou Dou"
I'm going to go ahead and say it. This is my favorite beauty product of 2020. This creamy blush stick can be used on cheeks and lips and this particular color called "Dou Dou" gives such a perfect rose glow, you could be an extra in a Jane Austen period drama. It's perfect.
I use two fingers to rub the top of the blush stick, then I gently dab onto the apples of my cheeks and I use the extra to dab a little color onto my eyelids and bridge of my nose for a natural flushed look. Then I go back to the blush stick and dab onto my lips. You will love this product. I've shared a swatch above to show both the blended out color and the color applied straight out of the stick.
6. Westman Atelier Lit Up Highlight Stick
I've been forgoing contour lately and just doing a little highlight instead. I think it's more natural and youthful. This highlight stick isn't shimmery; it just kisses the skin with the perfect touch of dew-like finish. I dab a little on my brow bones, cheekbones, the tip of my nose, and my cupid's bow. Effortless and fresh.
7. Gucci Mascara L'Obscur
I am picky when it comes to mascaras. For the past ten years or so, I've been alternating between two main favorites. I'll admit, I decided to try this mascara for the pretty pink and gold packaging. Imagine my surprise when I applied it and it gave me long, perfectly black, flirty lashes. Who knew?! This mascara is a gem. It's less clumpy than my previous #1 favorite (Chanel Le Volume), but still gives volume and major length.
8. Dior Lip Glow in "001 Pink Glow"
When I want a natural pink glow to my lips with just a little shine, I reach for this gorgeous balm-meets-lipstick. I love it so much, I think I'm on my third tube since discovering it a few years ago.
This lipstick reacts with your natural chemistry to produce the perfect pink flush for your skin tone. I'm no scientist, but I can tell you this product somehow looks uniquely gorgeous on every person I've seen wearing it. And the mango butter in it is so moisturizing. If I had to pick one lip product right now, this would be it.
[show_shopthepost_widget id="4110992"]