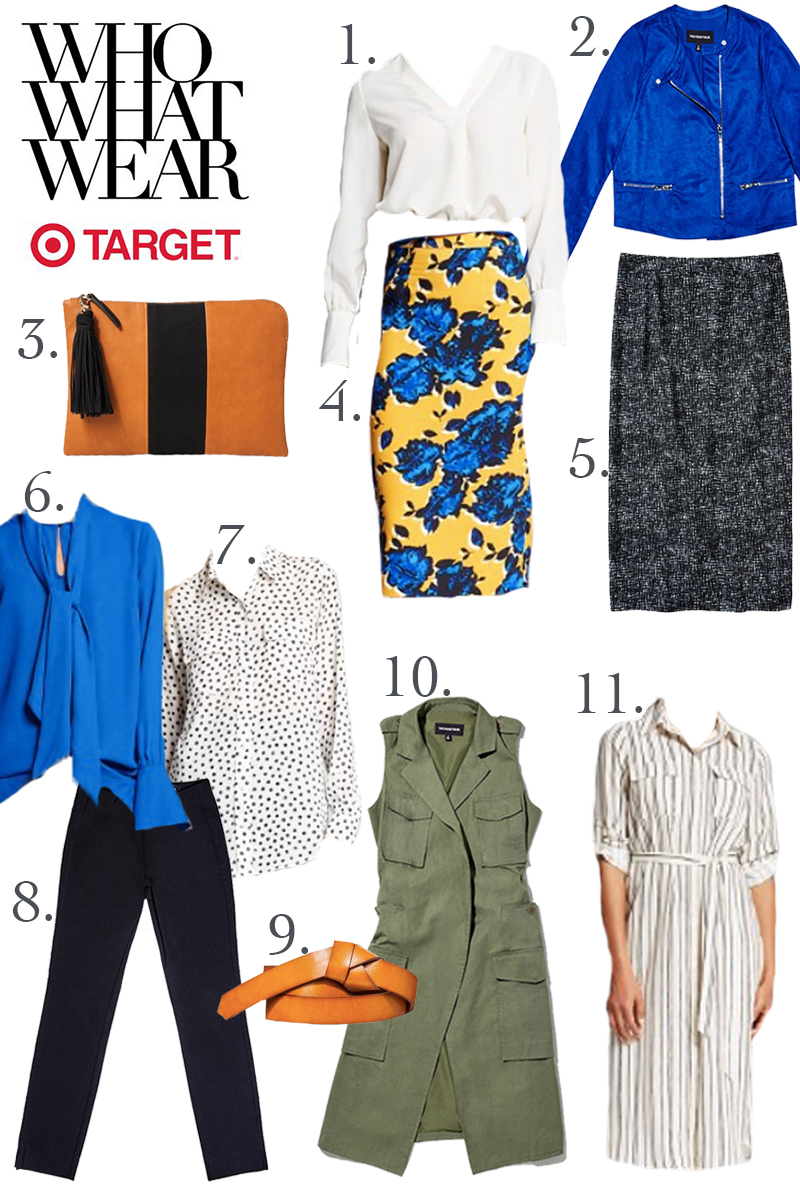 ONE – V-Neck Tunic.  TWO –  Moto Jacket.  THREE – Zip Clutch.  FOUR – Floral Pencil Skirt.  FIVE – Charcoal Pencil Skirt.  SIX – Bow Blouse.  SEVEN – Polka Dot Shirt.  EIGHT – Cropped Pants.  NINE – Knotted Belt.  TEN – Trench Vest.  ELEVEN – Striped Shirt Dress.
I was hesitant to post on Target's latest stunner collaboration – this time with Who What Wear – because I assumed it would be sold out in minutes like most of their genius team-ups. Luckily, some of the pieces are still available online even if they're sold out in stores. Target has done a much better job preparing for this launch than previous Missoni and Lilly Pulitzer collaborations in the past.
I was unsure of sizing and fit, so I went into Target to check out the products in person. My mom was with me and we were both taken with the pretty colors, high quality fabrics, and contemporary designs.
The Who What Wear pieces are fresh, bright, versatile, and convey a distinct "street style" vibe… Most likely due to the fact the collection is made up of stylish, mix-and-match pieces inspired by fashion website Who What Wear's online community. The pieces easily combine to create gorgeous outfits that look as if you've just stepped off a street style page in your favorite magazine or website. In a body-positive move, Who What Wear for Target collaboration also offers plus size options for all pieces. I've included both regular and plus sizes down below in the shoppable slide.
As far as sizing goes, I found most of the pieces run true to size. I did go up a size in the cropped ankle pants as my hips are the largest part of my body and I didn't want the pants to be snug. If you order, I'd say to order your usual size and perhaps go up a size in bottoms if you don't want them fitted.
This is a must-have collection and I think you'll find that all the pieces coordinate in a trendy yet accessible way. I've posted my favorite pieces and, having snagged several of the items myself, will be styling my favorite looks in blog posts to come.
See Me Wearing Who What Wear x Target V-Neck Tunic on Instagram:  Click Here
See Me Wearing Who What Wear x Target Polka Dot Shirt on Instagram:  Click Here