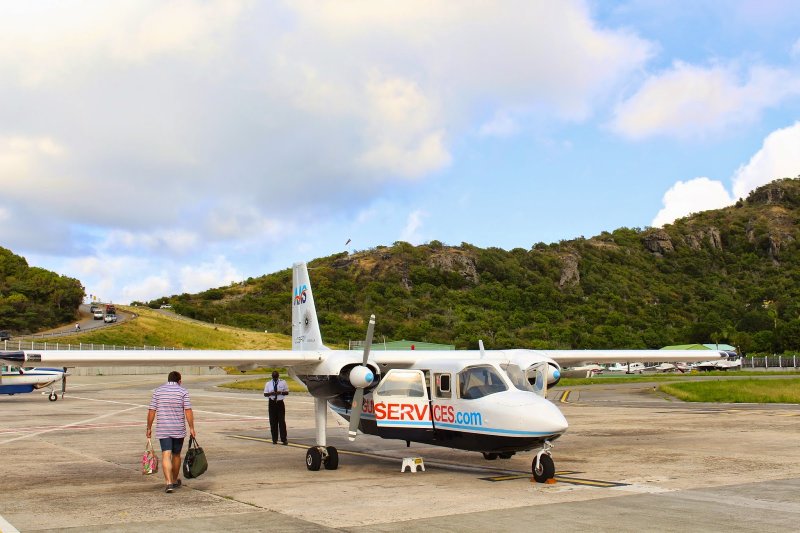 Reluctantly saying goodbye to St. Barth, we boarded a tiny island-hopper plane for a 15-minute flight to Anguilla, a long and thin British island lying directly north of St. Maarten where we first arrived from the U.S.  The island is much different than volcanic-formed, hilly St. Barth.  Anguilla was formed from limestone and coral and is very flat, with much less vegetation.
The people in Anguilla are warm, friendly, and always on island time.  It's best not to get in a rush or hurry because no one else is… And you'll quickly find how wonderful it feels to be so relaxed with nothing to do and no place to go.
After landing in Anguilla and quickly making it through customs,we headed to our resort, the Viceroy Anguilla in the beautiful Barnes Bay… With over 3,200 feet of stunning powder-soft beach with picturesque rock outcroppings and waves crashing recklessly onto the sand.
The Viceroy Anguilla's sophisticated, contemporary interiors were designed by Kelly Wearstler, one of my favorite designers.  They blend perfectly with the wildly natural, beautiful Anguillan surroundings.
Besides being gorgeous and insanely chic, the Viceroy Anguilla provides a great scene for entertainment and wonderful cuisine.  Our favorite spots??  A romantic restaurant called Coba overlooking the waves, a tucked-away little beach shack The Half Shell serving incredible Mediterranean food just feet away from the sand, and a trendy little bar called The Sunset Lounge with live music overlooking the beach.  Although it wasn't as good as the prime French cuisine available on St. Barth, the food was delicious and much of it was European-inspired, which is our favorite.  Some traditional Caribbean fare is available at nearby restaurants and at special little events like street fairs the resort hosts throughout the weeks.
We were so beachy in Anguilla… Honestly, all we did was relax and read books by the pool, walk along the ocean waves, and drink and eat way too many delicious things.  We spent time at the stunning spa, getting massages overlooking the ocean and lounging in spa robes on the hanging bed outside the spa watching the waves and sipping fruit-infused water.
We really just wanted to relax and connect with one another.  I didn't take as many photos as I had planned because we really wanted to just enjoy each other and soak up the time we had before we flew back home.  I have to say, toward the end of our trip I started feeling really sad it was coming to an end.  I think I get really sentimental about things, just like every year when Christmas is over, I feel so sad and wish I could rewind a week!!  Isn't that silly??  But it's true.
Anguilla is one of those places you go to decompress and unwind.  Visit the spa in the mornings, take a few energizing fitness classes, lay by the pool.  There are a few activities outside the resorts, but not much.  And honestly we enjoyed our resort so much, we just didn't really venture out beyond it.
Can you believe this is my last honeymoon post??  Our wedding weekend posts will begin next week – I can't wait!!  I'm so excited to share our journey with you guys.  Also… I've been working on some exciting things for my blog and I'm so looking forward to the finished product and to see what you guys think!!