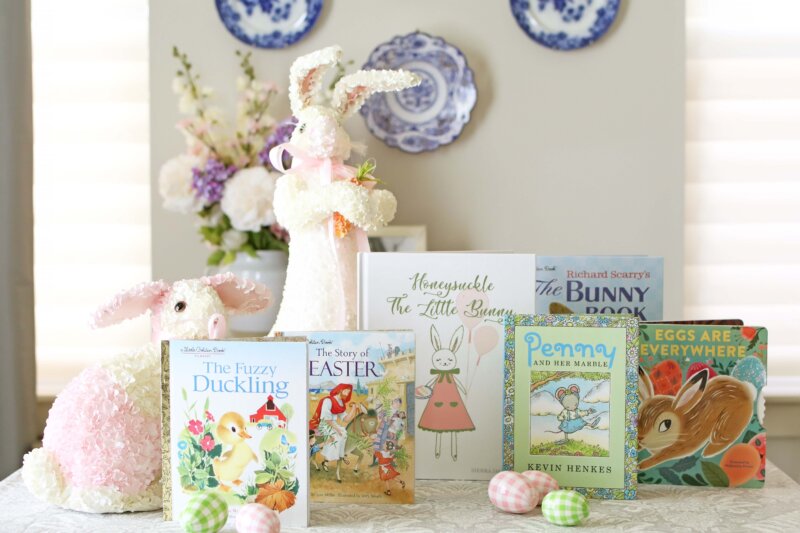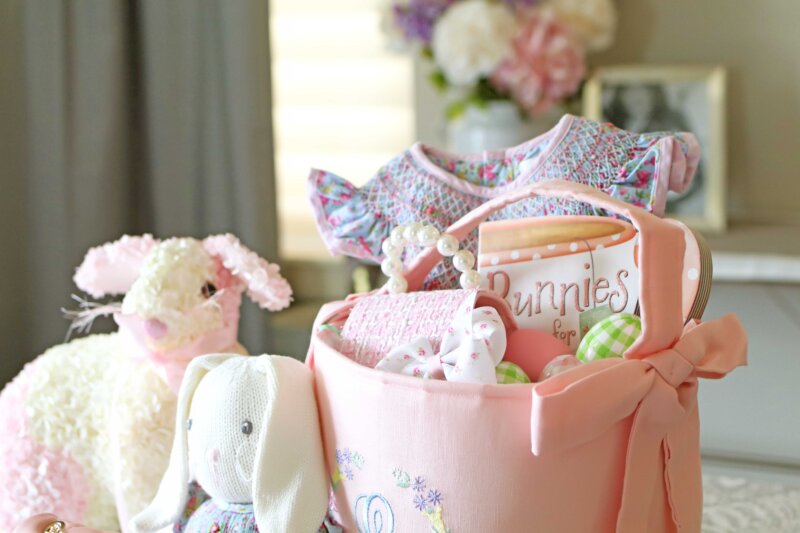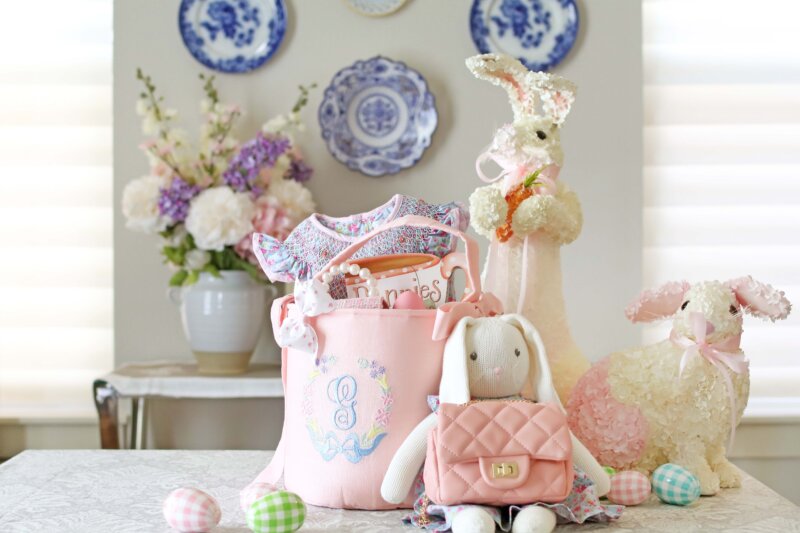 Monogram Easter Basket. Smocked Dress. Matching Bunny. Teething Egg. Rosebud Bow Headband. Quilted Bag. Pearl Tweed Bag. Flower-covered bunnies are very old from Von Maur – similar HERE and HERE.
Books: Bunnies for Tea. The Fuzzy Duckling. The Story of Easter. Honeysuckle Little Bunny. The Bunny Book. Penny and Her Marble. Eggs Are Everywhere.
I've been so looking forward to Georgie's first Easter. I'll admit, I had visions of us wearing coordinated pastel outfits at a fun Easter brunch, but this year will be different. We'll be having a quiet brunch here at home, enjoying one another's company and venturing out to the garden with the dogs if the weather is nice enough. Perhaps this year is an important reminder that Easter is not about candy, bunnies, and new white shoes. May we remember the real reason for this holiday and what it means.
I couldn't resist getting Georgie one of these sweet smocked dresses with the matching bunny doll. She loves little bags (that one must be genetic) so I found her a sweet pink quilted purse and this little tweed bag with pearls on the handle. A sweet rosebud print bow headband. And a teething egg – a soothing teether that comes attached to a lanyard. I made sure to order lots of books; Georgie is a busy little girl, but each day I try to incorporate some reading time with her. She enjoys books about animals most, and of course I couldn't resist going with a bunny theme for our little Bunny girl.
I hope you all have a very Happy Easter. Wishing you safety, health, and time with your loved ones.
Easter Basket
[show_shopthepost_widget id="3973288"]
Easter Books
[show_shopthepost_widget id="3973292"]