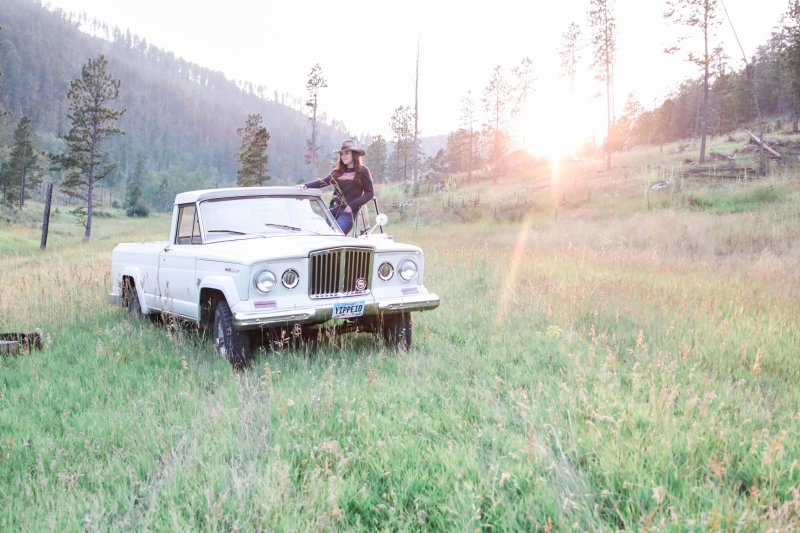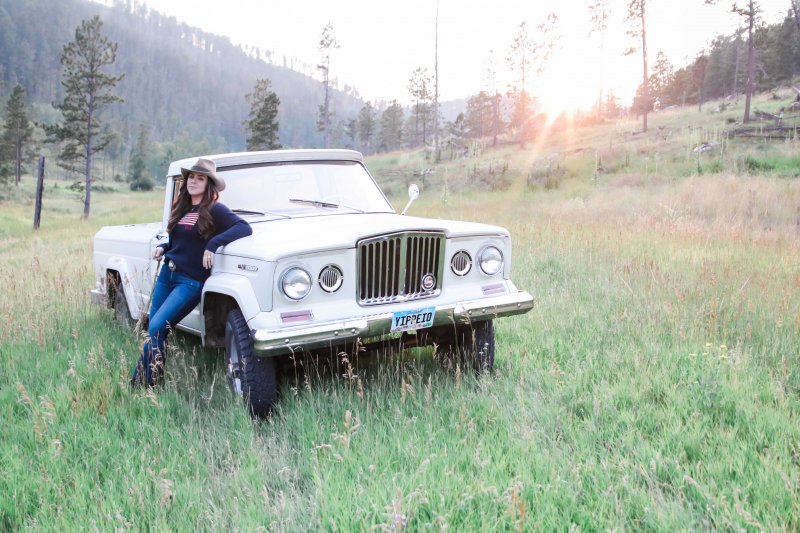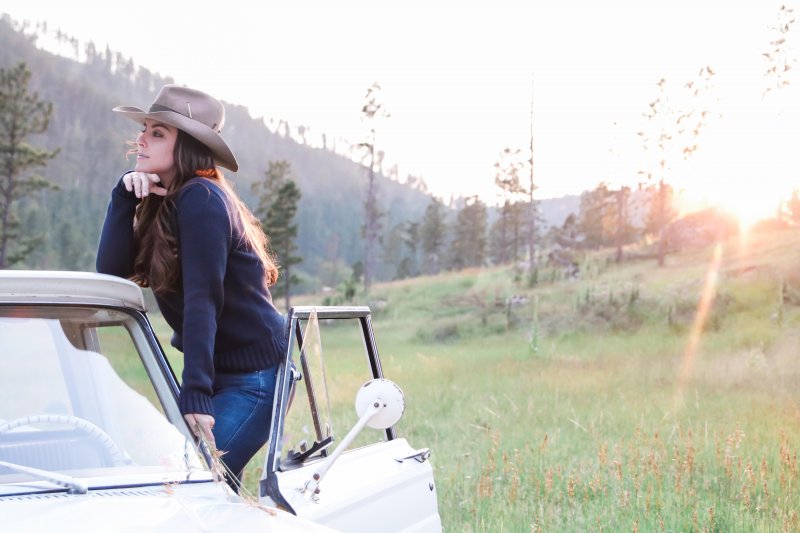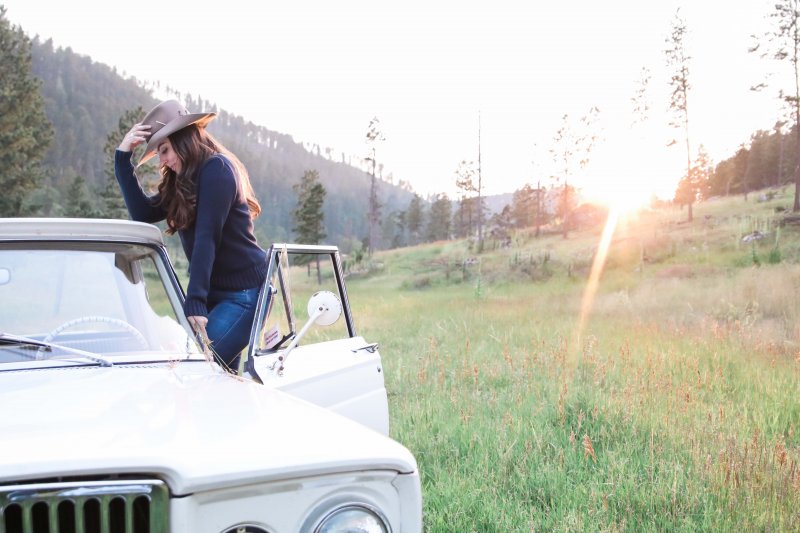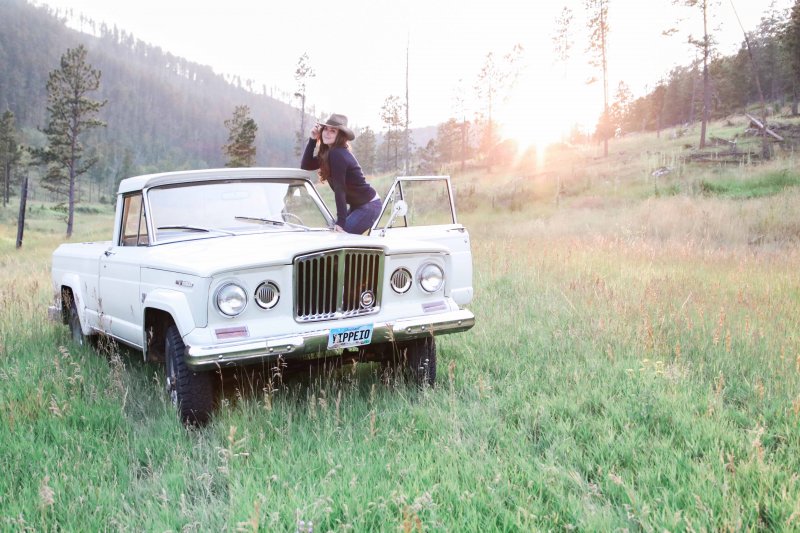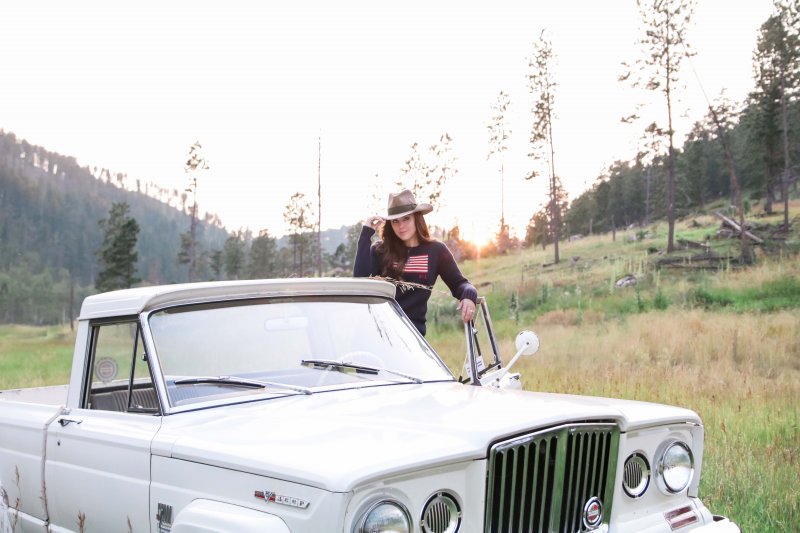 Kemo Sabe Hat.  Ralph Lauren Sweater.  Gray AG Tee.  Mother Denim Jeans.  Frye Boots.
The Black Hills are one of the few places I've witnessed where a person can still experience The Wild West; prowling mountain lions, local saloons, and cattle branding still exist in this corner of the world. Unlike the mountain towns of Colorado, the Black Hills aren't infiltrated with skiers and snowboarders each year. (For two weeks each August, however, the Hills are filled with leather-clad bikers from all over the world.) This blend of wild, natural beauty and rural character make the Black Hills a different kind of refuge than the mountain ski towns of Colorado. Perhaps it could be the fact that the Black Hills rest on traditional Native American lands, but this place feels more peaceful, more spiritual.
We love escaping the city and spending time in this little sanctuary. It's a six-hour drive from Denver, but it feels like a world away. So many of you have asked about my favorite spots in the Black Hills and I realized I had never done a consolidated travel guide. My family and I have been visiting the Black Hills for over fifteen years now, so here are my must-visit places and mini city guides to help you discover the best when you're in South Dakota…
Rapid City
This is the largest town in the area. Rapid City is where you'll find the airport, lots of outdoor events, and some shopping. There are outdoor stores here if you need to pick up some supplies before camping and larger grocery stores where you can get better produce than that available in the tiny surrounding towns.
Downtown Rapid City
I usually always convince my family to make a stop in the downtown Rapid City area each time I visit because I love the little outdoor area they've created in the heart of downtown. In the summer, there is usually some form of outdoor entertainment on the stage and a splash pad for kids. In the winter, they turn this area into a charming little skating rink.
There are lots of shops and boutiques within walking distance around this area, but be sure to check out Prairie Edge for incredible Native American artwork, an impressive Pendleton selection, and gifts. I love browsing the bookshelves in Mitzi's Books and I never leave without a bag in hand. Kids will love Who's Toy House – if you're picking up a gift, they do the cutest gift wrapping! If you're staying in the area, I recommend the historic Hotel Alex Johnson in this area. The Starbucks on the main floor of the building is an added bonus, although fellow caffeine addicts would also enjoy Alternative Fuel Coffeehouse just a short walk away.
Kōl Pizza
I love Kōl for its delicious, coal-fired pizza and for its fun, casual ambiance. I went here with a family friend and we found this spot the perfect place to have a drink, enjoy dinner, and relax at the end of the day. Plus, it's within walking distance of both the downtown Rapid City area and the Hotel Alex Johnson I mentioned above.
Journey Museum
The Journey Museum combines the history of the Great Plains with that of the Native Americans. If you're traveling to the Black Hills for the first time or just want to learn more about the history behind this important land, I highly recommend stopping at this museum first. It's not huge, but it's well done and you will learn a lot of information in a short amount of time.
Hill City
This is a tiny little town in between Rapid City and Custer. I love the main street; in August it's lined with motorcycles and the day after Thanksgiving there is a beautiful Charles Dickens parade. It's very charming and has a few hidden gems worth an afternoon of browsing. If you have children, they might enjoy a ride on the 1880's train in town; I've never been, but I've heard it's really cute.
Prairie Berry Winery
If I could pick one place to have lunch in Hill City, it's definitely Prairie Berry Winery. Located just outside Hill City, this winery offers wine tastings, a cute gift shop, and delicious café style lunch with an outdoor patio. I'm partial to their rhubarb wine. Not into wine? Check out their sister site, Miner Brewing Company, just next door. During the summer they usually offer live music in their outdoor amphitheater.
Jewel of the West
One of our good friends owns a beautiful little shop called Jewel of the West. Stop in to see a selection of Western-inspired jewelry, clothing, accessories, and gifts. I was recently there and my mother and I stocked up on gifts for friends like candles and lotion, Pendleton shirts for our guys, and some pretty silver jewelry.
Alpine Inn
I enjoy nearly any type of food; it's one of my problems in life! But… I'm not the biggest fan of German food. My father and husband, on the other hand, love Alpine Inn for a good schnitzel. If you're like them, I highly recommend stopping at in Hill City for your fill of all the "sch" foods; schnitzel, schhhpaetzle, schhhauerkraut, schhhtrudel. All jokes aside, I've tried their dishes and they really are delicious. And they have plenty of options like salads, sandwiches, and pastas for those of us who are a little less Germanically inclined.
Museum at the Black Hills Institute
Please, please, please make a stop in the museum at the Black Hills Institute on Hill City's main street. You will be shocked at how many dinosaur bones and prehistoric fossils they have gathered and collected. If you're into natural history you will love this place; I think I've visited at least three times so far. And while you're at it, watch Dinosaur 13 – a documentary covering an injustice and scandal that features the Black Hills Institute. I was so moved by this film and the story behind the Black Hills Institute.
Custer
This little town is further removed from the Sturgis, Deadwood, Mount Rushmore tourism circle so it's a bit more relaxed and quiet. It has a special place in my heart and we love spending time here. There is a great balance of outdoor activities, delicious restaurants, and a little shopping too.
Custer State Park Wildlife Loop
One of our favorite things to do with guests is to cruise through beautiful Custer State Park and watch the animals along the Wildlife Loop. You never know what you'll see and each time of year the view will be different, but you can plan on seeing buffalo, deer, elk, and mountain goats. Please be careful if you go – these animals are wild and should definitely be given plenty of space and respect! But their wild, natural beauty is exactly why they are so fascinating to witness; bring your camera as there are lots of gorgeous settings and scenery along the way. And if you're in the mood for camping, I would highly suggest somewhere in Custer State Park. The Buffalo Round-Up in the fall is always a highlight as well.
Black Hills Playhouse
Located in Custer State Park, this gem of a theater is tucked amongst the pine trees. We love supporting local theater as much as we can and if you're camping or staying in the area, I would suggest looking into the Black Hills Playhouse current shows and making it a nighttime activity after a day of exploring. Hungry? You can order a picnic basket to enjoy pre-show while taking in the Custer State Park scenery or take some popcorn into the performance. BHP also supports all-abilities theater education in the area, which I think is pretty incredible.
Sylvan Lake
We love this motor-free, placid lake for its peaceful ambiance and the giant, rugged rocks that surround it. There's a little cabin nearby with fast food, indoor bathrooms, and provisions if you need them. And you can rent kayaks and paddle boats right from the dock or bring your own. This stunning location is also the trailhead for many hikes up to Harney Peak! Sylvan Lake is definitely worth a visit, in my opinion. You can always bring a camera and just walk the trail along the lake if you like.
Skogen Kitchen
My favorite restaurant in the Black Hills! Skogen has an inventive, ever-changing menu featuring seasonal ingredients and incredible wine pairings. We never miss coffee and dessert after dinner either. You literally cannot go wrong with anything on their menu. We adore the kind, friendly owners and are so lucky to have delicious food like this in such a small town.
Black Hills Burger & Bun
If you're in the mood for a burger, I highly suggest Black Hills Burger & Bun. Their homemade burgers are ranked on foodie sites nationwide. I usually order the cheese curds to start, a burger, and when I'm feeling extra indulgent (when am I not?!) I get one of their homemade desserts as well. This place is comfort food at its finest. But… Prepare yourself for a lengthy wait and an odd operating schedule; I advise calling the day before you're planning to go to see if they'll be open and for how long.
The Rock Shop
While you're waiting for that burger, you can browse the crystal and fossil selection at The Rock Shop next door. I adore this place. If you're a longtime reader of mine, you probably know I enjoy decorating my home with natural crystals and The Rock Shop always has a beautiful selection. I pick up a lot of gifts here as well; delicate stone necklaces I wear as bracelets, petrified wood slabs to use as cheese boards, and marble pestle and mortars. A former teacher from the area actually makes these beautiful little buffalo out of ancient rocks; they are stunning and we have given so many as gifts. I searched online to find a link for you, but a bunch of different rock shops popped up. Just navigate to Black Hills Burger & Bun (441 Mt. Rushmore Road) and you'll find it next door!
Walk in the Woods
This pretty little gift shop is so fun to browse. I always find a little something for our house; charming lanterns, pretty napkins, candles, or kitchenware. I love Walk in the Woods because they have a great variety of styles to choose from; there's something woodsy for your cabin, up-cycled architectural pieces, some "Fixer Upper" farmhouse inspiration, and even a little French country. This range of styles makes it really easy to find a gift for someone as well.
P.S. If you're here with your spouse, just send them to the Custer County Candy Shop next door! They can enjoy coffee, ice cream, or candy while you browse.
More Sites To See
Mount Rushmore
I know this is an obvious tourist destination, but I do think Mount Rushmore is worth a stop if you've never been. Walk through the gift shop and the museum underneath the viewing pavilion; although the monument often looks smaller than expected, the museum will make you appreciate just how painstaking the carving process was at the time it was completed. There are often live music, fireworks, or light shows at Mount Rushmore; double check before you go! The drive surrounding Mount Rushmore is a beautiful one and makes for really pretty scenery.
Crazy Horse
Crazy Horse is a giant monument just outside Custer. It is being completed a painstakingly slow pace, mostly due to the fact the Native Americans refuse to let the federal government take over ownership. I actually love this about the monument; it has truly remained a testament to the Native American history in this area. Although you can see Crazy Horse from the road, I recommend going into the visitor's center, taking in the Native American art, and watching the short film on the monument; it will make you realize exactly how much effort has gone into this project.
Reptile Gardens & Bear Country
Both of these animal parks are just outside Rapid City, toward Hill City. Bear Country is an open park with bears, mountain lions, elk, and many more large mammals. They do a lot of animal rehabilitation in the area and in the summer you can watch the baby bears play and learn to climb trees. Reptile Gardens is a large reptile park with crocodiles, alligators, and lots of snakes. They also take in ancient tortoises and injured bald eagles. These are both places kids will love exploring.
Crystal Caves
There are so many jewel caves and crystal caverns in the Black Hills it's almost overwhelming. I've been to a few, but I don't really like the ones that have lots of water dripping from above. We recently went to Jewel Cave and really enjoyed our tour. I've heard Wind Cave on the southern side of Custer State Park is the largest cave, but I've never toured that one.
Needles Highway
Highway 87, otherwise known as Needles Highway, comes down from Rapid City and makes a stunning little loop through Black Hills National Forest. This winding road is lined with towering rock spires, granite boulders, and pine trees as far as the eye can see. It's such a beautiful drive to cruise. Pick up a coffee, bring your camera, and head out. There are so many breathtaking overlooks, you'll definitely want to take your time and pull off the road here and there to snap photos.
Black Hills Wild Horse Sanctuary
I have yet to visit the Black Hills Wild Horse Sanctuary in Hot Springs, but some of our friends have and they say it's incredible. I wish I had more information to give you, but I just wanted to share this in case it's of interest to you and you really want to see these beautiful creatures in person. This is on my "to do" list; hoping to check it off on my next trip to South Dakota.