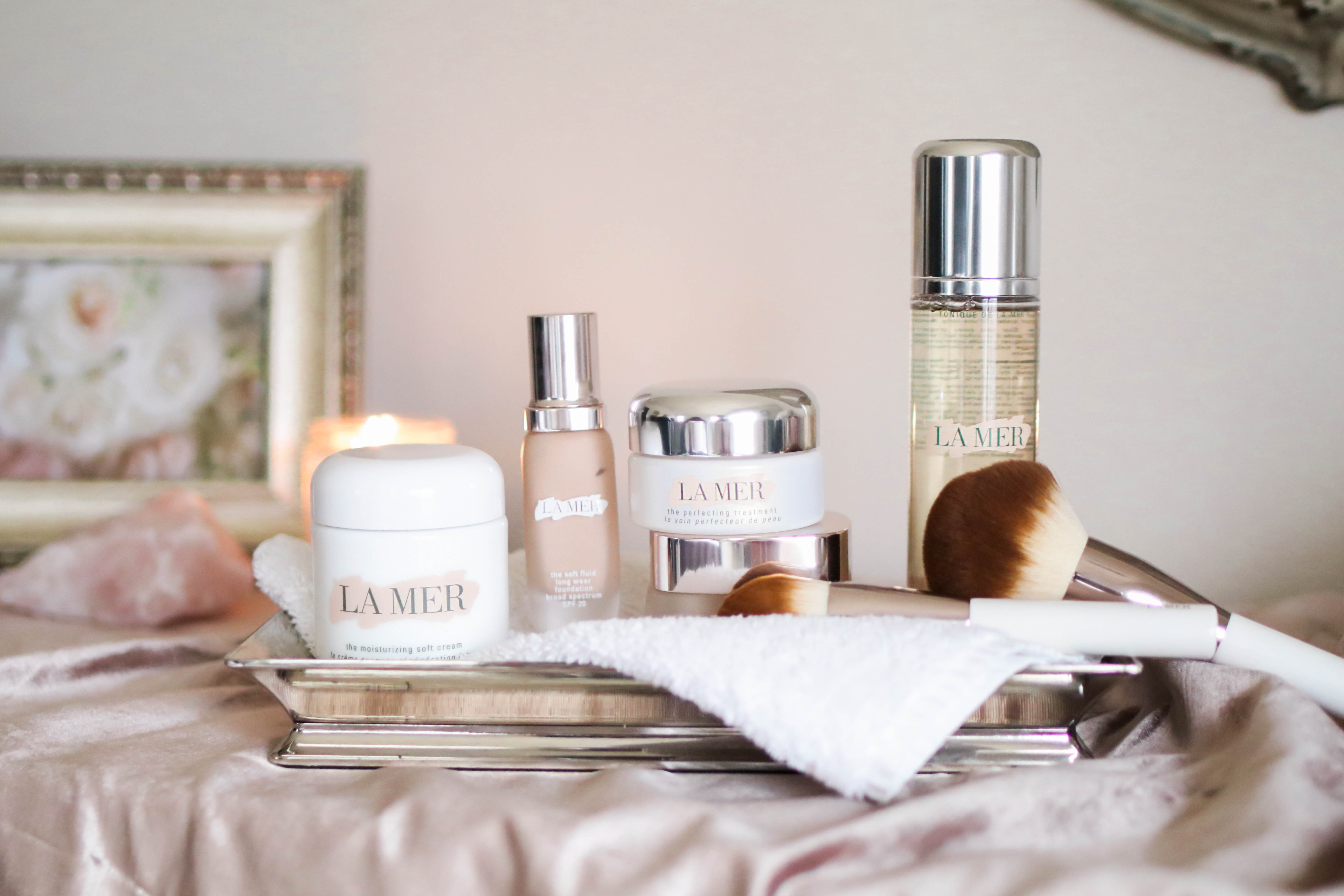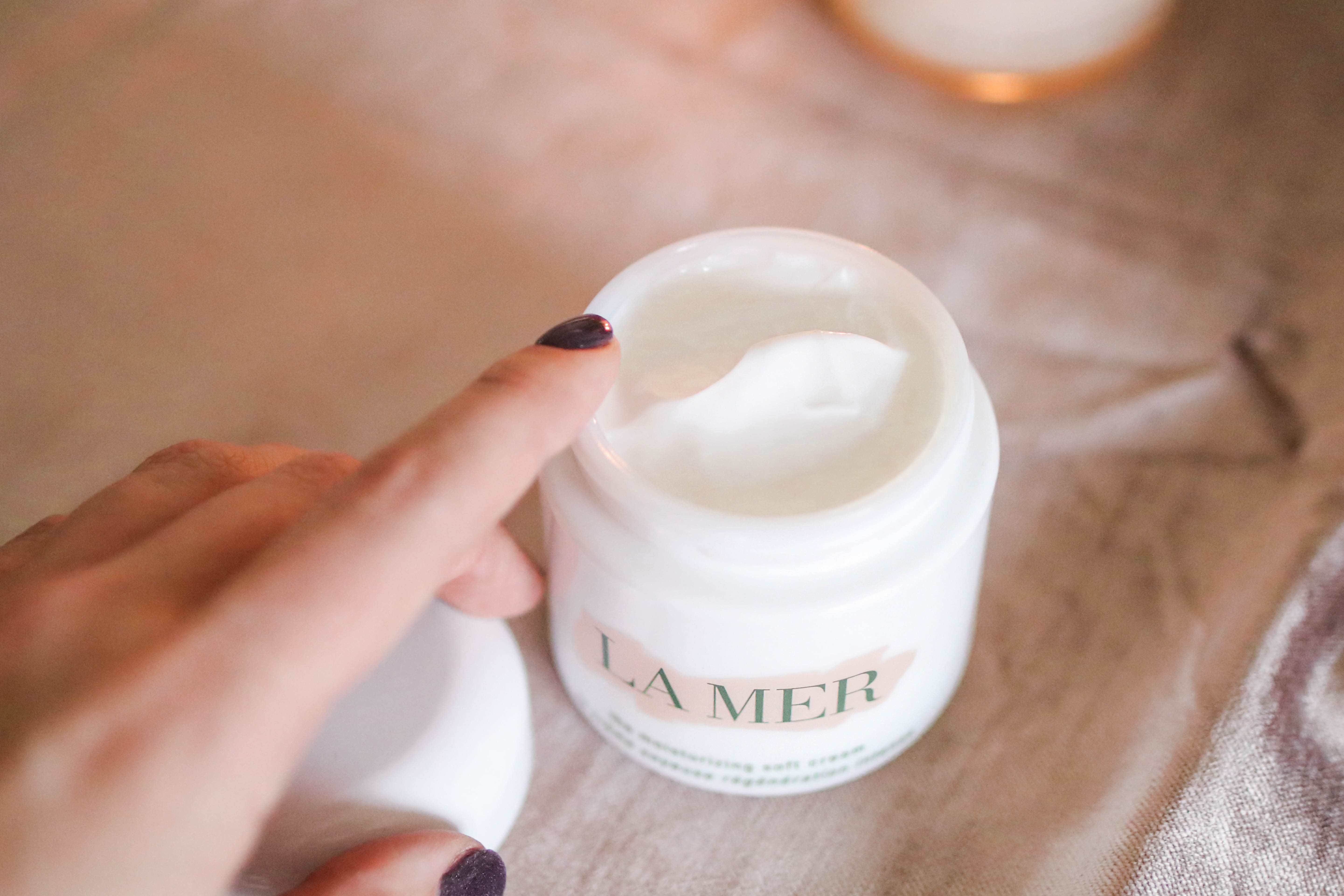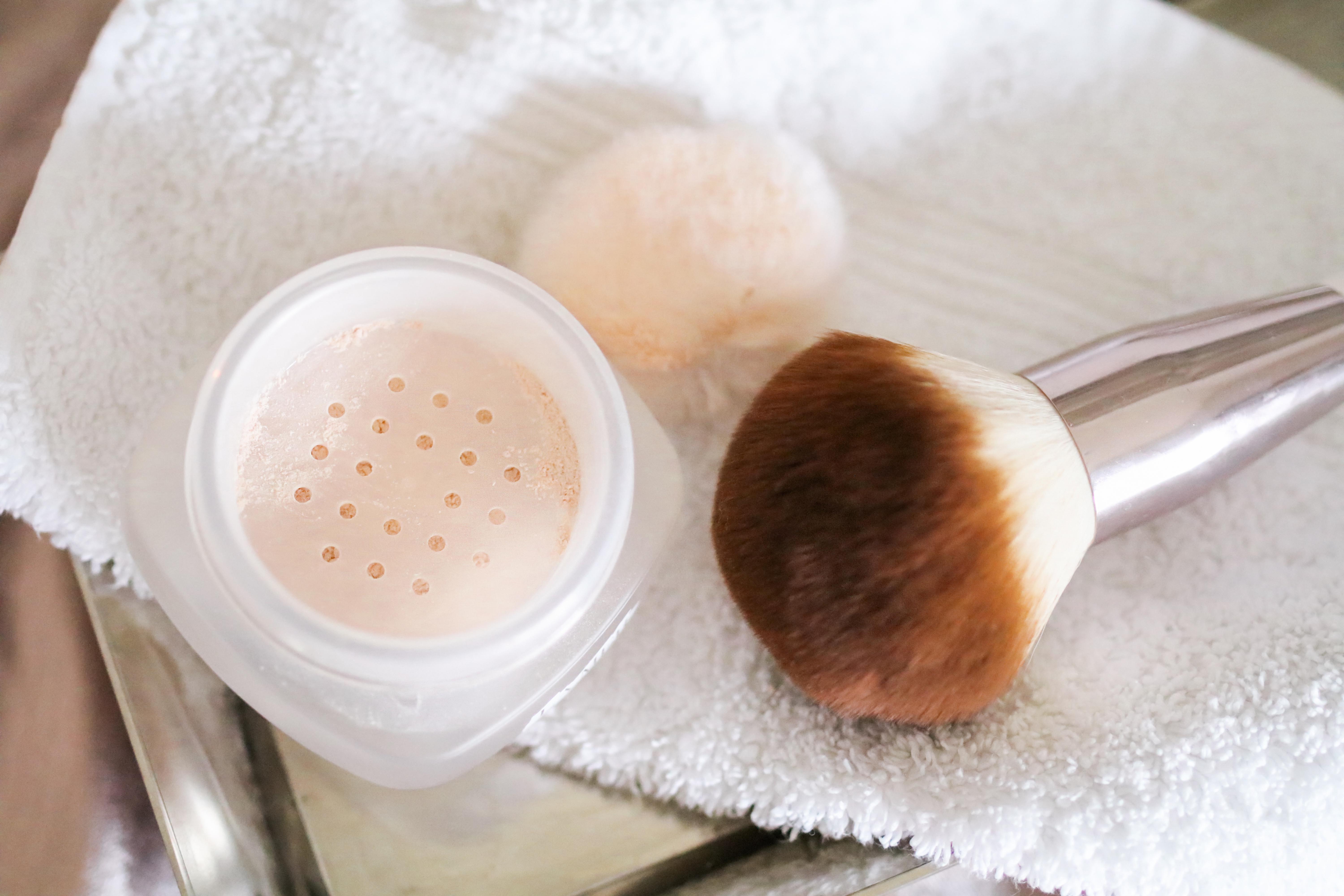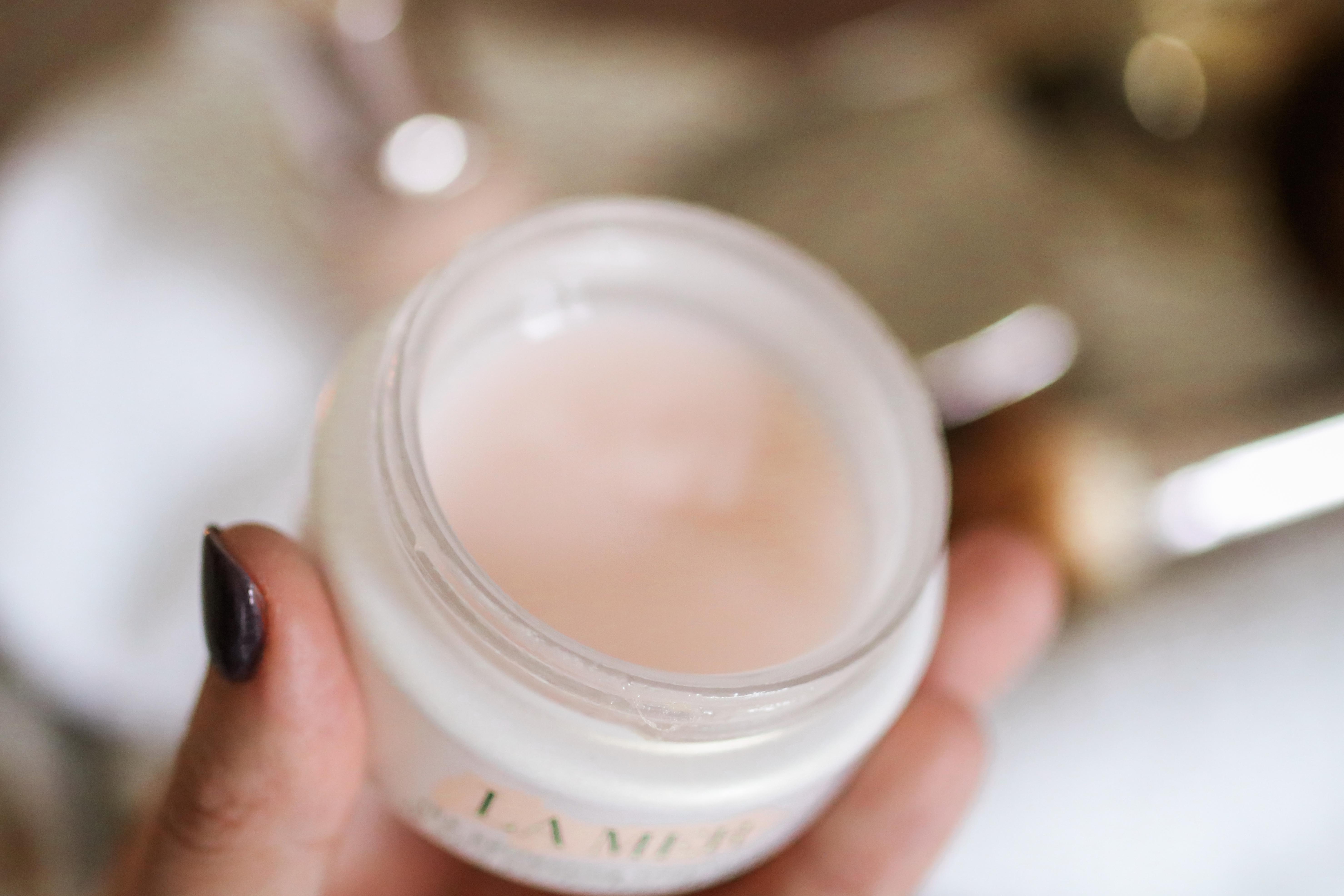 Ever since I began using skincare, I've heard glorious tales about La Mer. I've heard the brand is the key to Jennifer Lopez's ageless appearance, the secret behind Kate Hudson's effortless glow, and has apparently charmed everyone from beauty editors to royalty. While La Mer's prices will give just about anyone sticker shock, there's a reason so much hype surrounds their products.
The science behind the La Mer brand? Aerospace physicist Max Huber was badly burned in a laboratory explosion in the 1950's. He spent the next twelve years testing and experimenting with a variety of sea kelp found near his home in California. Finally he created an elixir that healed his burns and regenerated his skin; removing all traces of the accident in the lab. He called his creation Crème de la Mer or "cream of the sea". This "miracle broth" is in every one of the La Mer products.
Toward the end of 2017, I read an article about French women and their spending habits. The article suggested that French women invest in a few key clothing staples that will last them years and regularly undergo facial treatments and procure great skincare, viewing them as essentials instead of indulgences. The article contrasted those habits with that of American women who choose to spend more on trendy, fleeting pieces and much less on skincare in general. The article argued that the French way was better; that by investing in skincare, the French women are actually investing in the long-term health of their skin, using less makeup to cover imperfections, and end up looking healthier and more beautiful in the long run. I was sold. I had been having serious problems with my skin and was naturally gravitating to a better skincare routine anyway. This article simply sealed the deal. I went to our Nordstrom store here in Denver, made friends with a sales associate, and had him fill a small bag with a wide range of product samples for me to try.
One of my favorites? La Mer's Moisturizing Soft Cream. After using it every night for two weeks my skin began to feel softer and smoother, my pores minimized. I bought my first jar, cringing at the checkout and mentally swearing off costume jewelry and makeup purchases for the quarter. I held to my plan and after three months, the redness in my skin was soothed and my complexion was more even. I stopped wearing makeup to run errands and go to the gym. I felt happier and more confident. That little jar of goodness was worth every penny.
Since that first jar, I've tried and explored more of the La Mer line. The products are actually changing the texture of my skin. I know it probably sounds insane, but it's true. My skin is softer, smoother, more radiant, and more even-toned. I wear very little makeup on a daily basis and am happy to go makeup-free when I'm just dashing around town. I've found that having more confidence in my skin makes me much happier than having more things in my closet. I know it's not for everyone, but it's a choice I've made and am quite happy with. Below I've listed the products I love from the line and would recommend trying.
I highly suggest buying these products during Sephora's Beauty Insider Appreciation event to get 20% off. VIB Rouge members can take 20% off now with code YESROUGE at checkout. After September 3rd, all VIB members can shop.
La Mer – The Tonic
This is where my La Mer routine starts. I've chosen to invest in products that stay on my skin versus cleansers and scrubs that wash off. The Tonic is a gentle toner that balances the skin after cleansing and tightens pores without drying skin out. It removes any leftover traces of makeup and gives me the perfect canvas to finish my skincare routine and apply makeup. Apply it with these super soft, 100% natural cotton pads for the best results.
La Mer – The Perfecting Treatment
A lot of people think this silk-gel product is a moisturizer and perhaps those of you in more humid climates could use it as such, but the Perfecting Treatment is actually designed to be used post-moisturizer and take the place of a primer. I thought this product seemed unnecessary until I tried it, but it's fantastic. This silky-smooth gel gives me an added layer of hydration, evens my skin tone, gently blurs imperfections, and minimizes pores. It's like a touch of airbrush in a jar. Sometimes I stop with this step and head out the door; it makes me look like I'm having a 'great skin day' naturally. If I choose to continue with makeup, it provides a smooth and even canvas.
La Mer – The Long Wear Foundation
Hands down, the most gorgeous foundation I've ever tried. This natural-looking, flexible coverage foundation gets me more compliments than anything else. It protects my skin with antioxidants and SPF, evens my skin tone, and gives my skin a radiant glow without feeling heavy or cake-like. La Mer's foundation contains the Miracle Broth its products are famous for, so it's like a two-in-one combo. I apply it with La Mer's foundation brush then blend out with a damp BeautyBlender sponge. The foundation brush is my current favorite foundation brush, but if you're trying to cut one item out, this is the one to remove from your cart. It's a great foundation brush, but if you already have one you like it's not necessary.
La Mer – The Powder
La Mer's foundation isn't designed to be layered with lots of different cream products; it does its job well alone. When I wear it, I apply my concealer first, then layer only powder products on top of it like translucent powder, brush, and a little bronzer to warm up my skin. La Mer's powder makes the perfect setting powder to keep my foundation in place and to help my blush and bronzer glide over top of it. It gives skin a flawless, airbrushed finish and makes my skin feel like silk! The powder also contains La Mer's Miracle Broth, so it's another two-in-one product. I would highly suggest La Mer's powder brush because it's like nothing I've ever felt – so soft and fluffy!
La Mer – The Moisturizing Soft Cream
This is not your grandmother's cold cream. I pat a small amount of the Soft Cream between my fingertips at night to activate La Mer's Miracle Broth blend, then smooth the product over my face, neck, and onto my chest. I rub any excess into my hands! Sometimes when it's really dry here in Denver I'll use this product in place of my daily moisturizer. Many people would argue that you should begin your La Mer collection with one of their creams because you'll probably notice the biggest difference in your skin with them. Within a few weeks your skin texture will change; it will be softer, smoother, repaired, more even, and more hydrated and youthful. J gave me a large jar of this for Christmas – almost nine months later and it's not even halfway gone. Remember, with these products a little goes a long way!
Next on my list to try? La Mer's Reparative Body Lotion and The Eye Concentrate.