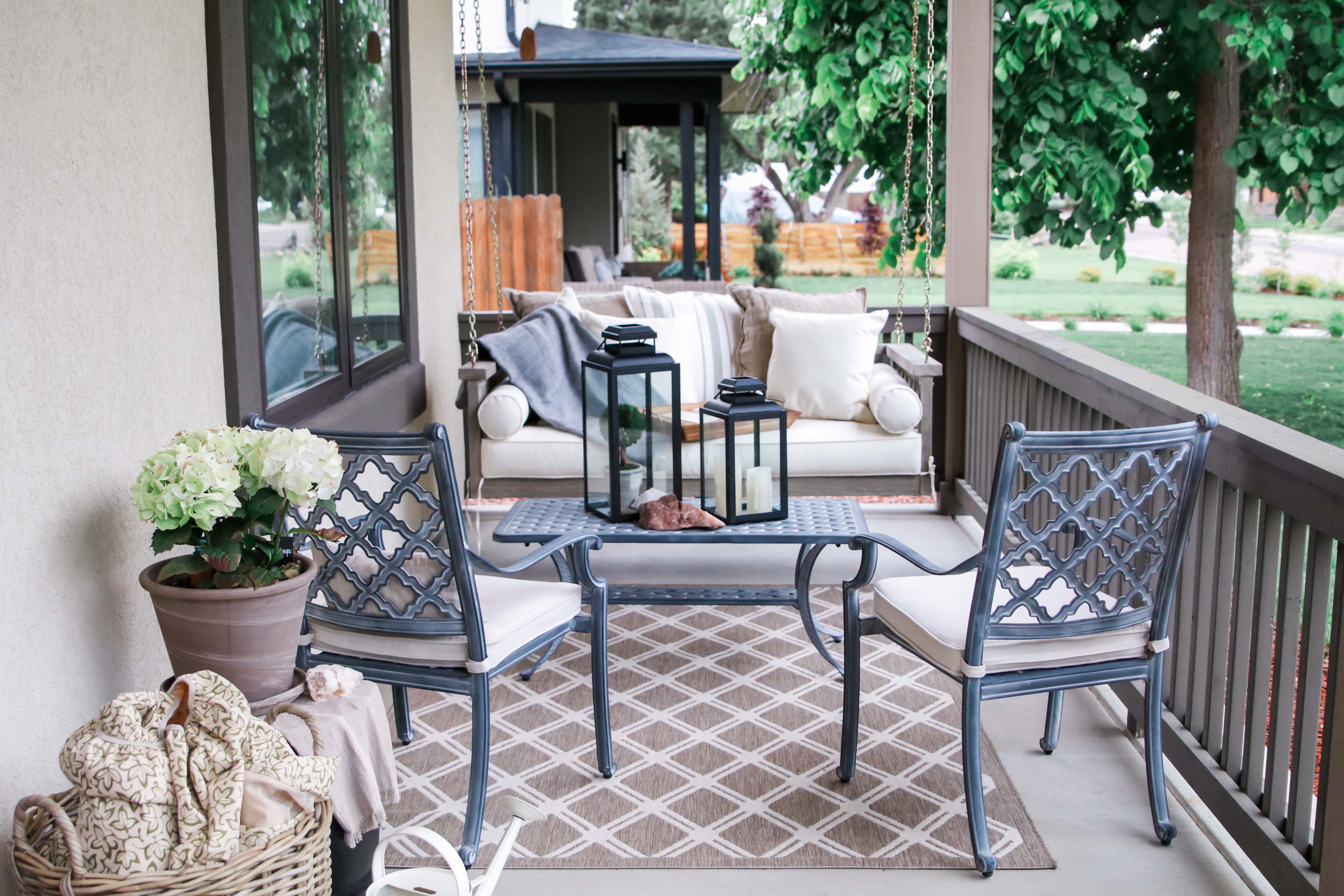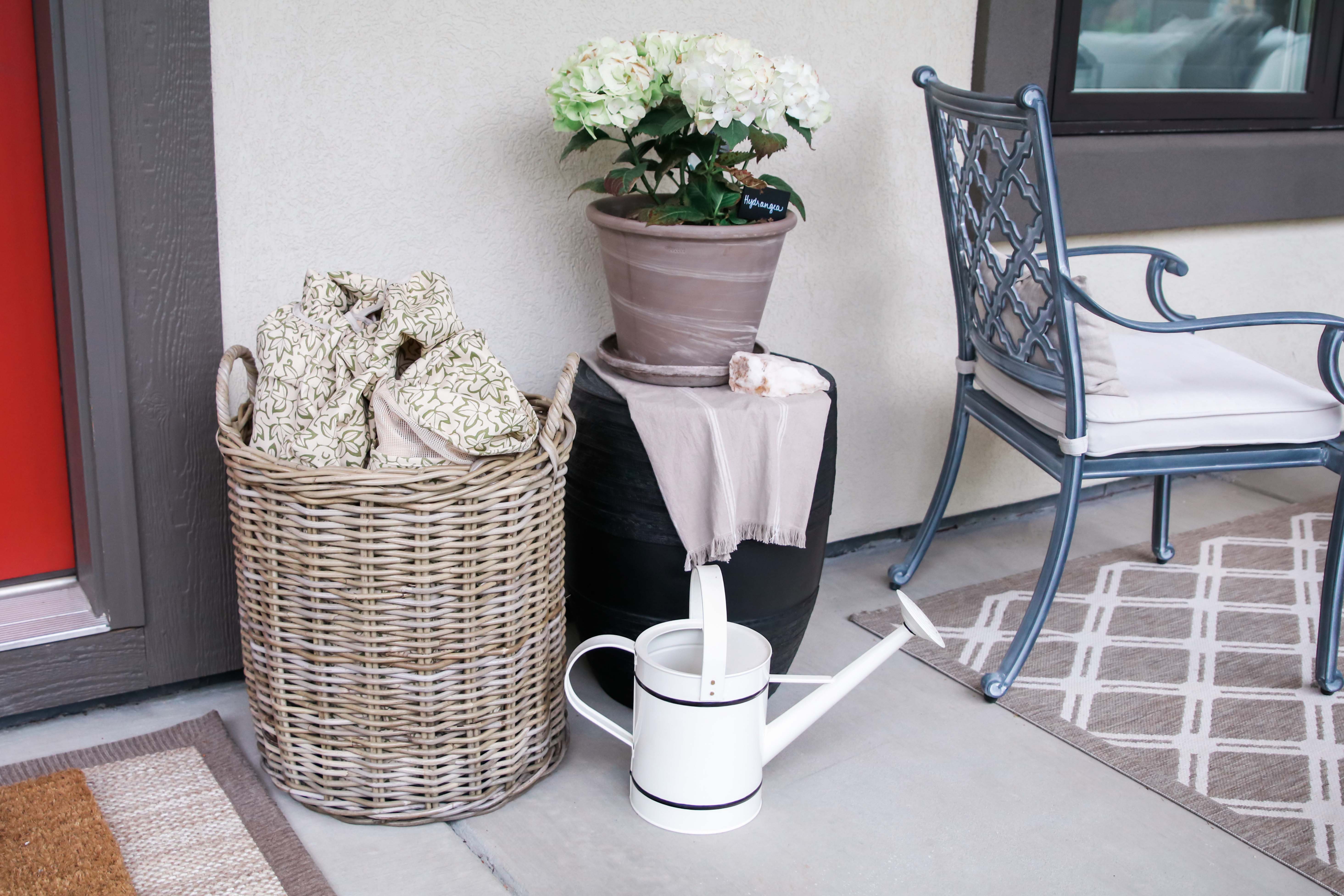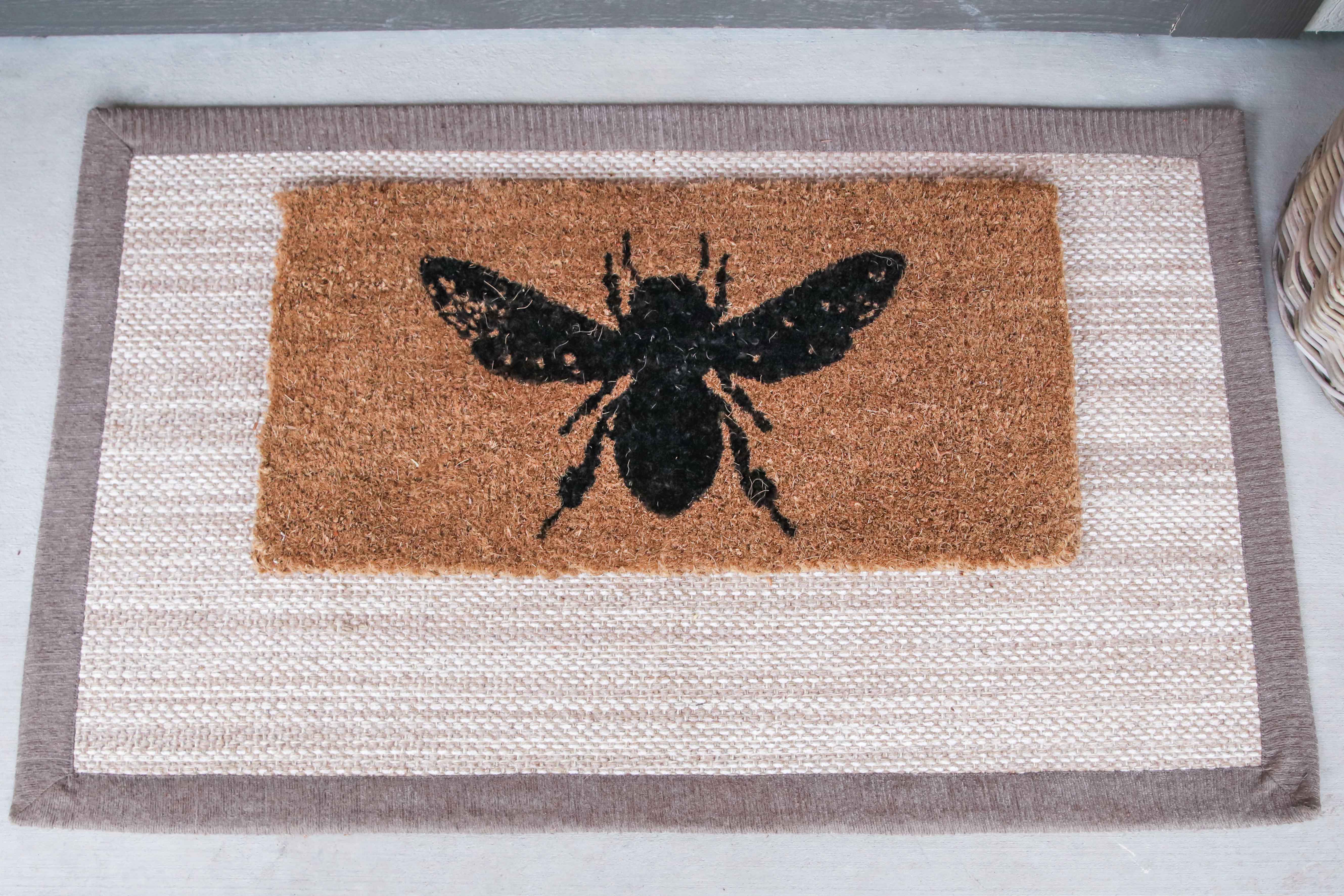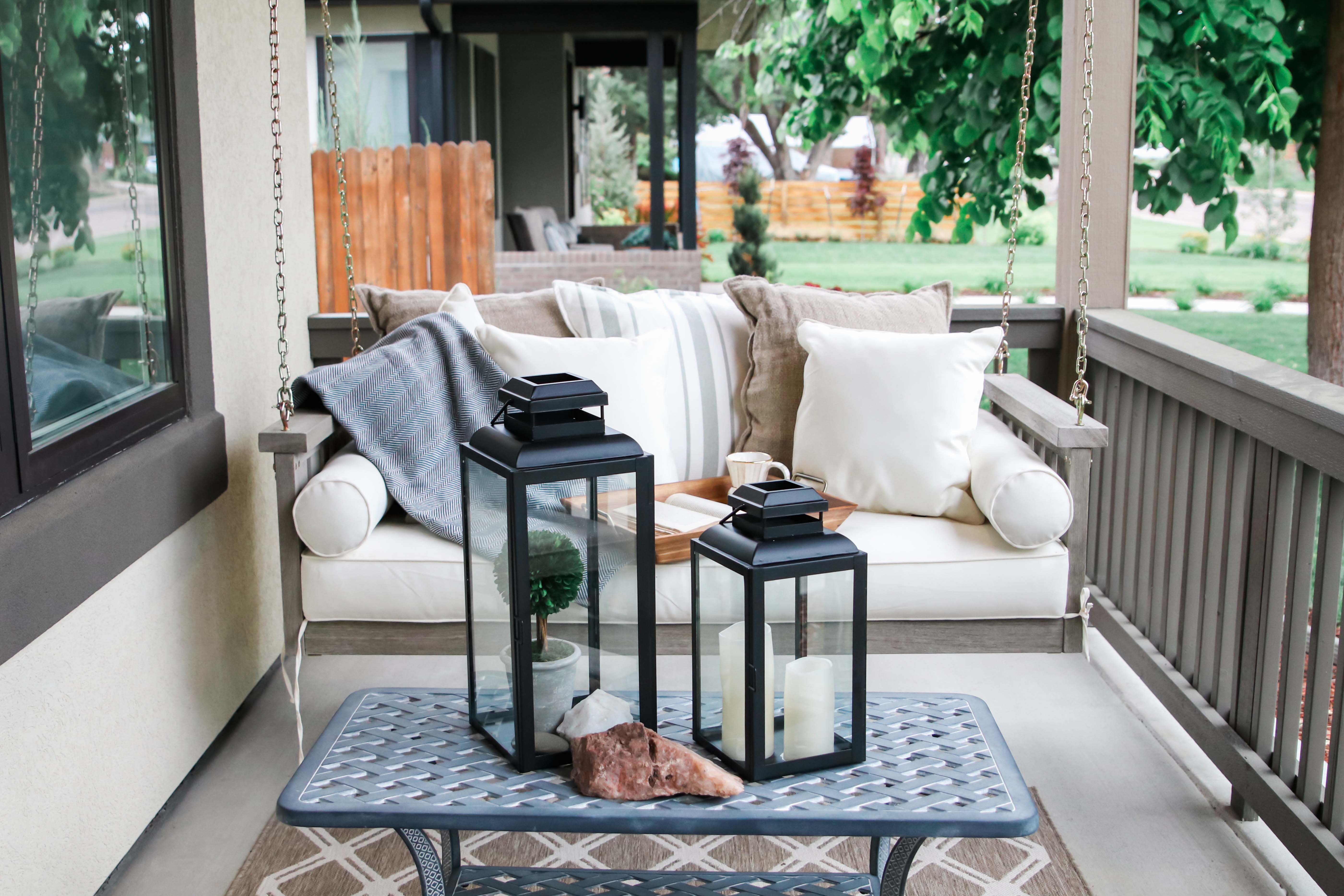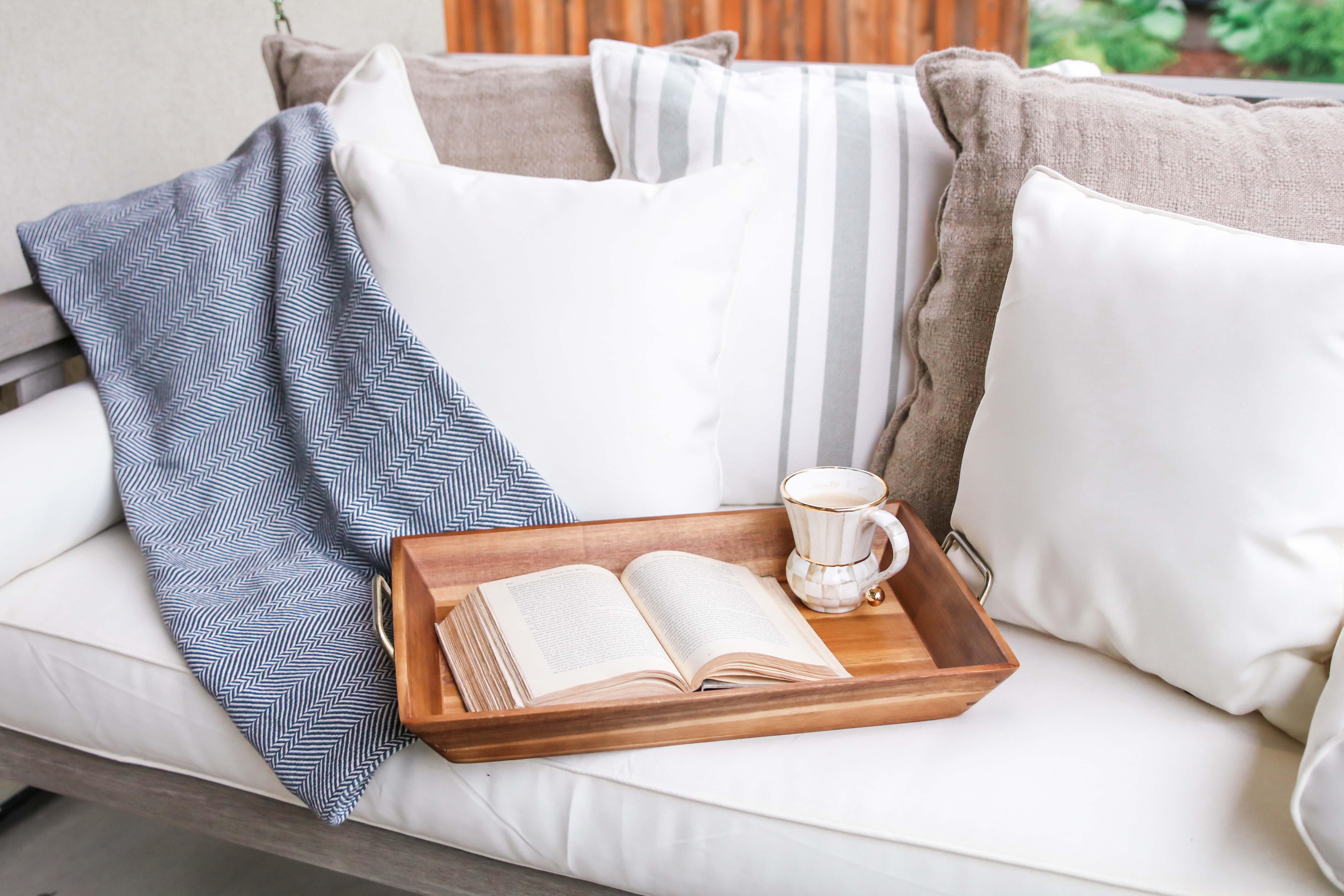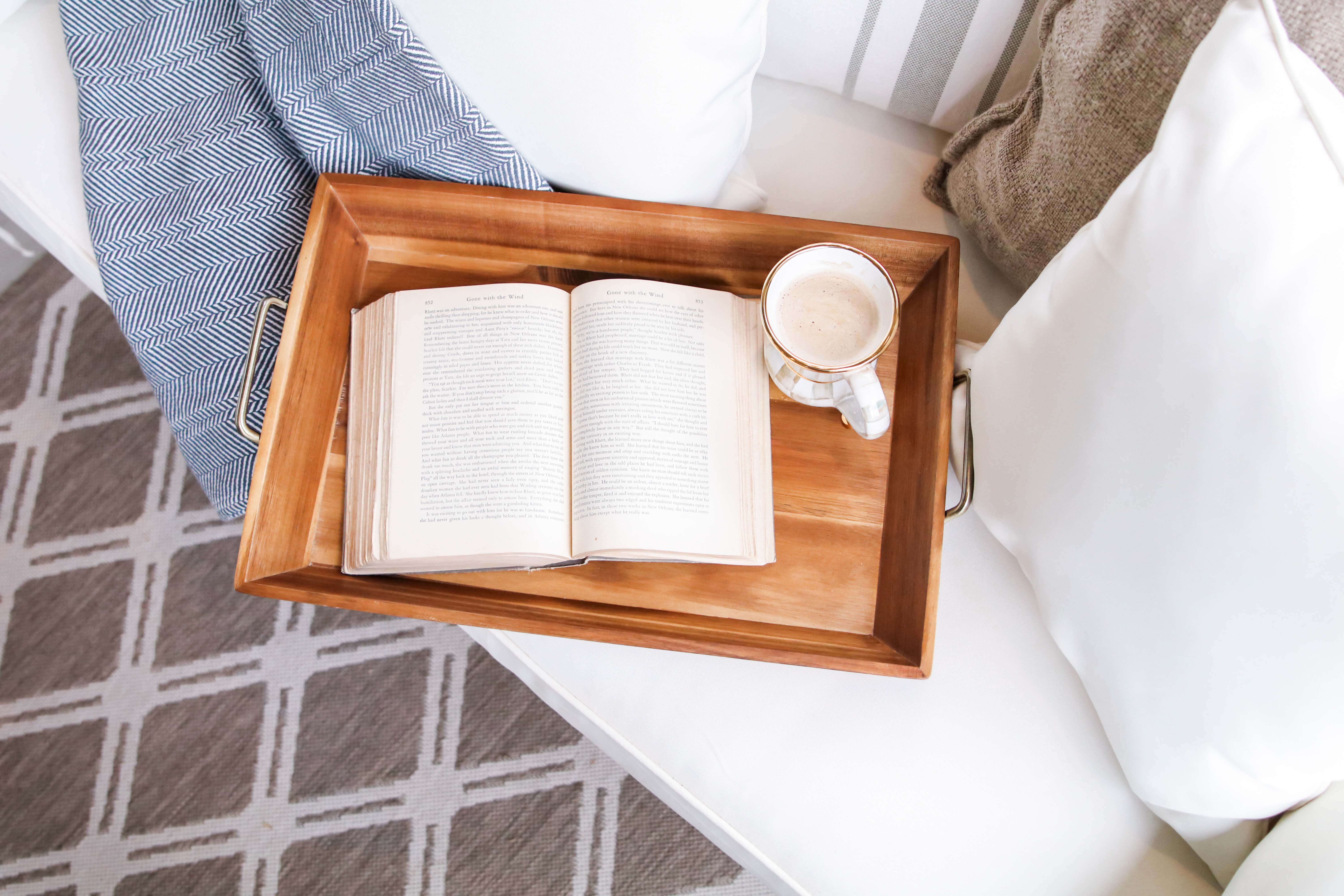 Porch Swing.  Indoor/Outdoor Rug.  Dining Armchairs.  Coffee Table.  Black Metal Lanterns.  Cotton Throw (Same Brand, Similar Color).  Wooden Tray.  Coffee Mug.
Newly Added Since Photos:  Boden Sand/Black Bolster Pillows.
I didn't plan on writing a dedicated post on this area of our home, but I've received a lot of requests to do so after showing it on my Instagram Stories. Late this spring, my husband and I did a huge overhaul to our yard and outdoor areas. The only professional we hired was someone to mud-jack our back patio where the concrete had settled and cracked four years after our home was built. We did everything else – removing mulch and fabric, shoveling new rock, laying sod, planting flowers – completely on our own over a long Memorial Day Weekend. (We are from the Midwest, after all… Dirt has never scared either of us.) It was a labor of love, we saved ourselves about $15k, and we were beyond happy with the results.
I was excited to create a serene, soothing front porch area to read or enjoy a glass of wine at the end of the day. In fact, I was so excited I finished this area before we even finished the landscaping – you can see the red mulch we had previously in these photos. I'm not exaggerating when I say I utilize this space every single day. I can work from my porch swing or just relax with the wind chimes twinkling overhead. But we live in the city – we don't have a lot of space and I've had to implement a few tricks to make this small area look cozy and inviting.
Create a Focal Point
I knew my focal point had to be the porch swing because it takes up the entire depth of our front porch, so the only place it could be hung was at the back of the porch area. This meant everything else on the porch needed to draw the eye to the porch swing; it would have the most inviting accessories, the chairs would be pointed toward it, and everything else would be lined up with the swing. Now when I step onto our front porch, my eye is instantly drawn to the porch swing; I want to cozy up and have a cup of tea!
Decorate in a Tonal Palette
This is a tip I use throughout our entire home, not just on the front porch. In order for things to flow, I keep everything in various shades of neutral colors like ivory, beige, taupe, and gray. I like a French country feel in my home and this neutral palette makes everything feel really soft and light. The eye can just wander here and there throughout the space. This same trick works in small outdoor spaces as well, making the area look larger instead of breaking it up with bold colors and lines.
Utilize Indoor Decor
Does anyone get really excited to snuggle up on a stiff, waterproof outdoor fabric?! No. While I keep our bases outdoor-friendly (the rug, porch swing, coffee table, dining chairs, and cushions are all outdoor pieces) I add in softer, more cozy indoor pieces to tie it all together. The porch swing is piled with budget-friendly indoor throw pillows from Target (the sprinkler occasionally likes to spritz this area, after all) and a soft cotton throw I bring inside when I'm not using it. I also have a large gray-toned basket for storing the outdoor furniture covers when we're not using them. And I added a pretty little tea towel from Magnolia to soften up the little black outdoor table.
Build in Threes
This is a trick that always seems to work for me, no matter what. I simply build little areas of three! For example, notice the little black side table, large basket of furniture covers, and watering can. There's also a section of three on the coffee table with two lanterns and the large rose quartz rock. You can repeat this pattern with pillows, chair arrangements, etc. The number three just seems to draw the eye up and onto the next area in your space; I find it adds a little movement and keeps things from being too divided or chopped up.
Use Smaller Versions
I would love to build large outdoor sectionals, put in a fire pit area with chairs, add a relaxing hammock;  the list goes on and on. But the truth is, we just don't have that kind of space here in the city. Despite lack of space, you still don't have to give up on all your seating. Just look for smaller versions of what you love! What I really wanted? A couple of these larger, cushy lounge chairs and a dining table. But I achieved a similar look with the much smaller dining chairs and coffee table from the same collection without crowding the area.
Add Greenery
Plants and flowers bring life to your space. Add a little plant to one of your lanterns or bunch varying heights in a little group of three. Since I snapped these photos, I've added English lavender, myrtle, and another hydrangea to our little front porch. They feel like a breath of fresh air when I see them each morning and add so much energy to this area.