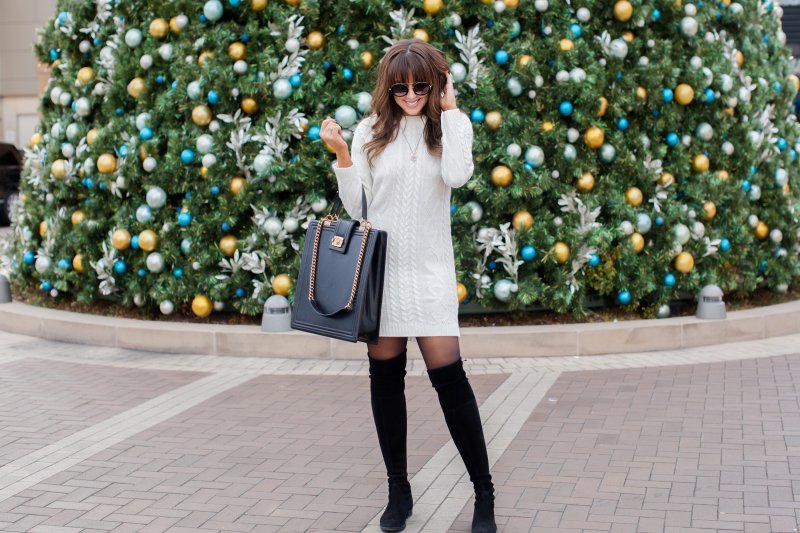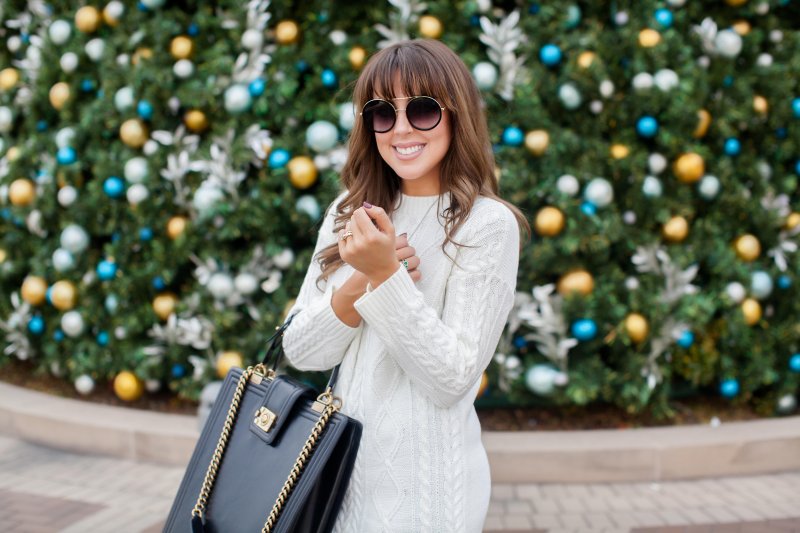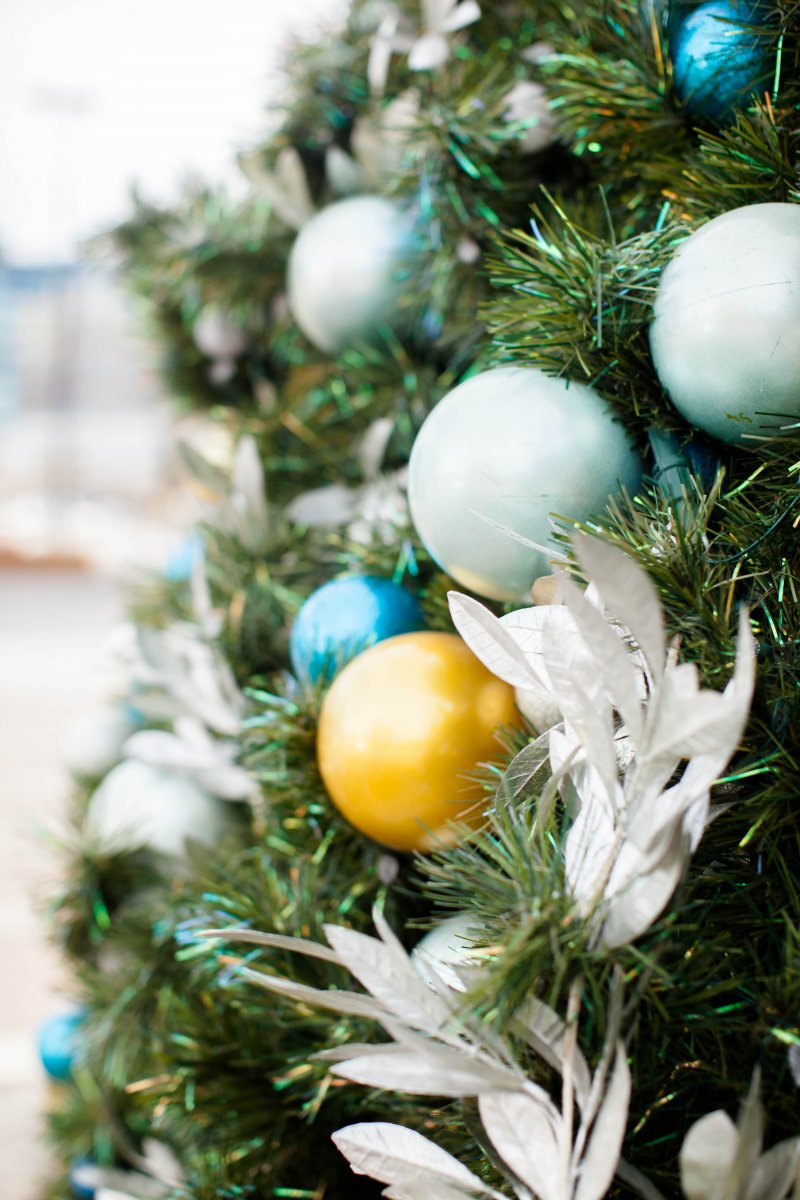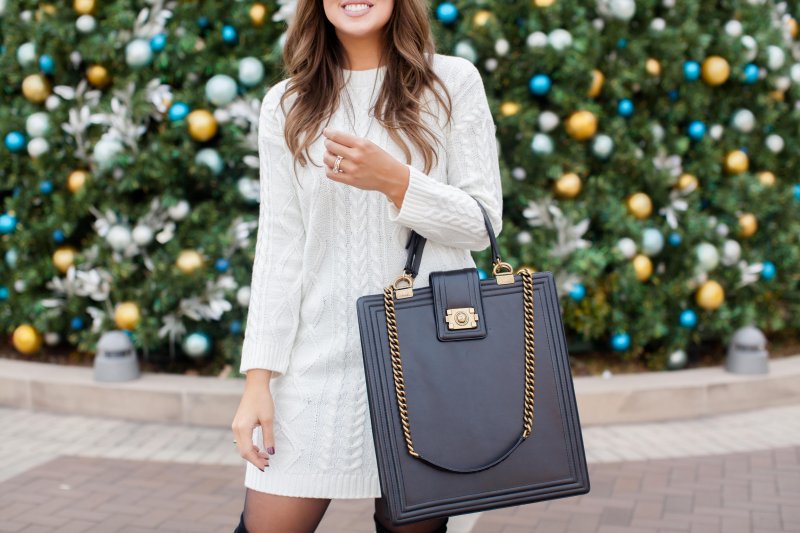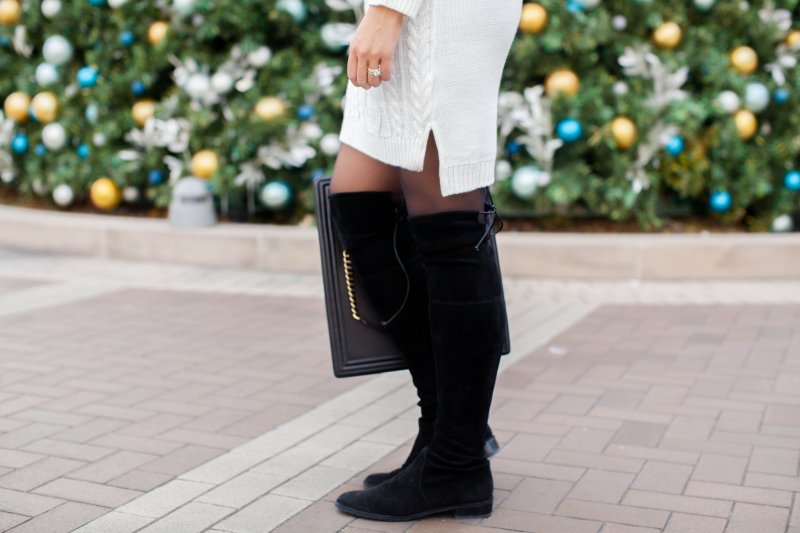 Sunnies.  Similar Sweater Dress.  Pantyhose.  Boots.  Similar Chanel Boy Bag.
Location:  Cherry Creek Shopping Center
Cherry Creek Shopping Center is by far my favorite place to shop for the holidays. They offer valet parking, there is a gorgeous 60-foot Christmas tree outside, the most beautiful holiday decor inside, and some great restaurant options to meet my husband after our shopping is done. Of course, any holiday shopping can get a bit tense with shopping lists a mile long and all the hustle and bustle around us. So I wanted to share with you my little secrets I often do while at Cherry Creek Shopping Center to keep my stress down and pamper myself a bit.
Coffee Break
I love starting my shopping with a coffee or tea in hand to give me a little energy boost. For coffee, I like Ebar just outside Nordstrom on the lower level of the mall. I often order a seasonal drink like their Pumpkin Spice Latte with almond milk, but my year-round favorite is the Almond Roca Latte.
Tea Time
In the summer, I like to order iced tea instead of a hot coffee. The Sparkling Hibiscus Tea Cooler from the Ebar just outside Nordstrom on the lower level of the mall is one of my favorites. But I also like stopping by Teavana near the West parking deck. I can stock up on loose leaf tea and order a Winterberry Tea with added Silver Yin Zhen Pearls for a little boost of caffeine.
Brow Maintenance
My favorite places for brow maintenance are both in the mall. My brows can be really difficult to shape and Stephanie at the Anastasia counter in Nordstrom is a brow goddess (BOOK HERE) – she always makes mine look incredible and makes it easier for me to trace and pencil them in between appointments. If Stephanie can't get you in, go to La Biotique on the lower level near the West parking deck and get your brows threaded; they can always get me in and they never take too much brow.
Shoe Shine
This is something I often forget to do until I look down at my leather boots and leather shoes and realize there are little scuff marks all over them. If you head toward the restrooms on the lower level just past Neiman Marcus, there is a little shoe shine spot down the hall. It's nice to sit your bags down, rest, and get your shoes cleaned and polished mid-shopping spree.
Smoothie and Wheatgrass
By the time I'm nearly done with my Christmas shopping, I'm usually quite tired and my feet are killing me. So I make sure to stop at Fresh Healthy Café where I pick up a Pitaya Passion smoothie for an afternoon snack, as well as a wheatgrass shot to boost my immunity. I feel as if I'm always trying to dodge colds and flus during the holiday season, so I definitely take advantage of extra vitamins and health benefits when I can!
Do you shop at Cherry Creek Shopping Center for the holidays as well? Where are your favorite spots?