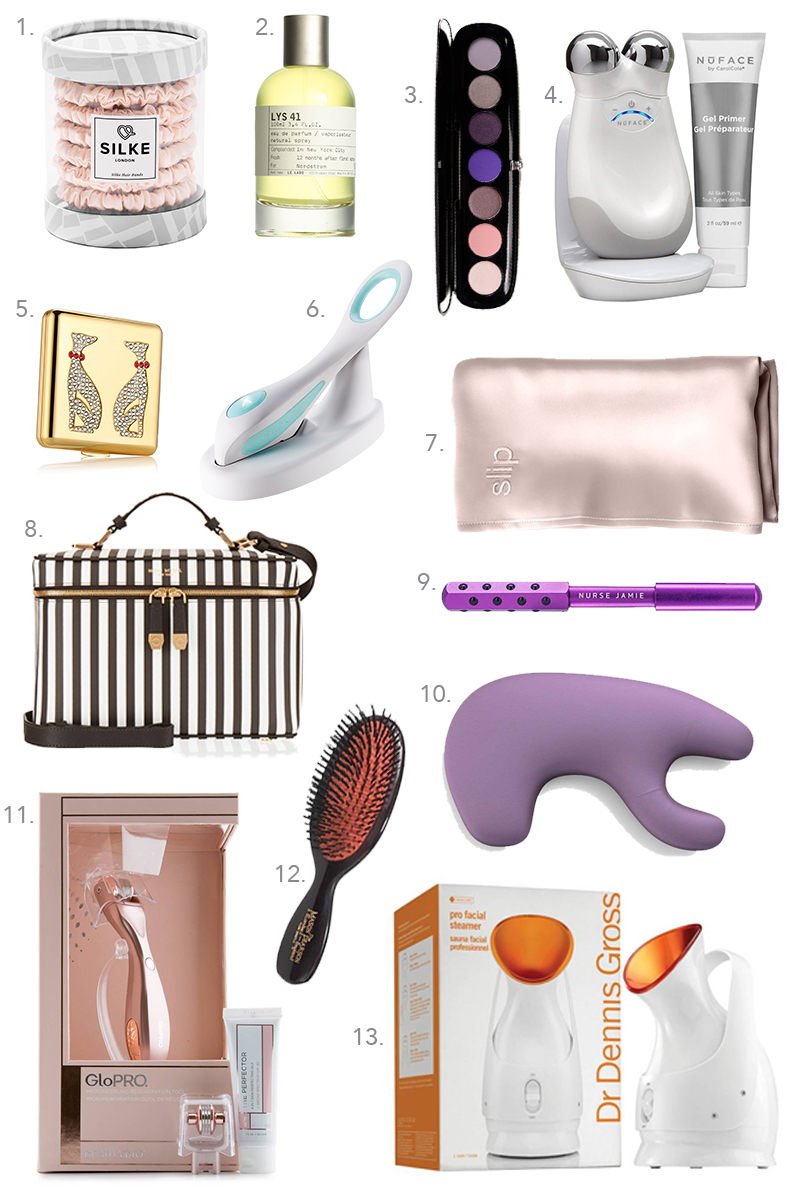 1. Silk Hair Ties.  2. Le Labo Lys 41 Perfume.  3. Eyeshadow Palette.  4. NuFace Facial Toning Device.  5. Estée Lauder Powder Compact.  6. Dermaflash Exfoliating Device.  7. Slip Silk Pillowcase.  8. Henri Bendel Train Case.  9. Facial Rolling Device.  10. Age Delay Pillow.  11. GloPro Microneedling Device.  12. Mason Pearson Hairbrush.  13.  Facial Steamer.
How to Shop:  Click one of the links under the collage above, click any of the links in the text below, click any of the "Available Here" links under the numbered list of items after the text below, or click any of the images in the shoppable slide at the bottom.
My Beauty Gift Guide is my favorite gift guide I look forward to curating each year. I have always been interested in skincare, hair, and makeup and I think deep down if I had to choose one thing to blog about it would be beauty. I was always mesmerized by the beauty books I would beg my mother to buy me as a little girl; I remember poring over every detail of Kevyn Aucoin's "Making Faces" book and the way he would transform people's faces into another person, another character.
This year, my guide focuses on skincare because it is the foundation of everything else beauty. I've learned that the more care and love I put into my skin, the better my makeup looks. Plus, there are so many incredible new tools and devices on the market for us to take advantage of. I really wanted to showcase that this year and share some of these miracle workers with you!
But before we swoon over all the pretty things… We are all incredibly fortunate to have the things we truly need and have a bit extra to give back. If you want to do some good instead of or in addition to your Christmas gifts (this will make your mother extra happy, I promise) I suggest the following:
Heifer International: Purchase a farm animal and this organization will give it to an impoverished family around the world. My favorite gift I've already purchased this year? A hive of honeybees. Animals not only feed and sustain the family they are given to, they help feed that family's community and give the family a new stream of income.
Adopt-A-Family: So many families are struggling to make ends meet this holiday season and many elderly people will be alone on Christmas. I simply searched "Adopt a Family for Christmas in Denver" to find opportunities. Be quick because most Denver programs have already filled their donor lists. The Parker Task Force still needs donations and DHS is still accepting donations. Check your neighborhood within the Be a Santa to a Senior program to help a senior in need.
Within each gift guide, I try and give my shopping tips for the person the gift guide is dedicated to. That way, if you don't like any of my picks you can still walk away with some tips. For the beauty lover, you're in great hands because I have done my skincare and beauty research for you! You can't go wrong with any of these items. Is your beauty lover a traveler? Then gift her this lovely train case to keep all her treasured products safe. Is she a more mature woman? She will appreciate the NuFace Facial Toning Device for giving her skin a little boost. Does she love anything haircare and have an enviable mane – or want to? Then give her this luxe boar bristle brush. Is your beauty lover a mask devotee? She'll love you forever if you gift her with this facial steamer to assist in her spa regime. Looking for a stocking stuffer? Easy – these silk hair ties will do the trick.
Be sure to check out my Men's Gift Guide, Moms and Mother-in-Laws Gift Guide, and for more gift guides and holiday content, take a look at my website's Holiday section. Happy Shopping!
1. Silk Hair Ties
No tangles, no problems. Besides being incredibly beautiful, these silk hair ties help protect your strands.
2. Le Labo Lys 41 Perfume
I fell in love with this beautiful fragrance when Le Labo sent over a discovery box of their fragrances. It's a powerful yet creamy white floral with a top note of tiare flower; mid notes of jasmine, lily, and tuberose; and base notes of wood, musk, and Madagascar vanilla.
3. Marc Jacobs Eyeshadow Palette
When everyone began raving about these eyeshadow palettes I thought they were crazy. Then I bought one. The powder shadows are soft and creamy; they blend beautifully and can effortlessly create many different eye shadow looks.
4. NuFace Facial Toning Device
This little gem sends gentle microcurrents through the skin, toning and tightening underlying facial muscles. Use it consistently and you'll see improved facial contour, tone, and reduced wrinkles.
5. Estée Lauder Powder Compact
Luxury jewelry designer Monica Rich Kosann designed this beautiful compact exclusively for Estée Lauder. It's meant to celebrate 2018, the Year of the Dog, but its elegant design makes me think of a vintage Art Deco piece.
6. Dermaflash Facial Exfoliating Device
Have you ever gotten a dermaplaning treatment? They are typically only offered at medical spas, but this tool allows you to have all the benefits from the comfort of your own home. Dermaplaning sweeps away dead skin, product buildup, and facial fuzz to reveal a glowing, smooth complexion.
7. Slip Silk Pillowcase
These pure silk pillowcases reduce tugging and friction on delicate facial skin to prevent and reduce wrinkles and bedhead. Silk fibers are less absorbent, so the luxe products the beauty lover in your life uses will stay on her face and not on her pillow.
8. Henri Bendel Makeup Train Case
My mother always travels with her skincare products in a beautiful little train case. While my products are sloshing and tumbling around in a soft-sided cosmetic bag, hers stay upright and easy for her to reach while she's getting ready. Lesson learned, mama… Your way is the right way. Once again.
9. Facial Roller
One of the lovely benefits of having severe allergies is that I experience a lot of puffiness in my face, especially in my eye area. If I forget and pet our shedding dog, then rub my eyes, you can bet my eyes and cheeks will be swollen the next day. One thing that has helped? Rolling out my skin. It sounds silly, but this is an ancient Asian beauty trick. Rolling the facial skin with a tool like this reduces puffiness, increases circulation, and helps to smooth and contour facial muscles. It's nothing crazy complicated or permanent; it's just a great way to energize and refresh your skin in the mornings. And it works.
10. Age Delay Pillow
This pillow is designed to encourage more restful sleep positions and it cradles the face to avoid sheet marks and scrunching that can cause premature aging.
11. GloPro Microneedling Device
If you've never used a microneedling device, they're not as scary as they sound. Tiny needles roll over skin, creating mini "wounds" and the body tells skin cells to regenerate from the inside out. Since our skin naturally slows regeneration as we age, microneedling turns back the clock and this version also incorporates red LED light therapy to help boost regeneration and healing.
12. Mason Pearson Boar Bristle Brush
I love these brushes; I've had mine for almost seven years now. The boar bristles are gentle on hair and scalp and are designed to evenly distribute the hair's natural oils while gently exfoliating the scalp. I can tell a difference when I use this brush; my hair is more voluminous and shiny.
13. Dr. Dennis Gross Facial Steamer
Ever notice how much better it is to tweeze or do pore extractions after a shower when the bathroom is all steamy? It's even better to let facial masks and treatments soak into pores under a nice steam. As a beauty addict, I would love this little steamer designed specifically for use on the face. I don't think you can go wrong with this one; it's like giving someone a mini spa in their own home.