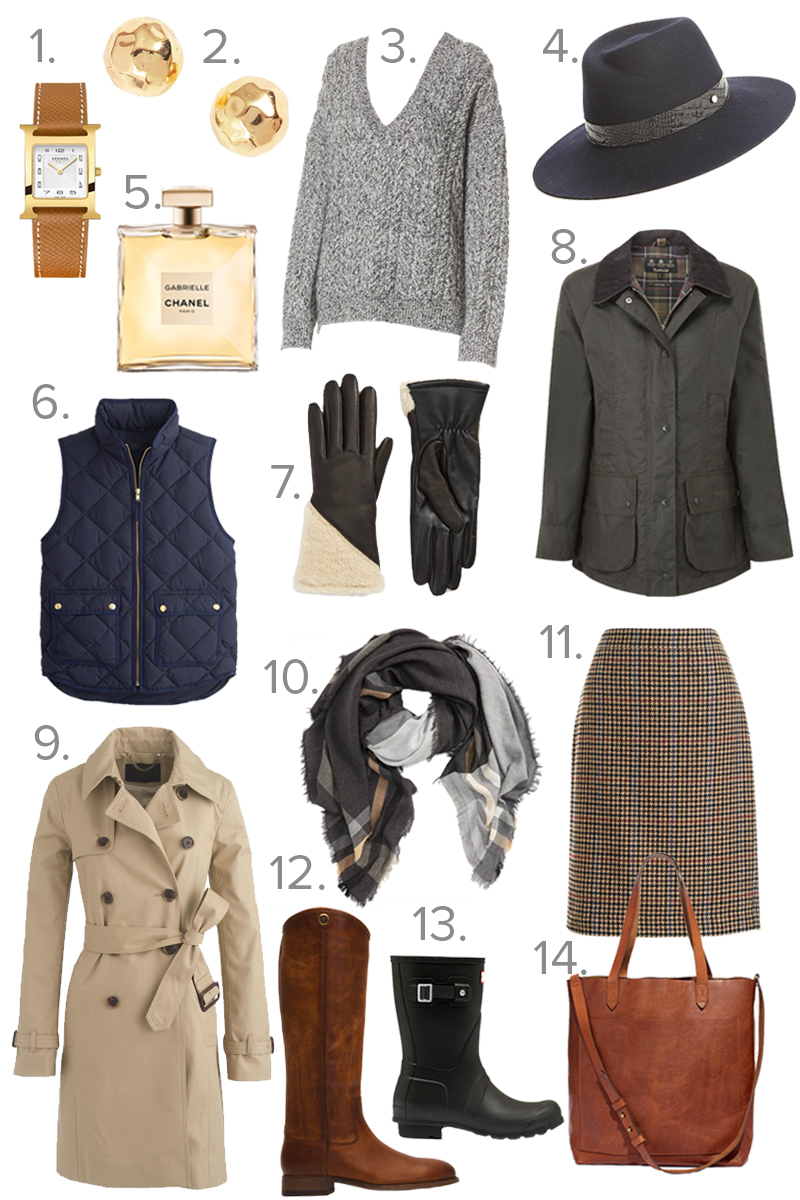 ONE – Hermès Watch.  TWO – Gold Ball Earrings.  THREE – Oversized Cable Knit Sweater.  FOUR – Wool Hat.  FIVE – Chanel Gabrielle Perfume.  SIX – Quilted Vest.  SEVEN – Shearling Gloves.  EIGHT – Barbour Waxed Cotton Jacket.  NINE – Trench Coat.  TEN – Neutral Scarf.  ELEVEN – Houndstooth Pencil Skirt.  TWELVE – Riding Boots.  THIRTEEN – Hunter Wellies.  FOURTEEN – Leather Tote Bag.
As style icons like Jackie Onassis Kennedy and the Duchess of Cambridge prove, classic style never goes out of style. (Which is great because if you're curating your closet around a few staple investment pieces, you want them to stand the test of time!) As you can probably tell, classic style is my favorite. In order to keep it fresh, I employ an 80/20 rule I explain in this blog post.
"But isn't this style for basic bitches?" you might ask. Not hardly. Ensuring your closet is stocked with a few key pieces means that you'll have go-to items to reach for when you aren't feeling quite so creative in the fashion department or when trends aren't as appropriate. When you see a woman who appears effortlessly stylish, it's probably because she has built her look around a few staple pieces that fit her well and are made from great fabrics. Below, I'm sharing all the items I think make for a well-styled fall wardrobe and why you should add them to your closet. Let me know down in the comments which items you reach for again and again in the fall months!
1. A Classic Watch
A timeless watch is an integral part of building a classic core fall wardrobe. A classic watch doesn't have to be expensive to look good (take a look at this option under $100) but if you're going to invest in something, this is a good place to start. You'll have a timeless watch forever and classic styles like this only improve with time; minor scratches and distressed leather add character and make the watch look like an heirloom that has been passed down.
This Hermès Heure MM watch is the one I wear daily. I love the sleek design and the tan leather strap is beautiful; you can't beat the quality of Hermès leather. The watch is fairly easy to maintain as it runs on a watch battery vs self-winding; my battery lasted for about two years and I just recently took it in to a local jeweler's for a new battery and internal cleaning. This would make an exquisite holiday gift for someone!
2. Gold Ball Earrings
When it comes to classic jewelry, the beautiful simplicity of small gold ball earrings can't be matched. Less showy than diamond studs and less prim than pearl earrings, this style is the timeless, understated sister. But don't let the word "understated" fool you – when these shiny gold babies catch a hint of light they definitely make a statement.
I love the textured style of these 18K gold plated earrings. They come in rose gold and silver as well. These are the "go with everything" earrings you'll find yourself wearing again and again.
3. An Oversized Cable Knit Sweater
This cozy wool sweater with a hint of downy-soft cashmere conjures images of fireside conversations in log cabins and walks through the leaf-strewn woods on brisk November mornings. An oversized cable knit sweater like this is a key piece in any woman's wardrobe; it looks beautiful layered under scarves, vests, and jackets. On the bottom? Pair it with slimming faux leather leggings or sleek, dark denim.
A sweater in a beautiful blend of materials is an investment, but you'll notice that if you spend a little money on one it will breathe better, hang better on your body, and will stand the test of time. Noticing those annoying little pills on top of the knit? Every woman also needs this sweater shaver in their life – I use mine all the time and it has saved many a sweater from hitting the Goodwill pile
4. A Wool Fedora Hat
I love a great fedora hat because it looks equally chic on the streets of Manhattan as it does at a hunting lodge. A classic hat like this one just polishes off your look and adds a timeless touch. Whenever I feel an outfit is lacking or I'm just not feeling great, I add a hat and it instantly injects a bit of style into my outfit.
The hat I included in the collage above is by one of my favorite hat designers, Janessa Leone. I own a few Janessa Leone hats and I wear them year after year, always receiving compliments on them when I do. This one is in a gorgeous wool, making it perfect for fall and winter. I love the gorgeous navy color as it's one that will flatter nearly every skin tone and won't go out of style.
5. A Warm, Classic Fragrance
When your skin warms, any fragrance you're wearing is magnified. In the summer, it's best to wear light, crisp fragrances since warm temps are at an all-time high and our skin may be sweating. But… Come fall and winter, we get to bring out all the intense, sexy fragrances since cool temps will ensure our fragrance doesn't knock anyone over! A warm, classic fragrance is a essential addition to your fall wardrobe.
It's no secret I love Chanel fragrances – you can read about some of my favorite fragrances in this blog post. And their latest perfume, Gabrielle, is no exception. It's classic femininity mixed with a hint of sexy in a beautiful crystal bottle, bursting with sophisticated floral notes like jasmine, orange blossom, Grasse tuberose, and ylang-ylang. Think feminine with a hint of spice!
6. A Quilted Down Vest
Quilted down vests are made for layering and layering gives a rich, complex look to any outfit. I have quilted vests in neutral colors like navy and black and find myself wearing them all the time. They look great with sweaters, turtlenecks, and even plaid flannel shirts for a more casual look.
I chose to include a vest from J.Crew because I find their vests to be the most flattering on the body and I love the hardware snaps on the front pockets. This navy quilted vest will be one you reach for again and again during the chilly months to come!
7. A Pair of Cozy Leather Gloves
As a child, I used to despise wearing gloves for some odd reason. I would allow my poor hands to become dry and chapped as the winds whipped them day after day but I refused to put on gloves!
While most of us are no longer that weird neglectful, gloves are a necessary accessory that is often overlooked. But it's undeniable that a great pair of leather gloves adds a polished quality to fall and winter looks. Made of shearling and soft leather, this pair of gloves is beautifully made and will protect your pretty little paws season after season.
8. A Waxed Cotton Jacket
It doesn't get much more classic than a waxed cotton jacket. This gorgeous olive green version is lined with plaid fabric and is the British classic brand Barbour's most popular style. Fending off misty mornings, rainy afternoons, and snowy days, these jackets are an investment piece you will have for years to come. You can even send them in to Barbour to be re-coated if the wax begins to wear off years down the road.
Order yours with a bit of room because these jackets are wonderful to layer. I pile on a thick sweater, a cozy scarf, and I can't even feel the wind. This will become your favorite jacket!
9. A Classic Trench Coat
Would Breakfast at Tiffany's be the same without Audrey Hepburn wearing her iconic trench coat? I don't think so. There's a reason these classic coats have withstood the test of time; they're effortless, flattering, and instantly bring a touch of sophistication to any outfit. This one is about as classic as they come.
Whether you're wearing your trench belted over a chic black cocktail dress or hanging over your shoulders as you travel, you'll realize how quickly it will become an integral part of your wardrobe.
10. A Neutral Patterned Scarf
Neutral tones elevate your look and make it appear uniform and luxe. A beautiful scarf in neutral tones like this one is an essential accessory for fall looks. It will look incredibly chic wrapped around and tucked into a trench coat.
Need some idea on how to tie yours? Take a peek at my favorite scarf-tying video here.
11. A Houndstooth Pencil Skirt
I love the soothing continuity of a traditional houndstooth print. It looks even better on a cozy thick fabric in a classic style like a blazer or a pencil skirt like this one. I find myself reaching for a pencil skirt over and over again in the fall. They are perfect pieces for when you're unsure of the dress code or for when you need something that's a bit more polished than casual. I pair mine with sweaters, turtlenecks, tights when the weather cools, and even riding boots.
12. A Pair of Riding Boots
Riding boots might be my most-worn classic wardrobe item. I wear my riding boots with everything – sweaters and jeans and even paired with dresses and skirts over opaque tights. This pair is a classic riding boot but the subtly distressed details make the boots seem like something that's been passed down from a relative.
I chose to include this pair of boots because they are from my favorite boot brand. Their boots have classic inspiration, but little details that keep them fresh and up to date. My boots from them have lasted for years and they are neither too dressy or too casual; they are the most wearable boots you'll ever own. This style also comes in a wide calf version.
13. A Pair of Hunter Wellies
If riding boots are my most-worn classic wardrobe item, then wellies are my second most-worn classic wardrobe item. I remember falling in love with the classic green and navy wellies I saw all over London as a little girl. They repel rain and snow, but let's be honest… We love them because they make us feel like a countryside version of Duchess Catherine.
While I can't resist a pair of tall wellies in green or navy, I've found I wear this short black pair much more in a city. They look great with a pair of cozy socks just peeking above the top and they are so comfortable.
14. A Leather Tote Bag
Last but not least, every woman should have a classic leather tote bag. They look beautiful in the fall against cozy fabrics like tweed, plaid, and houndstooth.
I've been eyeing this version for months – I love the simplistic styling and the vintage vibe. It's perfect for toting around a laptop, a book or two, and maybe even a tumbler of your favorite pumpkin-flavored drink.