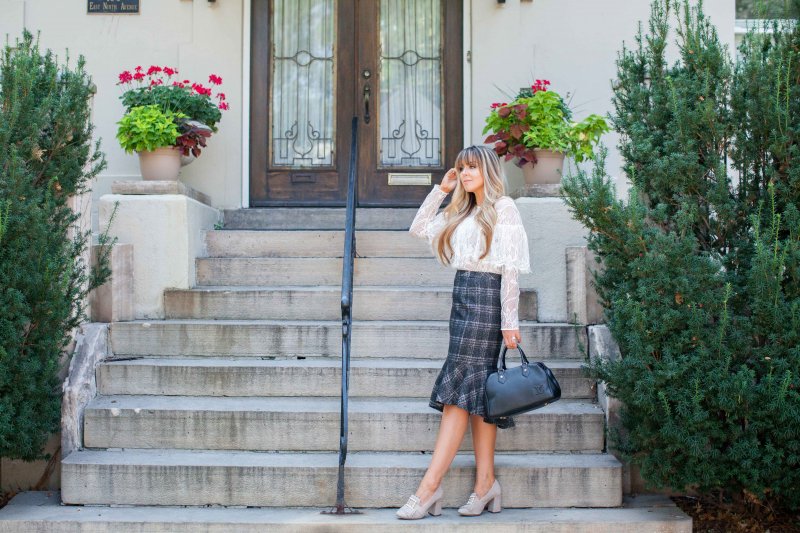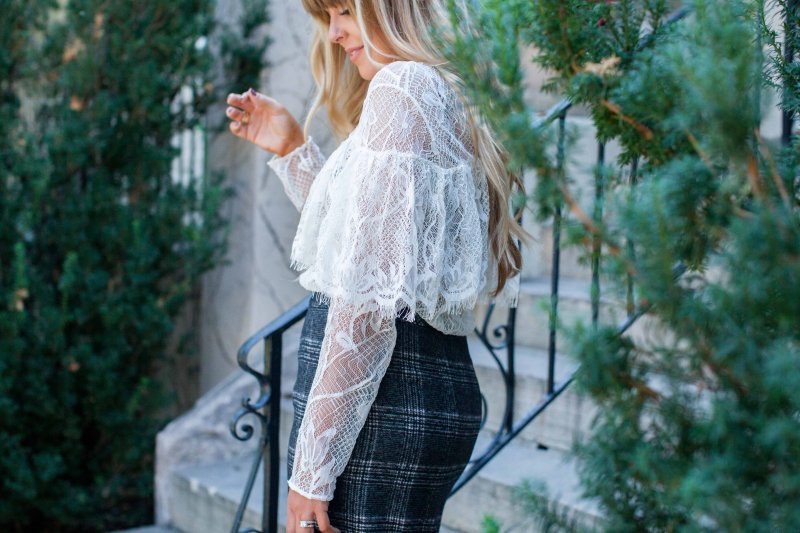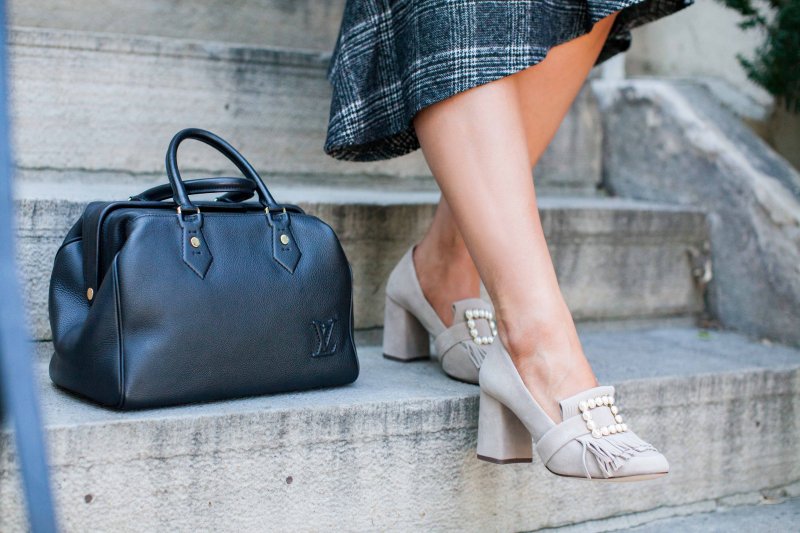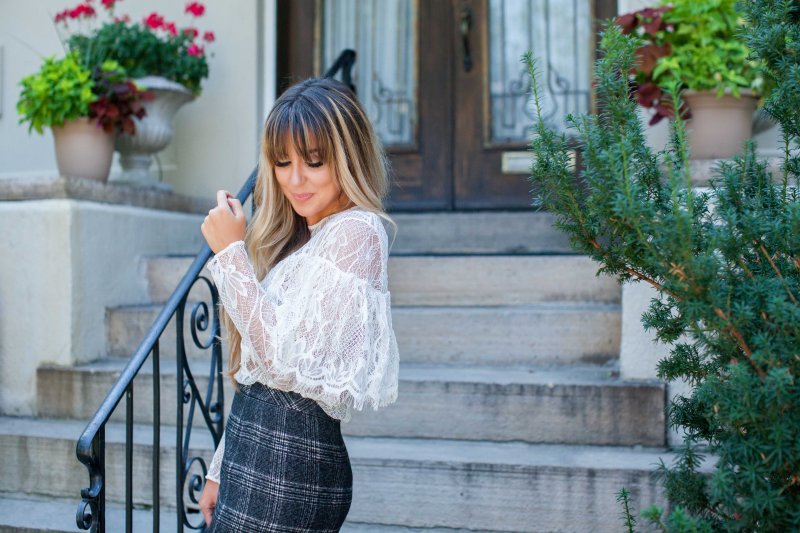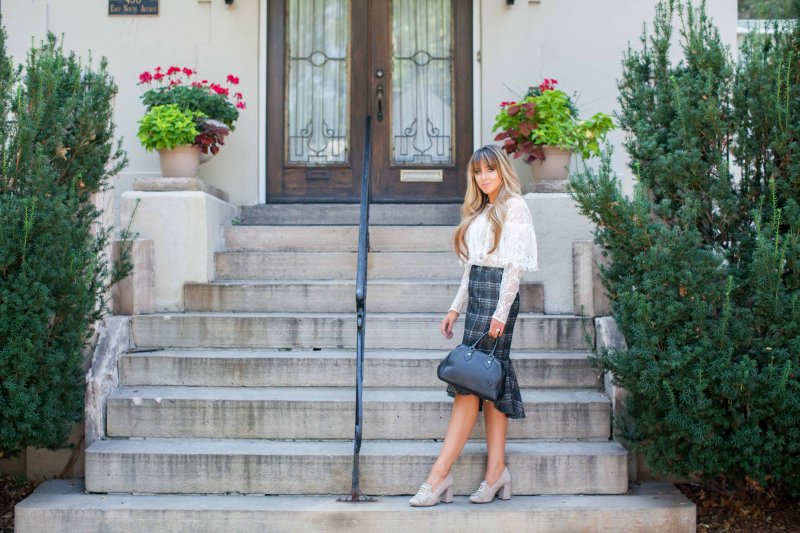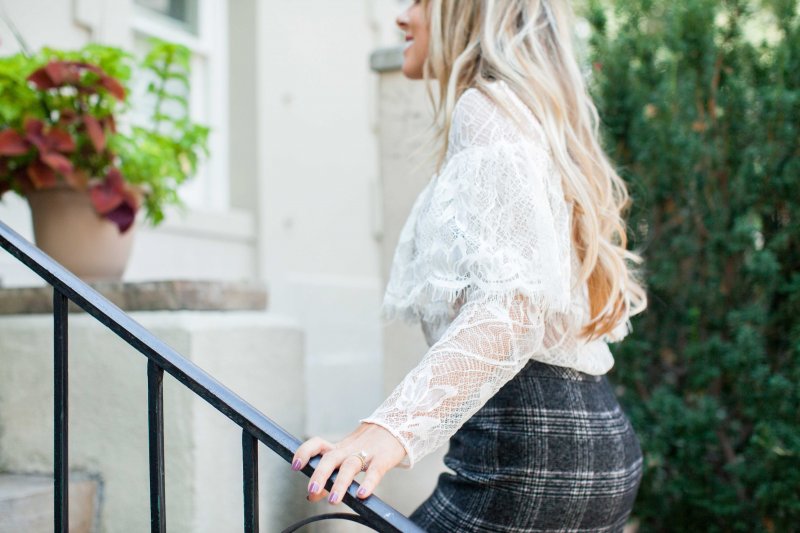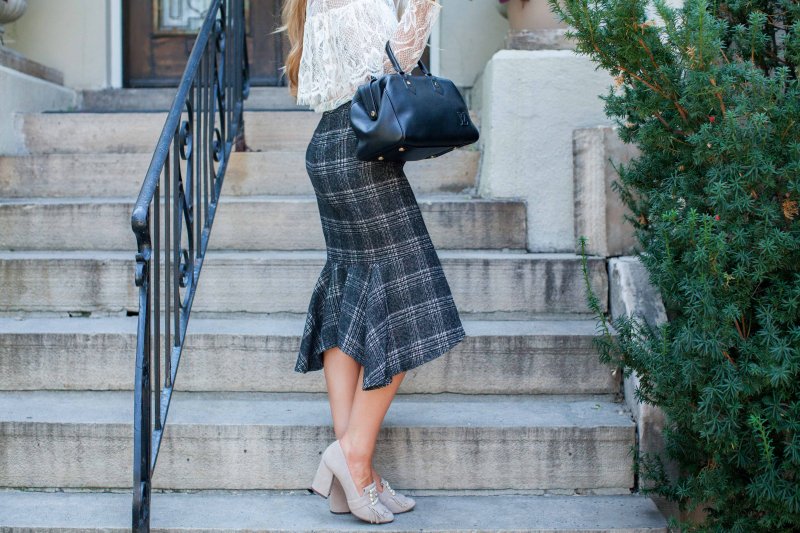 Lace Ruffle Top – Comes in Black and Cream.  Plus Size Lace Ruffle Top.  Plaid Skirt.  Suede Loafer Pump – Comes in Black and Taupe.  Louis Vuitton Cinéma Intrigue Bag – Fall 2010 Runway (Pre-Owned in Gray Here and Here.)
Hair Extensions, Lashes, Tan, Nails c/o Glamour Bar Denver (Mention My Blog for $50 Off Lashes)
I'm often asked about professional looks and office wear. As most of you know, I work from home (most often in leggings or jeans) and reside in Denver, Colorado – a place where yoga pants at lunch meetings are commonplace and heels on the street are a bit of a rarity. However, when I did work in an office I still loved fashion and applied the same guidelines to styling my office attire that I do to my personal style now. That guideline is the 80/20 rule and I'm going to share how it helps me choose my looks and decide what pieces to purchase.
I love classic style; whenever I invest in a piece of clothing or a designer accessory I ask myself if I will be able to wear it in five or ten years. Yes? Then the item is likely a classic that will aid me in curating a collection of investment pieces. No? Then the item is a trend that will soon fade and I'm better off choosing a less expensive version I won't feel guilty about donating or consigning in a year or two.  At the same time, I don't want to dress all in classics with no updates (my style would never change throughout my life) and I don't want to dress like a walking billboard for this season's trends (bring on the cringeworthy photos years from now). So I apply the 80/20 rule to help infuse a hint of trend into my overall classic style.
When I'm styling a look, I go for about 75-80% classic pieces or styles and about 20-25% trendy pieces or accessories and this method is what I suggest for styling office wear that doesn't feel dull or stagnant. For example, the overall feel of this look is classic; cream lace, a plaid skirt, doctor's bag, and loafer pumps. But I've incorporated a small amount of trends; the ruffle blouse, the asymmetrical skirt hem, and the pearl details on the loafer pumps. These fresh and more fashion-forward details keep the look from feeling boring while still allowing it to remain office appropriate. If you feel your office is too traditional for 20% start with one item; eyeglasses in a bright color, a graphic print scarf around your neck, or suede pumps instead of your usual leather ones.
Since the pieces have these trendy details, I kept both the blouse and skirt under $100. The suede loafer pump is quite classic and reminds me of a shoe from the 1960's but the pearl detail and similarity to the popular Gucci Marmont loafer pumps make me think this is a style that won't last for years; the version I'm wearing is a steal at $148 compared to the $900 Guccis. The doctor's bag I'm carrying is one I've had for seven years now. It was an investment, but it goes to show that classic pieces like this will never look dated. You can still find this bag on consignment sites like Luxury Garage Sale or Trendlee. Pair it with a simple tweed dress and your whole look will appear elevated and rich.
Fit Details:  Blouse runs true to size. Not into lace? Try this affordable blouse for a more sleek look. Skirt runs true to size measurements; go down a size if you're in between measurements. Shoes run true to size; go up one size if you're in between sizes.