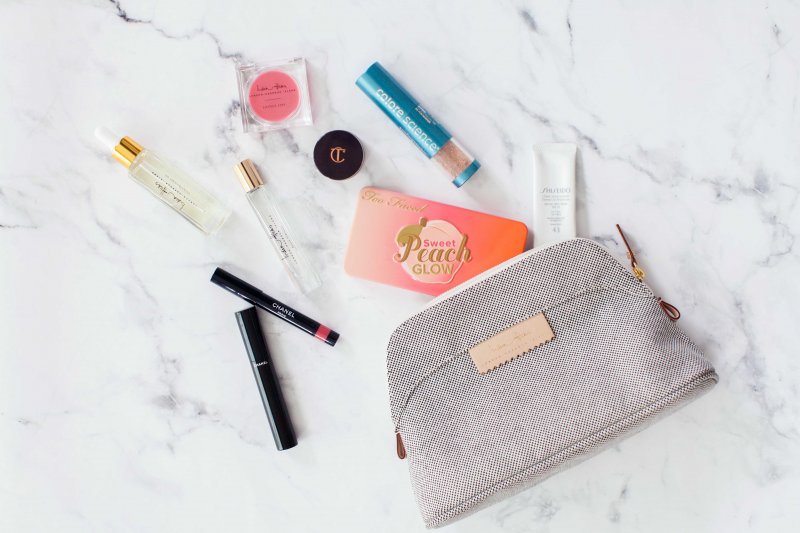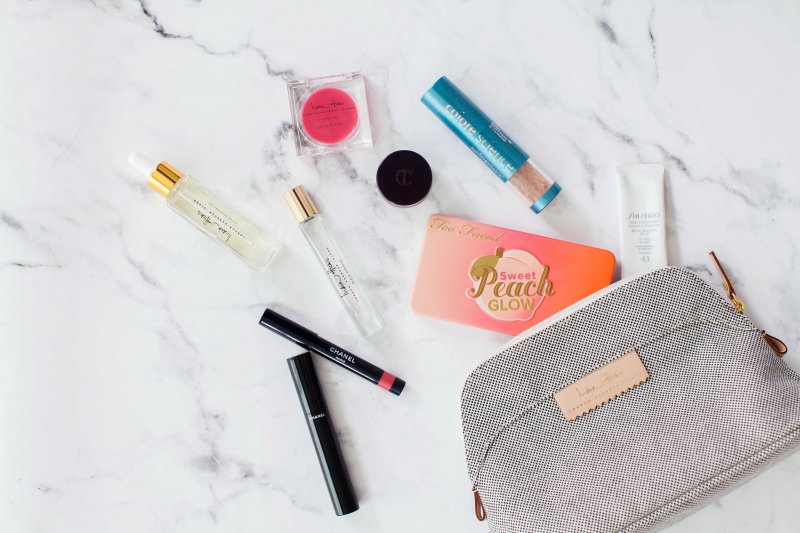 Makeup Bag.  Facial Cleansing Cloths.  Tinted SPF Moisturizer.  Blush + Bronzer Palette.  Sunscreen Powder.  Cream Eyeshadow.  Mascara.  Tinted Lip Balm.  Lip Crayon.  Extraordinary Oil.  Roll-On Perfume.
Switzerland, 2010. I stared at my father blankly as he laid a tiny hard-sided suitcase at my feet. "What am I supposed to do with that?" I asked, taking a second glance at a weekend's worth of clothes, shoes, accessories, and beauty products piled on my bed. "Make it work!" he said with a smile and more than a hint of sarcasm. (There is a rather large difference between the way a businessman and a blogger pack for a weekend away.) Twelve hours later, we were on a small plane to London with his minuscule suitcases tucked under the seats in front of us. But despite my initial irritation, I look back at this as one of my best travel lessons.
It was easier and more efficient to travel with a small carryon. Check-in was a breeze and there were no lost bags. We easily brought our suitcases into the cab and I had no excuses for too much shopping. (Looking back, the shopping factor may have been Dad's idea all along. Brilliant, he is.) I learned how to use a hotel hairdryer and minimal makeup to achieve a still-chic beauty look. And I realized that at least 75% of my travel annoyances come from lugging around and dealing with massive suitcases. While I can't always travel with a carryon, I've implemented many lessons from those trips with my parents when I pack now.
Whether you're packing in a carryon only or you're just trying to reduce the weight of your suitcase (for more shopping, duh) a great place to start is with your cosmetics. Today I'm sharing what I keep in my chic little cosmetic bag when I really want to pare down my beauty essentials. If you like this post, you might also like my previous post on the best travel makeup here.
1. Facial Cleansing Cloths
Finally someone designed individually packaged cleansing cloths, perfect for tucking into your gym bag or suitcase. Since moving to dry Denver, my skin has become really sensitive to many cosmetic products and Biossance is one of the only brands I know won't cause me to break out. The cloths are alcohol-free and biodegradable, plus they contain squalane; a super-moisturizing ingredient that moisturizes and hydrates. They gently remove makeup and cleanse the skin while conditioning brows and lashes. Need a bit more makeup-removing power? Add one drop of the Extraordinary Oil to a cloth and gently remove long-lasting lipstick or stubborn eyeliner.
2. Tinted SPF Moisturizer
A girlfriend told me about this lovely little tinted moisturizer and it didn't take me long to realize why she raved about it so often. This creamy moisturizer-meets-sunscreen is hydrating but not greasy and can even be layered for a bit more coverage. It blends flawlessly for a smooth coverage unlike I've ever seen from a tinted moisturizer or sunscreen. It's water-resistant for up to 40 minutes, but is easily removed with a cleansing cloth. Best of all, it contains technology that protects cells and DNA and helps inhibit enzyme activity – the causes of wrinkles and uneven skin tone. Talk about a miracle cream.
3. Blush, Bronzer, Highlighter Palette
This three-in-one palette contains blush, bronzer, and highlighter. The products have such a pretty peachy-pink tone to them; they can create a beautifully natural makeup look or accent a hint of tan perfectly. When I travel, I like taking this palette along with me because it's just so versatile. I can use it for blush, eyeshadow, bronzer, highlight, contour… And it's all in one small package.
4. Brush-On Sunscreen Powder
When someone very close to me was diagnosed with melanoma last year, it forever changed the way I thought about protecting my skin. My family is fair-skinned (Welsh, Swiss) but we tan easily and rarely burn (French, Native American). I always thought that this ability to tan protected us from developing skin cancer. It doesn't. Now I prefer to keep myself pale as a ghost and get spray tans from Glamour Bar Denver. On top of that, I utilize every SPF I can get my hands on. This Brush-On Sunscreen Powder has become a favorite of mine because it's easy to work into my routine and allows me to do touch-ups on the go. I dust this on over my makeup, on my ears, and down onto my neck and chest; I know someone who keeps an extra in her car and dusts it onto her hands while she's driving. I'm currently using the SPF 30 Matte in Medium, but there is also an SPF 50 version available. Between my Tinted SPF Moisturizer and this Brush-On Sunscreen Powder I have a nice layer of protection against the sun.
5. Cream Eyeshadow in "Marie Antoinette"
If you haven't discovered the magic that is Charlotte Tilbury, prepare yourself. You are about to become an addict. On my list of essential travel cosmetics is her shimmering metallic cream eyeshadow in "Marie Antoinette". It's easy to apply with your finger – no brush necessary – and can be layered to create a more dramatic evening look. Dab a little on for a shimmer of warm taupe in the daytime and blend layers for a rich, slightly smoky nighttime look. Product tends to move around on my eyelids, but this cream eyeshadow stays better than any other I've tried. If you happen to notice any creasing, just use your finger to blend it out and refresh.
6. Volume Mascara
I currently am addicted to have lash extensions from Glamour Bar Denver (mention my blog for $50 off yours) so I usually only apply a little mascara on my bottom lashes. But… I had to mention this incredible mascara because it is my all-time favorite. It thickens and lengthens lashes, creating a glamorous look with lots of volume. I don't even need to use eyeliner when I use this mascara because it makes my lashes look gorgeous. If you like a more natural lash look, you can brush the mascara out with a small lash brush and it will separate lashes nicely; I like to pack a few of these disposable lash/brow brushes in my cosmetic bag when I travel.
7. Tinted Lip Balm
This pretty little lip balm makes for a lovely gift, but it's also always in my cosmetic bag. It gives just a hint of rosy-pink color to lips while hydrating and softening with shea butter, aloe, and beeswax. (It also smells beautiful with notes of blood orange, rose, and white vetiver.) It's on my essential list for travel because there is nothing worse than traveling to a different climate and ending up with cracked, dry lips. This tinted lip balm is gentle enough to apply before bed and wear during the day.
8. Lip Crayon in "Rose Violine"
A beautiful rosy-pink lip crayon that gives a gorgeous kiss of color to lips. It glides on creamy and smooth and has a satin texture with plenty of color without being so pigmented that I need a lip pencil; it's incredibly easy to touch up on the go. I like applying this in the evening with just a touch of the tinted lip balm in the center of my bottom lip to create the illusion of plumper lips, but the color doesn't look out of place during the day if you want a bit of color.
9. Extraordinary Oil
The most does-it-all product on my list. A nourishing and gently fragrant blend of sweet almond, apricot kernel, avocado, sunflower seed, and evening primrose. French women have realized the importance of beauty oils for ages, but I'm grateful I discovered this one a year ago. When I travel, I use this product for so many things I had to make a list for you to keep track of them. It's one of the main reasons I've been able to pare down my travel products to this small cosmetic bag.
Shave Oil:  Blend a few drops of oil with a bit of hotel body wash to create a silky shave oil.
Hair Oil:  Rub a few drops of oil between your hands to warm and glide over the ends of damp hair (dry works too) to moisturize dry ends.
Under-Eye Oil:  Pat a drop of oil into the under-eye area to take the place of eye cream.
Moisturizer:  Skin feeling dry or chapped? Rub a couple drops of oil between your hands to warm and massage all over your face for an extra dose of moisture. (This is great to do at night!)
Creamy Body Lotion:  Blend a few drops of oil into hotel body lotion to boost the hydration factor.
Makeup Remover:  Stubborn makeup? Gently massage a couple drops of oil onto eye makeup or lip makeup, let sit for a minute, then use a warm face cloth or cleansing cloth to remove.
Night Cream:  Before bed, rub several drops of oil into dry cuticles, hands, elbows, and feet. Allow the moisture to soak in overnight and wake up with nourished, soft skin.
10. Roll-On Perfume
I'm addicted to this one; a subtly sexy combination of black tea and exotic florals like orange blossom, cassis, and hibiscus. I've never smelled any fragrance quite like this and I always receive compliments when I wear it. It's long-lasting, but the easy roll-on formula is easy to take on the go if you want a touch up throughout the day. And if you love it as much as I do, there's a candle and a room spray in the same fragrance that have been my go-to gifts to give.