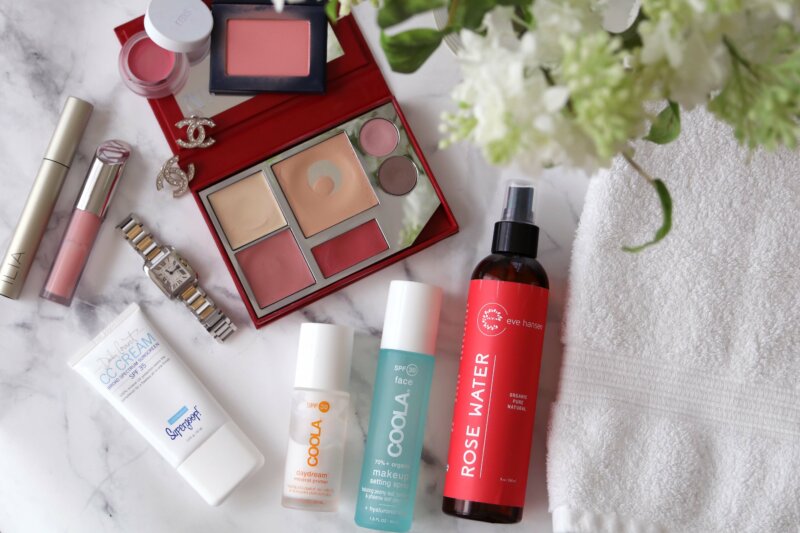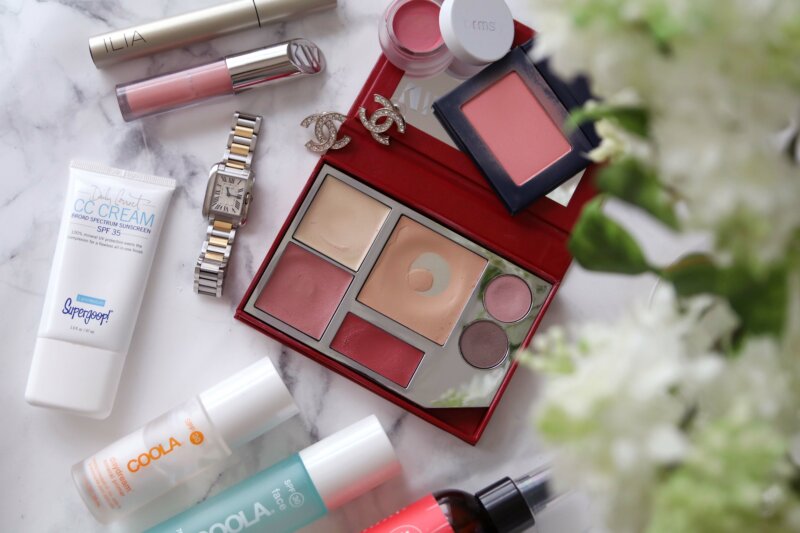 Eve Hansen Organic Rose Water Spray. Coola SPF 30 Primer. Supergoop CC Cream. Kjaer Weis Foundation in Silken. RMS Beauty Lip2Cheek in Demure. Kjaer Weis Cream Blush in Abundance. Beautycounter Powder Blush in Melon. Kjaer Weis Highlighter in Ravishing. Kjaer Weis Lip Tint in Romance. Kjaer Weis Lip Gloss in Cherish. Ilia Limitless Lash Mascara. Coola SPF 30 Setting Spray.
I first ventured into clean makeup by accident; I stopped into a local beauty shop and saw a convenient all-in-one palette. We were about to travel to France and I recognized this as the perfect opportunity to streamline my makeup bag for the trip. It was icing on the cake that the products were non-toxic.
But when I became pregnant a few months later I actively began seeking safer, healthier options for both skincare and makeup. I wanted to reduce the amount of toxic ingredients I exposed my daughter to while I was pregnant with her. But since she was born, I began noticing how many times a day I snuggle my face against hers or kiss the top of her head. The risk of exposing your child to harmful ingredients doesn't end when you give birth. I'm not too strict about it – I still use products that aren't 100% clean. But each product I've switched out makes a difference.
I apply the cream products with my fingers, except for the foundation which I apply with a BeautyBlender sponge dampened with organic rose water. The rose water helps reduce redness and irritation while boosting hydration. Have you tried any great clean makeup products?
Clean Skincare: My Pregnancy Skincare Routine