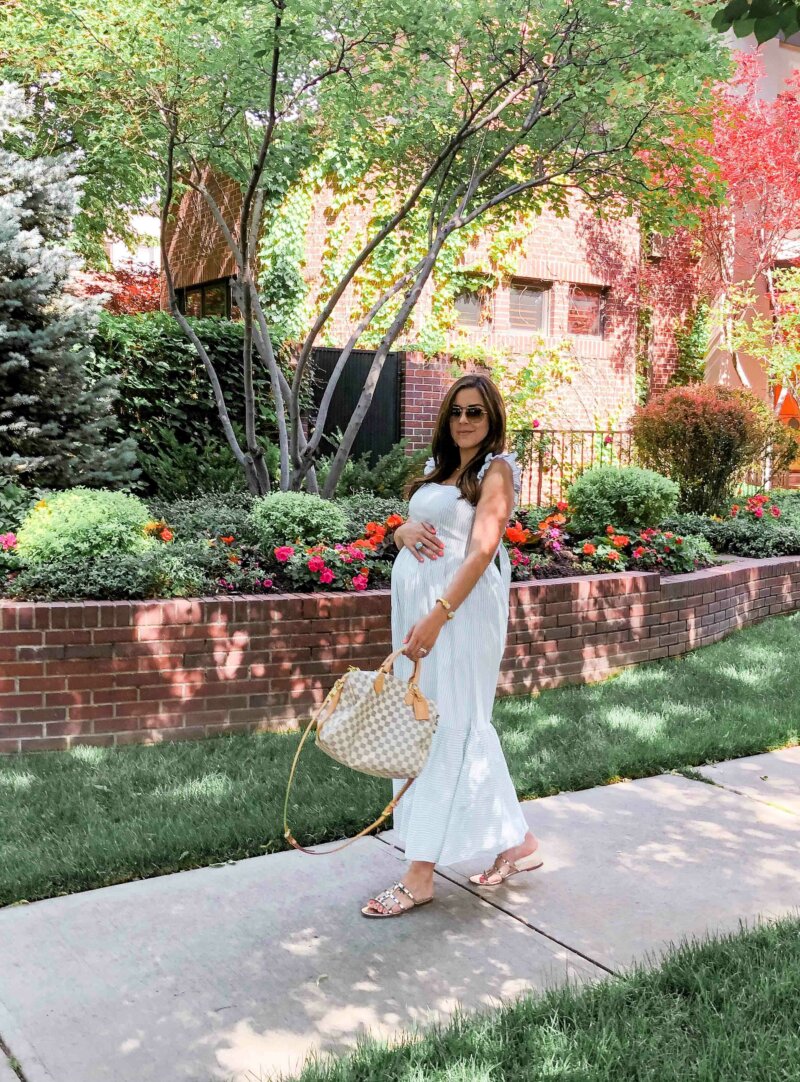 It's hard to believe it's been four weeks since I gave birth to my daughter. Looking back, there are so many things that helped me toward the end of my pregnancy and I knew I wanted to share them with women going through the same thing. As with anything regarding pregnancy, please check with your own midwife and/or doctor before you begin taking any supplements or using anything topically.
Skincare
Pregnancy-Safe Skincare Routine Here
I don't think it's absolutely necessary to switch to a completely nontoxic skincare routine during pregnancy, but each product you can switch out during your pregnancy will be a positive change for both you and your baby. I've often read that our skin absorbs about 60-65% of whatever is put onto it. You can always switch as your products run out or set aside your old products until after you give birth. I felt more comfortable going nontoxic (with a couple pregnancy-safe options) and I wrote all about my pregnancy skincare routine in this blog post.

                
                


                    
                    
                


            
Supplements
I used a variety of supplements throughout my pregnancy – some specifically recommended by my doctor and some I found through doing a little research online. I believe this combination of supplements made a difference in my overall health during pregnancy and some even had an effect on preventing any stretch marks. I would also add that a large amount of water was crucial as well; I've never drank so much water in my life! During pregnancy, I drank around 90 oz. each day. It's important to continue using any vitamins and supplements during your postpartum months; your body has gone through so much and needs the nutrients to replenish those lost during the previous nine months.

                
                


                    
                    
                


            
Stretch Mark Prevention
When I became pregnant I knew I wanted to begin preventing stretch marks as early as possible. Through a little research and experimenting with different products, I came up with a routine that prevented any stretch marks from forming throughout my pregnancy and after. I know I'm predisposed to stretch marks because I noticed tiny silver lines showing up on my hips during middle school when my body began to change; this routine has even faded those lines and I can no longer see them. I just shared my routine with a newly pregnant friend and I wanted to share it with you as well. I can't guarantee it will prevent any stretch marks (because I do think a large part of that tendency is genetic) but it can only help and hopefully will fade existing stretch marks or prevent new ones from forming during pregnancy.
First Trimester… Begin drinking lots of water and taking fish oil vitamins each day. Then use a creamy, moisturizing body butter like Burt's Bees Mama Bee Belly Butter at least once a day. The Shea Butter and Vitamin E begin to hydrate and prep your skin for all the stretching to come. I used this each night as part of my nighttime routine (on chest, belly, and hips) and used it until the container was gone, then I moved on to the below routine.
Second and Third Trimesters… I kept taking my fish oil vitamins, but began using a scoop of this Marine Collagen Powder each day in my morning coffee or smoothie to give me a daily boost of collagen. After my morning shower, I would rub this Mustela Stretch Mark Prevention Cream into my chest, belly, and hips. (I tried to only shower once each day to help preserve the natural oils our skin makes.) And at night I would rub oils into my chest, belly, and hips before I went to bed. Sometimes it would take fifteen or twenty minutes, but I rarely skipped this. I think any oil would work; the important part is massaging more and more into your skin until it doesn't absorb any more. Some of my favorite oils I used were Biossance 100% Squalane, Osea Anti-Aging Body Balm, Nuxe Dry Oil, and a honey oil by My Sweet Honeybee I picked up at a local market. To keep these oils from staining your clothes or pajamas, try wearing one of these stretchy camisoles or stretchy slips.
I also began adding La Mer The Body Crème on top of the oil at night toward the end of my pregnancy. I've sworn by La Mer to heal my skin for years now.
Postpartum… Continue using the rest of your creams and oils on a daily basis until they're gone – or even after. Your skin is shrinking back and needs to retain its moisture and elasticity. I'm a month postpartum and still use my fish oil pills, collagen powder, and daily oil. I've had friends who developed stretch marks after delivery as their skin began to quickly shrink so I think giving your skin some extra TLC postpartum can only help.

                
                


                    
                    
                


            
Maternity & Non-Maternity Clothing
Non-Maternity Pregnancy Clothing Post
Without a doubt, my most worn item during pregnancy was this support belt. I have had a lot of pregnant readers message me on Instagram asking about how to prevent back and pelvic pain and this is it. This wrap helps lift and support the baby and even comes with a removable pack at the back that can be heated or cooled depending on your preference. I wore it all the time during my second and third trimesters.
In the last month or two of pregnancy and postpartum, I really appreciated these soft maternity bra and panties. While not necessary, there was something so comforting about having extra soft undergarments with plenty of stretch.
It's nice to have soft, cozy pajamas when you're feeling your least glamorous in the hospital! Depending on your delivery and if you're planning on breastfeeding, you may prefer a nightgown or pajamas. I treated myself to new pajamas for the hospital and for that first week or two at home when I just wanted to snuggle my new baby. I tried to order pajamas I wouldn't mind my family seeing me in – the Barefoot Dreams cardigans made them seem a bit more presentable and my baby loved snuggling me when I wore them too.
And for beautiful dresses that feel just as comfortable as loungewear, try Rachel Pally. I have been living in her silky soft pieces!

                
                


                    
                    
                


            
Hospital & Postpartum Essentials
I read so many "hospital essentials" posts before I gave birth to my daughter. I have to say, I didn't use half of the things those posts and articles suggested. Every hospital is different, but our hospital provided everything we needed for both myself and the baby. I brought the comfy pjs I talked about earlier, a pair of slippers, and the things I needed to get ready. For Georgie, I simply brought a few newborn outfits and the swaddle and knit blanket I wanted her photographed with since the hospital has a photographer who comes by the day after you give birth.
The only extra things I can recommend bringing are a facial sheet mask to combat dryness post-birth and to make you feel a bit more human. And a soft, warm blanket since the ones the hospital provides aren't very cozy. I brought this one and my baby still loves snuggling in it with me; I think she remembers feeling that as we snuggled those first two days together.
Without going into too much detail, one of you gave me the tip to purchase disposable underwear for the hospital and postpartum. These are great because they're more comfortable and functional than the traditional pads the hospital provides.
Lastly, I cannot recommend stomach binding enough. I know everyone is different and you should ask your doctor before using a binder, but it made my stomach shrink faster and helped me feel more secure. I asked my nurse for a binder and to help me put it on in the hospital then as my stomach shrunk I switched to progressively tighter versions. (I wore a similar binder months before our wedding to give me a small waist.) Now there are so many options for postpartum binders and corsets – some even attached to underwear. If you don't want a full binder or corset, try one of the supportive postpartum tanks or undies to give you a bit of compression.