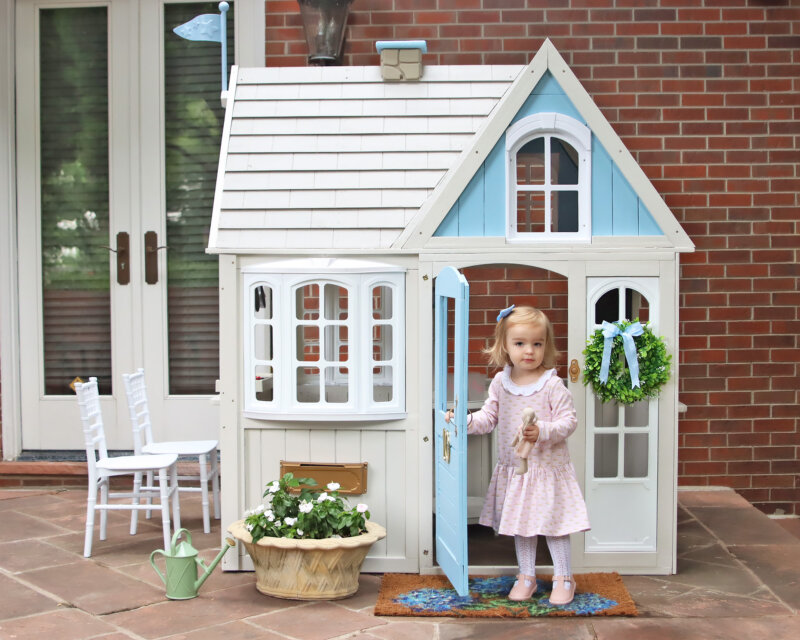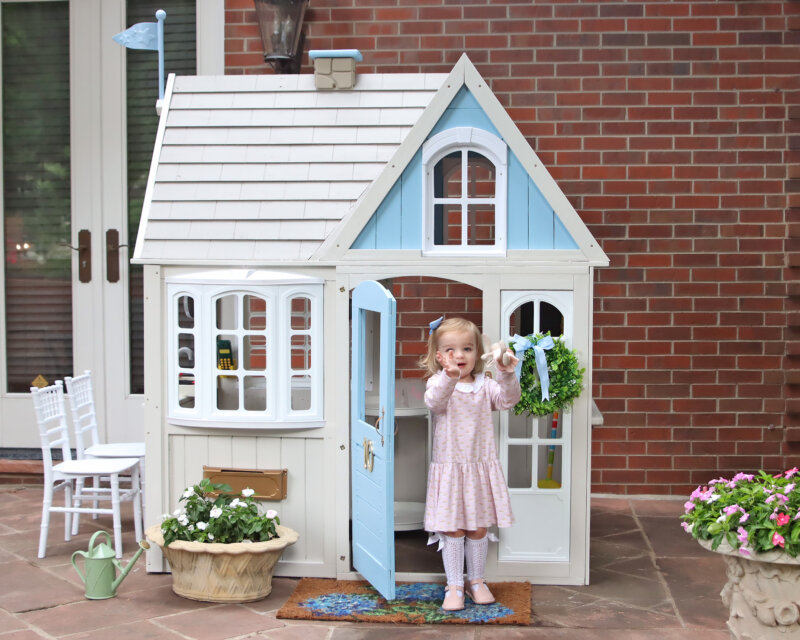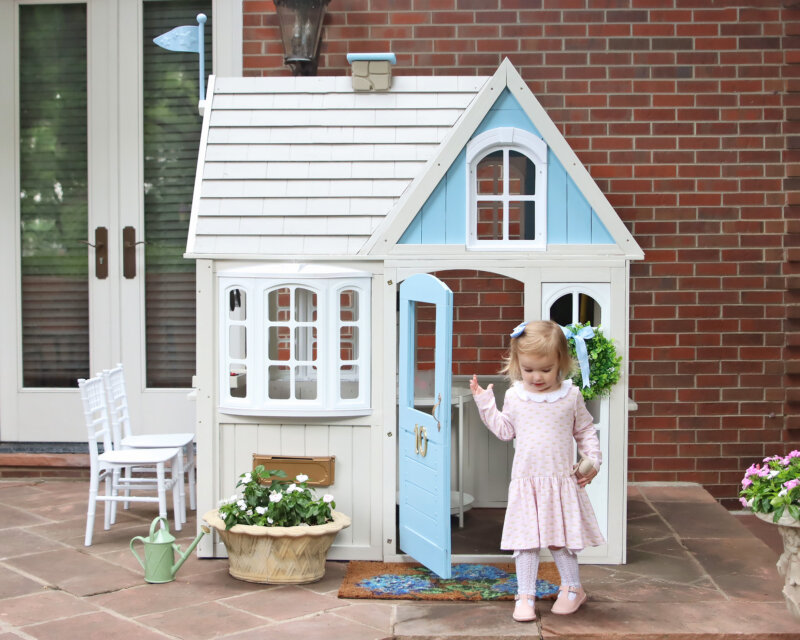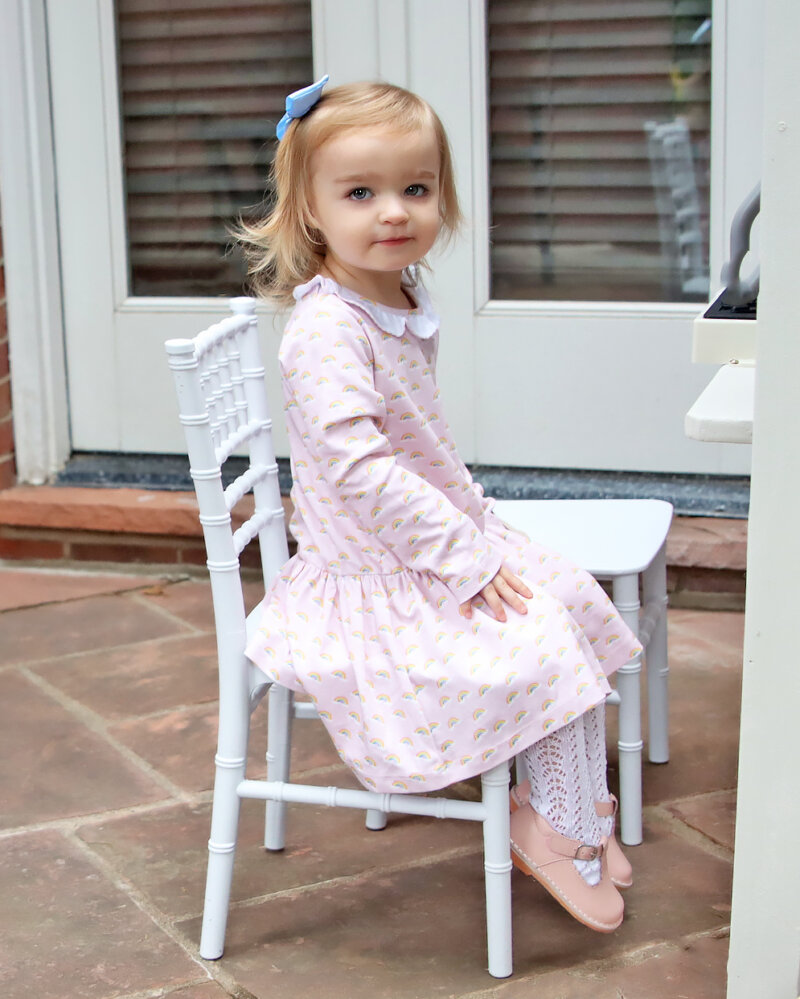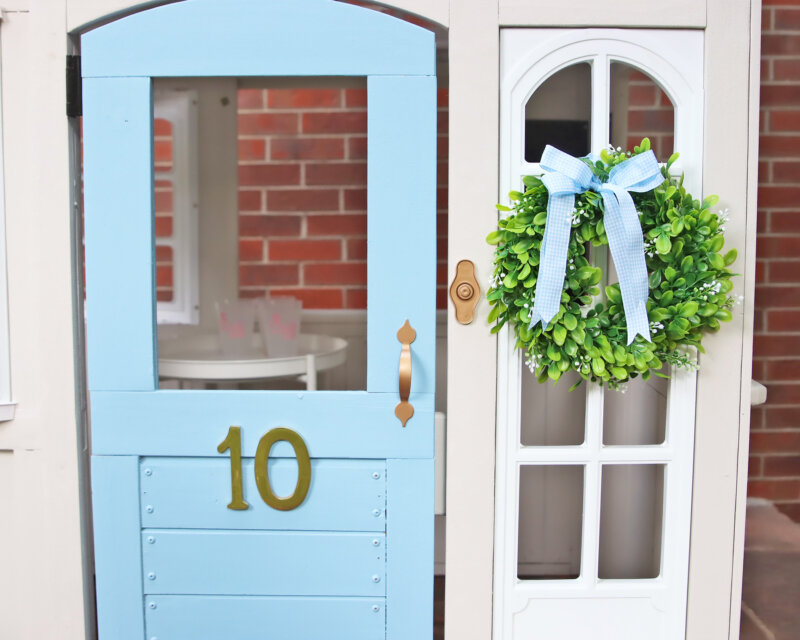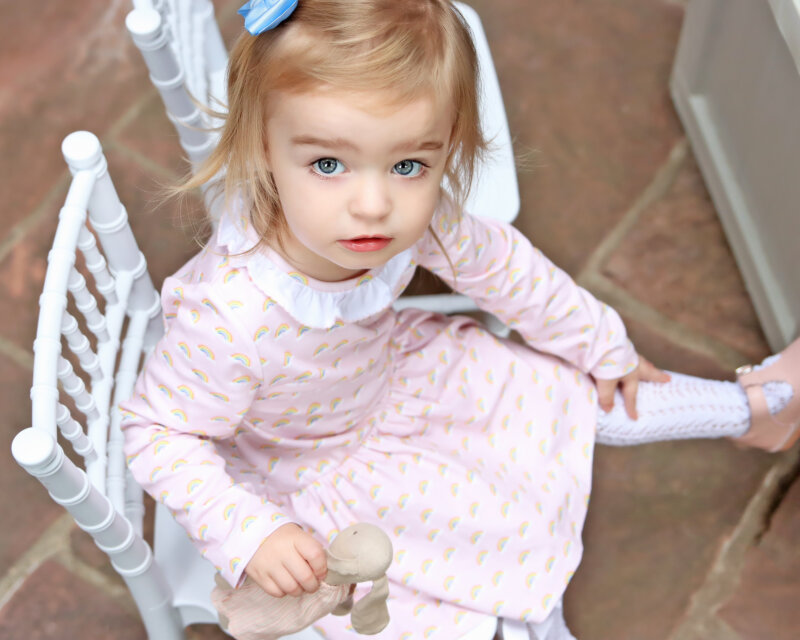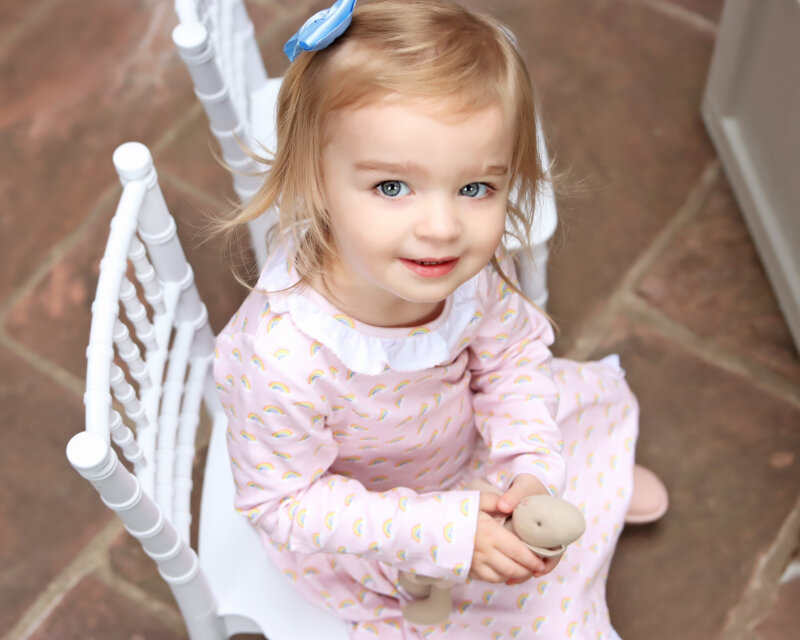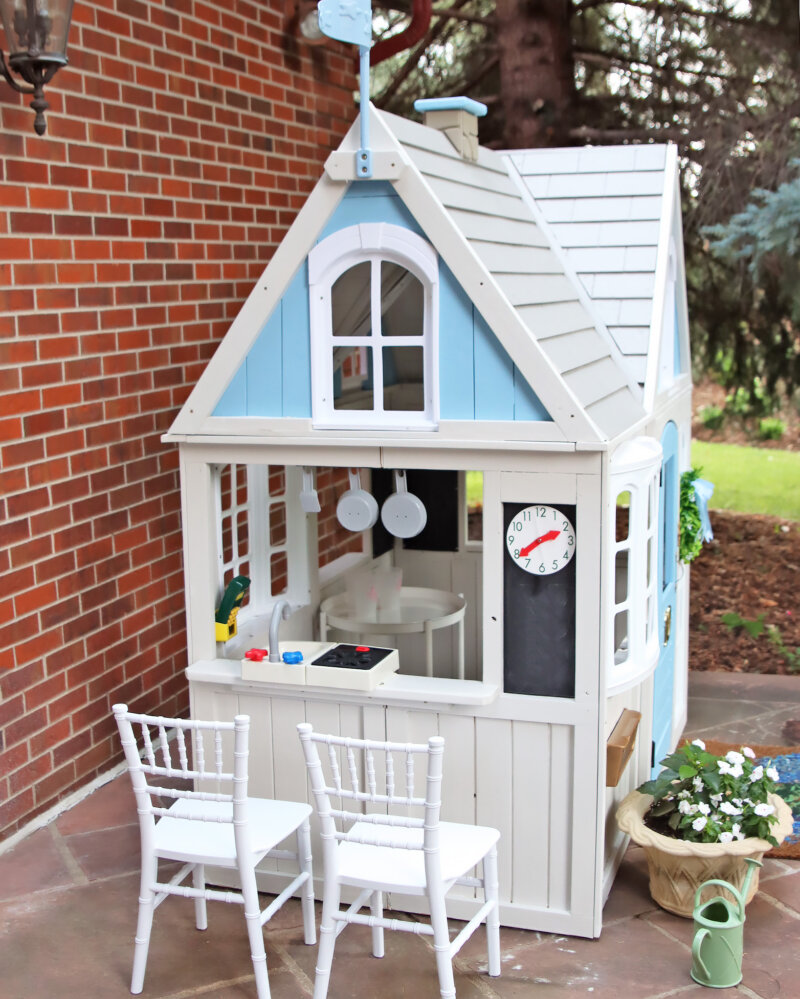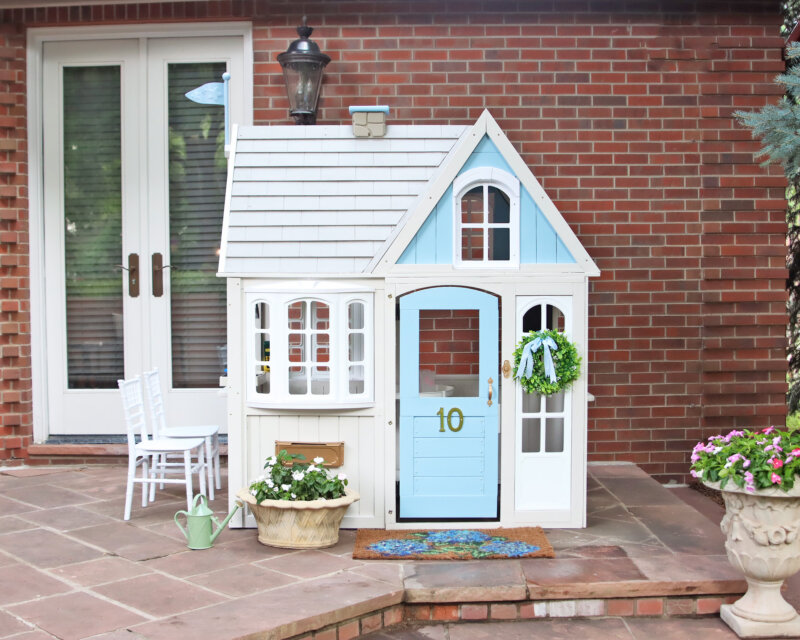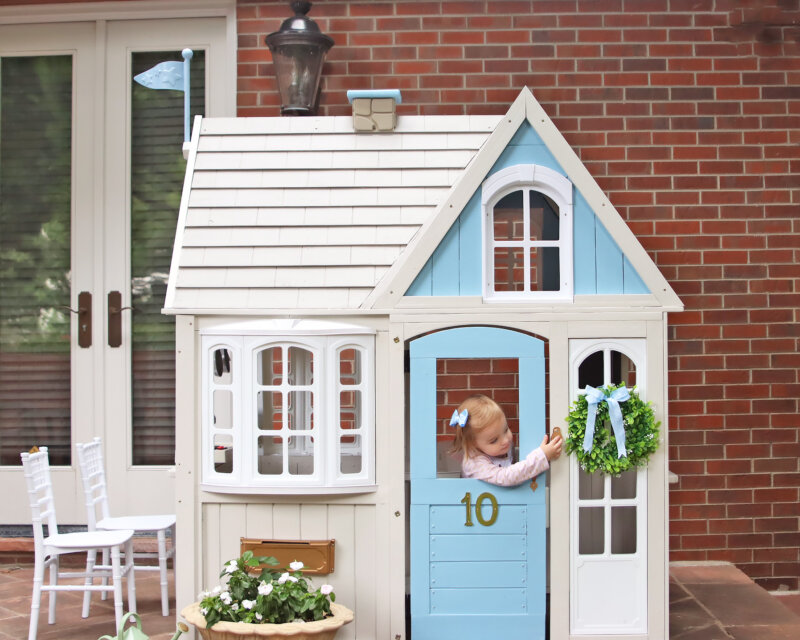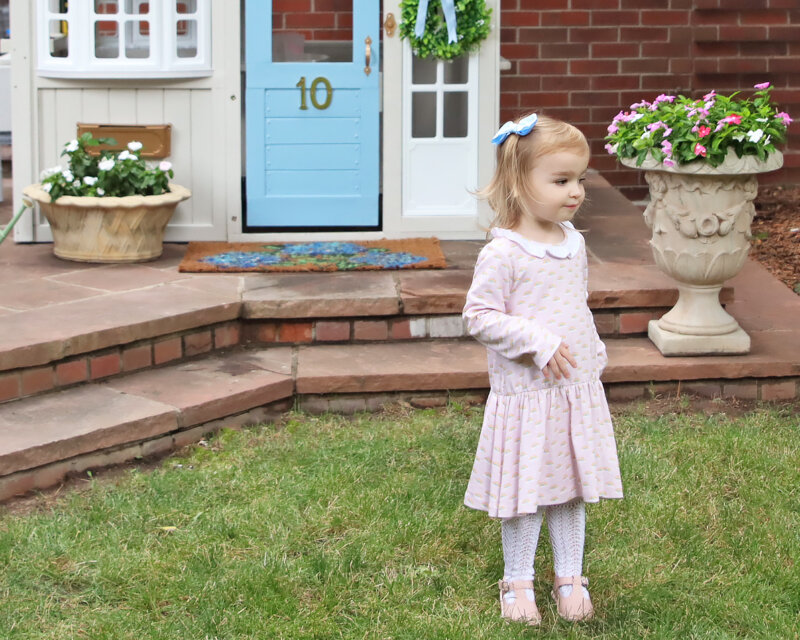 DIY Playhouse Kit. White Kids Chivari Chairs. White Metal Tiered Table. Mini Boxwood Wreath. Brass Door Number. Hydrangea Door Mat. Play Kitchen Set.
When I first saw these darling DIY playhouses, I knew I wanted Georgina to have one! My playhouse was one of my favorite things to enjoy as a little girl and since Georgina already loves playing with dolls and her kitchen, I had a feeling she would love a playhouse too. We decided to surprise her with it for her 2nd birthday.
We went with a soft cream paint on the base of the house to better blend with the colors of our older brick home. (It helps the white trim stand out as well.) I love the pink-accented versions of these darling playhouses but since we have a lot of blue incorporated into our patio area with chinoiserie garden seats, hydrangeas, and a baby boy coming soon, we went with a light blue.
We added a little faux boxwood wreath, a hydrangea door mat, and brass door number outside. I found white plastic kids' chivari chairs (they come in pink as well) that can be moved inside or out and a tiered metal table for her to play with this little play kitchen set.
Georgie was so surprised and excited when we brought her out to the little playhouse. She loves playing with her kitchen set, watering the little flower planter outside her window, and drawing on the chalkboard panels. Seeing my little girl run out to her playhouse and spend the morning playing pretend just melts my heart.
Tips
Sand all stain off before priming or painting. This step alone took my husband a couple of days to finish, but if you don't sand first all the paint will flake off.
Prime with the best exterior primer you can find at your paint store. My husband swore this made all the difference and was able to use only one coat of exterior paint on top of the primer.
Use spray paint to paint any plastic pieces on the playhouse.
Paint Colors
Roof: Benjamin Moore "Balboa Mist"
House Base: Benjamin Moore "Cotton Balls"
Door and Eaves: Benjamin Moore "Blue Bayou"
Gold, White, and Blue Spray Paint for Plastic Pieces