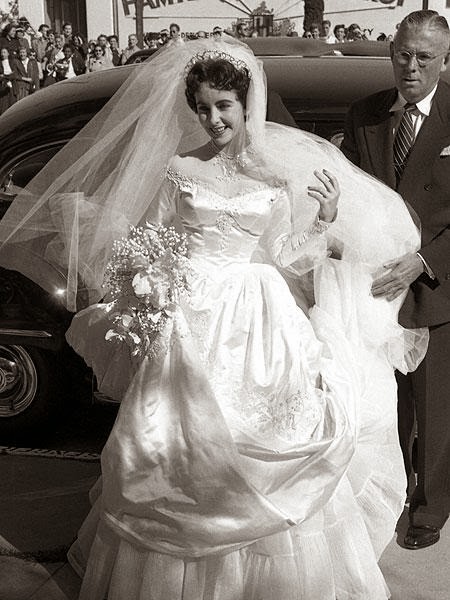 I've gotten a lot of advice from friends who say to keep an open mind about the dresses I try on, but I feel a little frustrated that despite the enormous pile of wedding magazines that clutters our coffee table, I haven't found The One special dress.
 Today I'm choosing to gather a little inspiration from one of my all-time favorite women: Elizabeth Taylor.
Watching her black and white movies on a sofa with my grandmother and mother, Elizabeth always embodied the essence of femininity to me.  She was beautiful, strong yet graceful, sensual, and powerful.  Yes, she was married many times… But she loved love, and she lived her life fiercely.
I've said many times that my first daughter will be named Elizabeth, and it's because of the legendary Miss Taylor.  (It also helps that my mother was nicknamed Little Liz when she was a girl because of her raven hair, creamy skin, and haunting blue-violet eyes.)  But I hope that my future children will live their lives with the kind of passion and strength that Taylor did.
I'm not the only one that is intrigued by the sheer
presence
of this woman.  Read the book,
Elizabeth Taylor: My Love Affair with Jewelry
and you'll see that she possessed the hearts of some of the world's most powerful men at the time.
But we can't chalk Liz Taylor up to being a stunning heart breaker and leave it at that.  Taylor was one of the first supporters of HIV and AIDS research at a time when many public figures turned and hid from the topic.  She co-founded the American Foundation for AIDS Research as well as the Elizabeth Taylor AIDS Foundation.  She was never afraid to speak about something that was important to her, even if it made others cringe.
 I could go on and on all day about Liz, but let's get to the point of this post… Elizabeth Taylor had a certain style for her wedding that I admire and regularly use as inspiration.
In 1950, baby-faced eighteen-year-old Elizabeth Taylor wed hotel heir Conrad Hilton.  Her dark hair contrasted beautifully with her creamy, milky skin.  And she had brows, honey!!  Brows before they were even a thing.  And siren curves that would turn any man's head.  Look at her waist.  
But what I'm especially drawn to is her beautiful silk satin dress, embellished with pearls given to her as a gift from MGM Studios.  A busty woman, she could have looked pornographic on her wedding day but instead this dress gave her a regal, tasteful look.  I love the way the sheer top highlights her delicate shoulders and hint of collar bones, but leaves a little to the imagination and is church-appropriate.  To sum it up, she looks like a princess and the dress highlights her most flattering features.
Elizabeth was a Protestant woman marrying a Catholic man, and although she didn't convert like I am, she left the church with a little Liz before she left the wedding.  She and her new husband Conrad kissed for so long the Monsignor had to tell her, "I think that's long enough, dear."  Here's hoping to a little Liz at my own wedding.
Happy Wednesday.