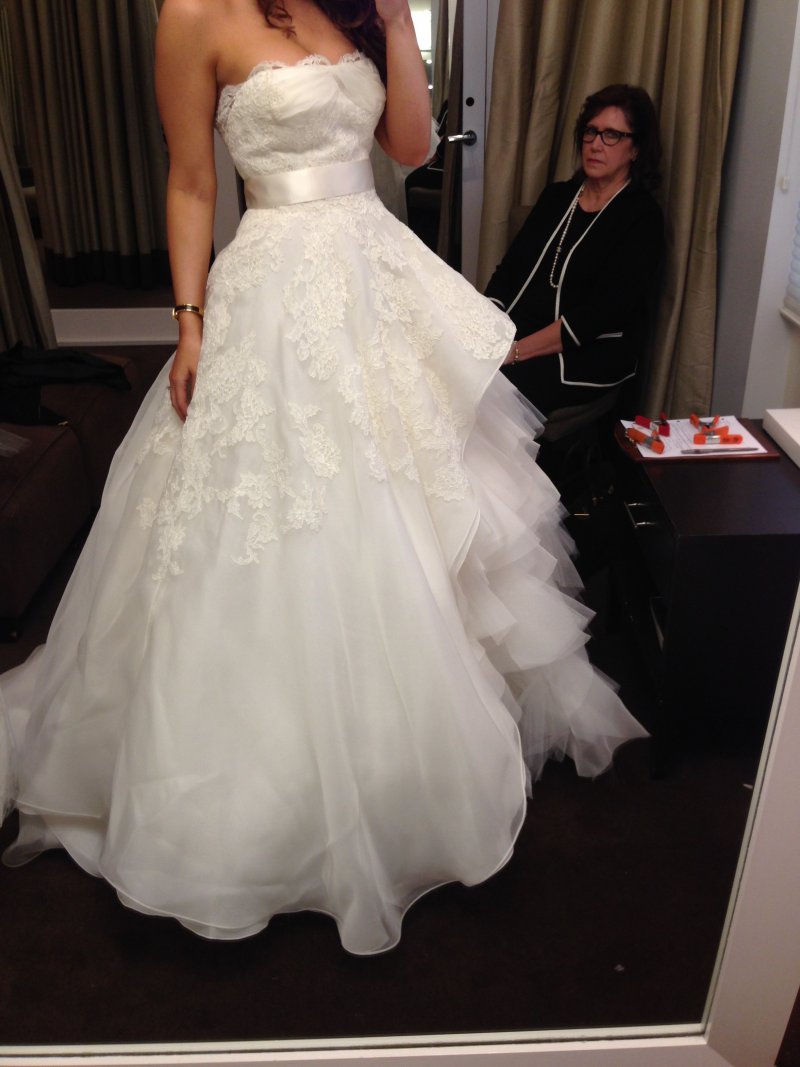 I felt decidedly nervous as I woke up for my first day of wedding dress appointments in NYC.  I swear, my heartbeat was audible in the warm cavern of our taxi.  It pounded even harder as my mother and I waited in the lobby of the first bridal boutique with all the other brides-to-be and their mothers, friends.  All at once it was 11:15, the elevator doors opened, and a swarm of women and perfume squeezed into the ancient box headed upstairs.
At
Mark Ingram Atelier
, we were greeted with a space that has been decorated perfectly in soft, feminine tones by an interior decorator.  The dressing room wasn't huge and the beautiful curtains didn't quite meet in the middle, but I tried to ignore it as I shimmied out of my clothes and stood there in my favorite lace panties.  It's an odd practice to stand there unclothed while everyone else in the room is dressed, complete with shoes and accessories.  I felt a little like I was on display… Chilly, and on display.
I tried on a few dresses and kept my mind completely open, as I had promised myself.  (I hadn't picked out a
specific dress before going shopping, I just had a very vague idea of what I wanted to look like on our wedding day.)  I tried on various styles yet nothing really spoke to me.  I was surprised to find that the style of dress I had pictured for so long didn't feel right.  It didn't do my figure any justice, didn't feel bridal, didn't feel special.
A Monique Lhuillier, a Carolina Herrera.  Beautiful, gorgeous dresses (a fashionista's dream!!) but I knew I needed to keep looking.  My mother stayed very quiet and didn't say much.
Finally, I stepped into an Oscar de la Renta that made me swoon.  I loved the way it moved, the way it felt when I walked.  But somehow I didn't see myself walking down the aisle in it.  Photographs didn't do it justice.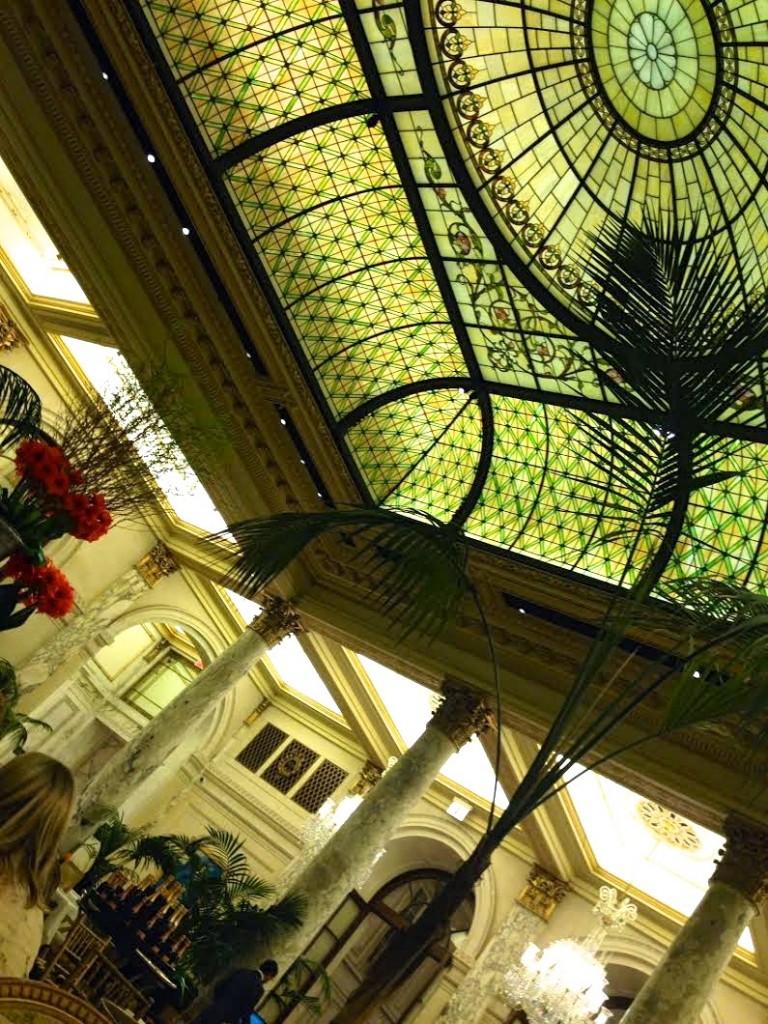 The Palm Court.
After our first round, I was happy to go back to The Plaza for lunch with my mother in The Palm Court.  As we
admired the stained glass ceiling, I began to think I would find my dress at the next appointment: Kleinfeld's.
We explored the Eloise gift shop in the bowels of The Plaza.  Our hearts thrilled as we relived one of our favorite children's books we read together over and over again.  As we moseyed through the pink rooms, fit for a Plaza Princess such as Miss Eloise, I became more and more convinced that my dress would be at Kleinfeld's.  The afternoon just felt full of promise and positivity for some reason.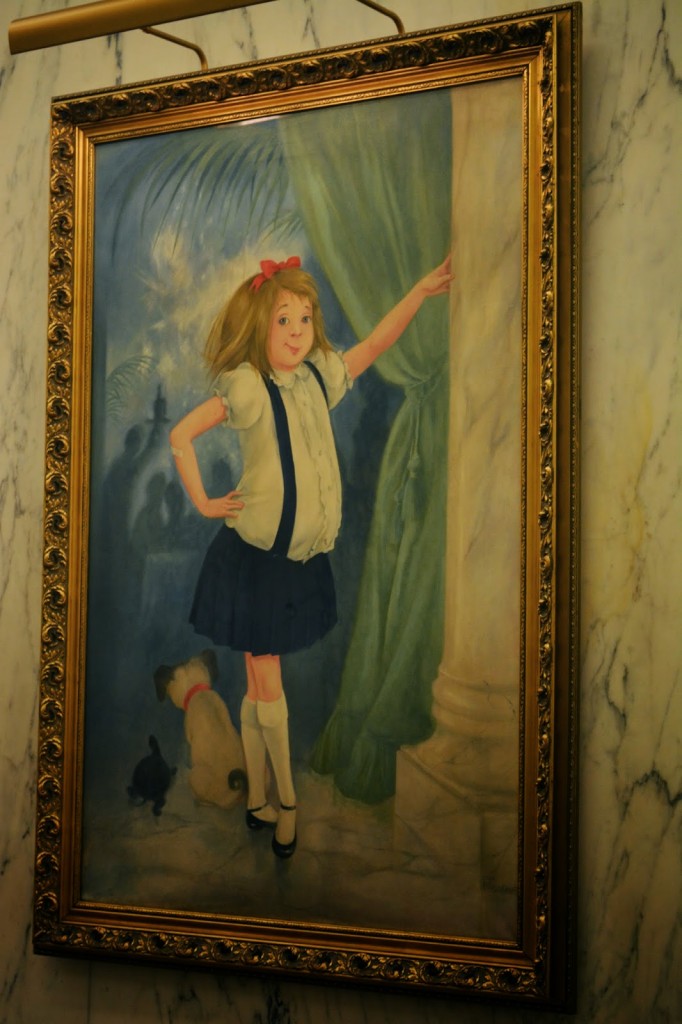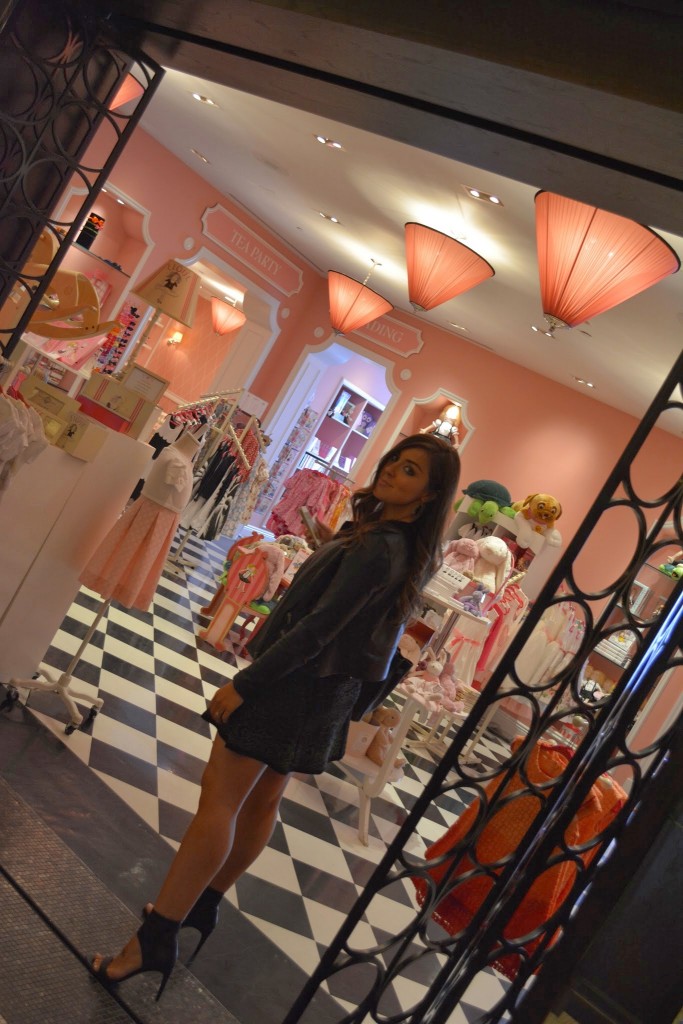 We were greeted at the front desk at Kleinfeld's and sat down to await our appointment.  I could see beautiful dresses, the platform they showcase on Say Yes to the Dress, and camera crews filming a bride and her family.  The whole scene made me nervous and I was glad I didn't apply to be on the show.  I can't imagine having that pressure in addition to what I already felt.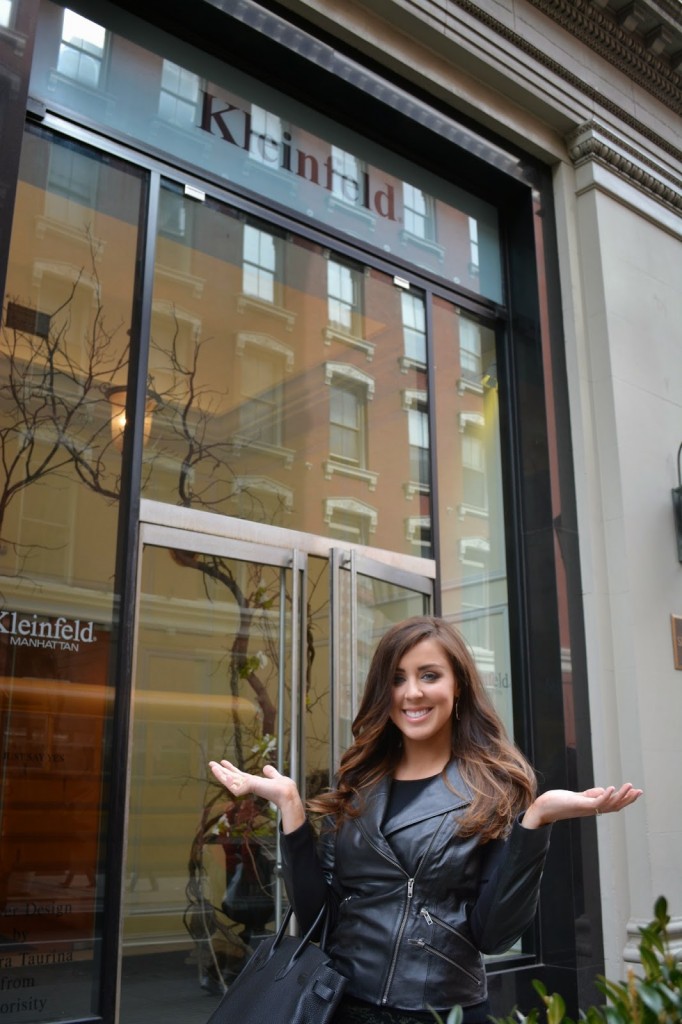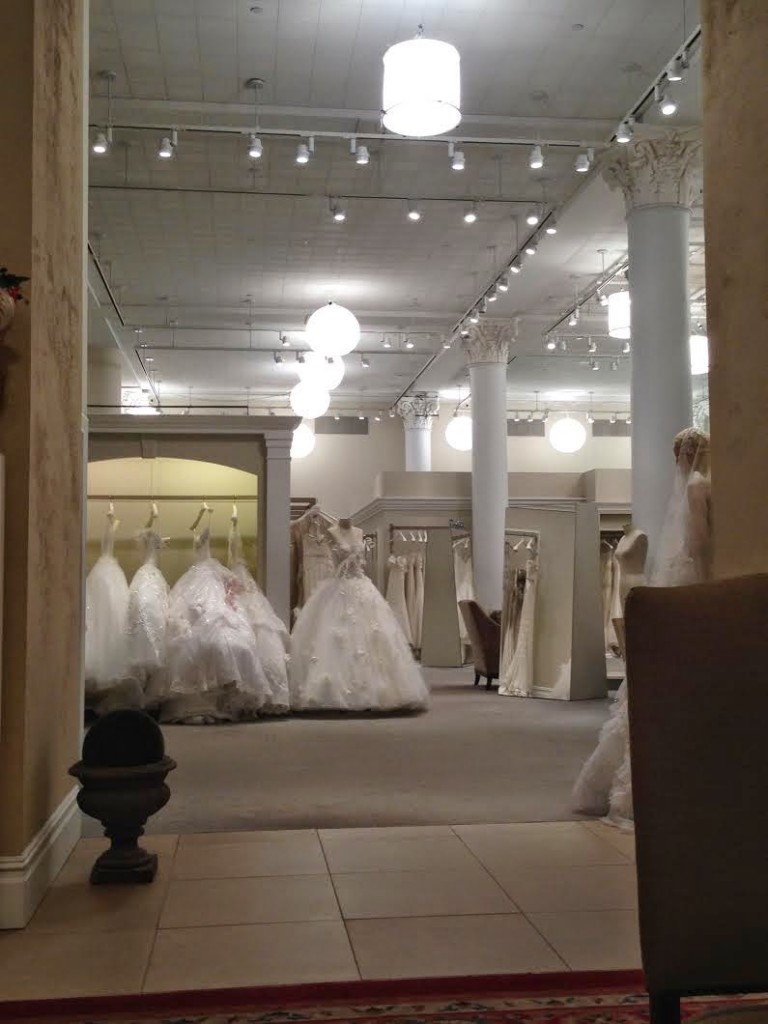 Peeking into Kleinfeld's.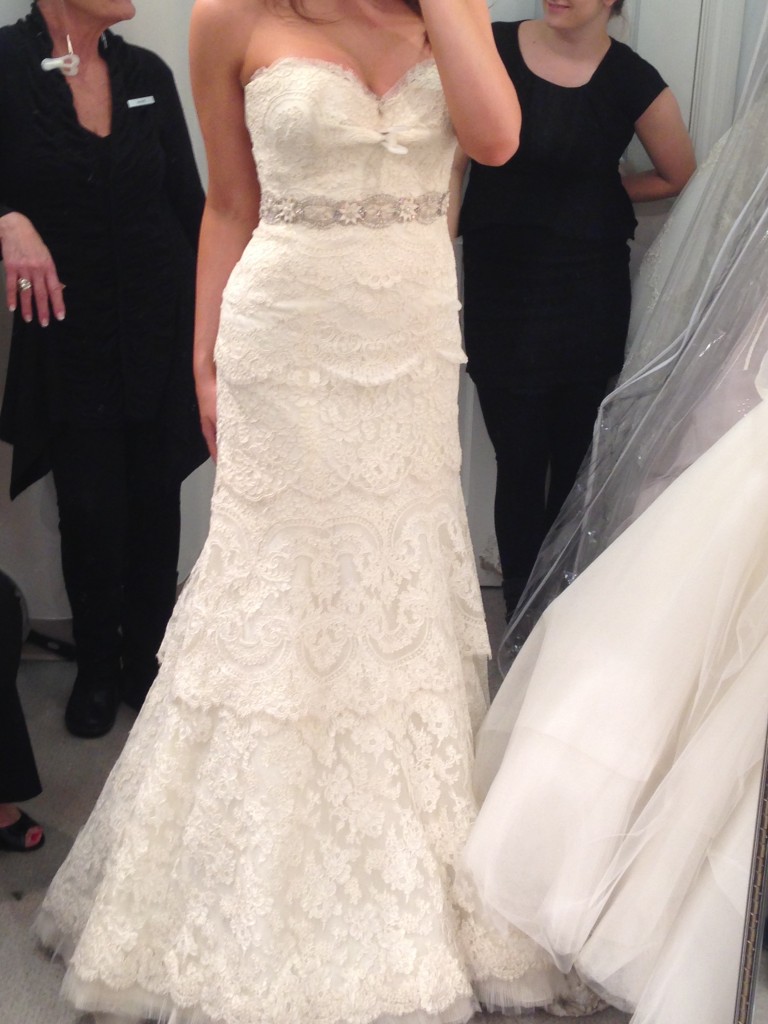 The dressing room was very tiny, but the saleswomen were helpful and encouraging.  Dress after dress after dress went on and came off.  I could hear clapping and squeals from all around me as other brides found their special dresses.
I tried on dresses I had seen a million times before.
I resembled a woman ready for the convent.
I reminded myself of 17-year-old Brittany at prom.
I started to feel overwhelmed.  My hip actually began to hurt from stepping in and out of dresses held up 3 feet high.  I slowly realized that I hadn't found the dress.  Even at Kleinfeld's, where I had convinced myself I would find it.
We left and searched for a taxi.  A discouraged feeling filled my stomach.  Did I do something wrong??  Did I overlook something??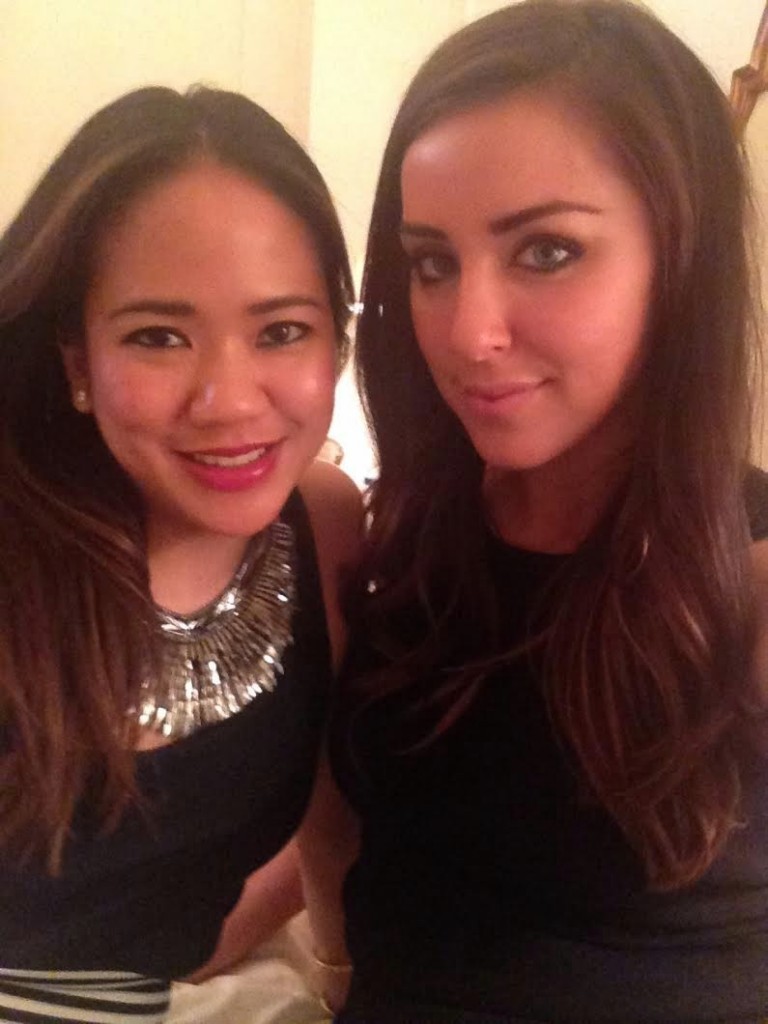 I was thankful when one of my bridesmaids met my mother and I for dinner at
Todd English's Food Hall
. My heart felt full and happy to be with them.  SH and Mama P both encouraged me that I would find the dress the next day.  We decided to go to our room and order hot tea and macaroons as a little night cap.  Over a sugar high, I remembered how much I missed SH, being silly, girl time with my mom, and great friends from college who know all your secrets.
My mother and I stayed up into the wee hours, talking and watching TV from the plush bed at The Plaza.  We saw 2:30 AM before we finally drifted off to sleep.