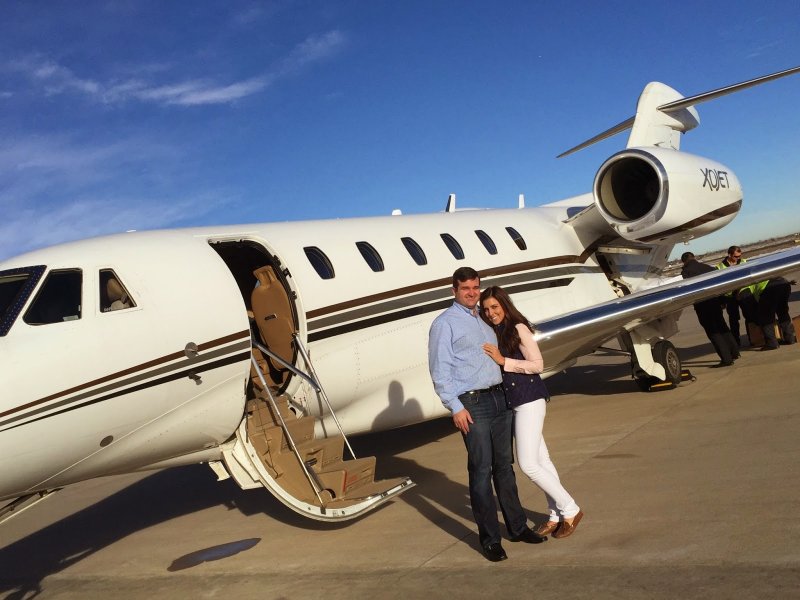 [Striped Shirt] [White Jeans] [Trench] [Watch] [Tote] [Loafers] [Mini Bag]
First, let's talk outfit… This is one of my favorites for traveling because it is so versatile and also manages to still look polished even after hours of flying and sleeping on planes.  Three steps to a polished travel look:
One
– I start with a crisp button-down shirt, preferably striped or colored since white ones tend to show the airport dirt and grime rather quickly.  
This one
is my all-time favorite because it's flattering and withstands lots of washes.
Two
– I pair it with either
dark wash
or
white jeans
in a sleek, slim cut.
Three
– Then I always add an easy loafer.  
These
from Tod's are my favorite and have lasted me years and years.
For this particular trip I threw on a vest from Lilly Pulitzer, but most times I'll either top this look off with an easy cotton v-neck sweater or a classic trench coat.
For accessories, I like to add a classic watch… A preppy look like this doesn't need much jewelry.  I like to pack my laptop and iPad in an easily-washed nylon tote, tucking in a little metallic bag that can double as a wallet during travel and as a cross-body bag when going out or sightseeing once I reach my destination.
I traveled to Palm Beach on this trip so I could experiment with a more vibrant color palette.  If you're traveling somewhere tropical (and as the months move into summer) it's easy to bring in a little more color to any of these pieces.  If you want to keep with the preppy theme, think navy or evergreen with tan and dark jeans in the fall and winter and bright colors like coral and turquoise with white jeans in the spring and summer.
Best of all, once you get to your destination (and my fingers are crossed for you that it's tropical) you can easily translate this outfit to night.  I switched out my shirt for a silky top and added a scarf around my shoulders to beat the ocean breeze.  Take out the little bag you packed in your tote and switch out the loafers for heels.
Last I talked to you all, I was just getting back from picking up my wedding dress in NYC.  I feel as if I spent most of January traveling across country for dress fittings and appointments and I was more than stressed at that point.  With only a few days before our departure to Palm Beach, I had a few sleepless nights and finished last-minute errands, laundry, and packing.
A lot of my stress lifted the day we departed.  J was a trooper packing up all our wedding gear, picking up our wedding planner, and driving us all to the airport.  All my things ended up filling the entire cargo hold of the plane, but I was so excited to see my parents nobody's grumbling could get me down.  It was nice to have both the space to store all our wedding items and the space to get some last-minute meetings done with the wedding planner.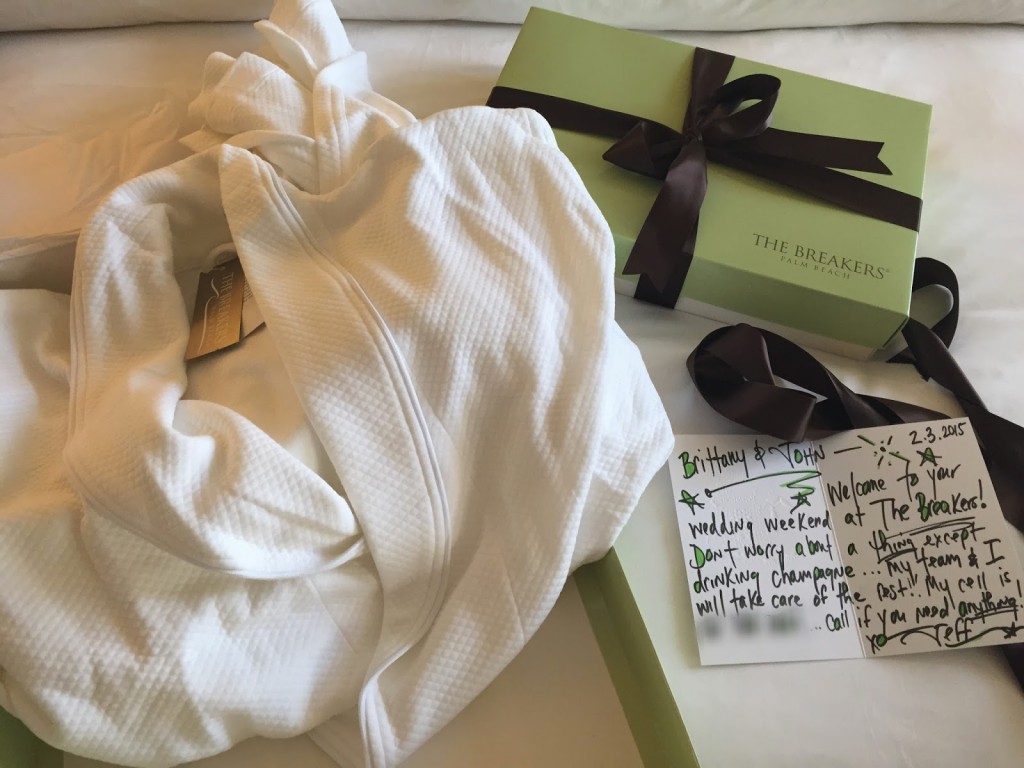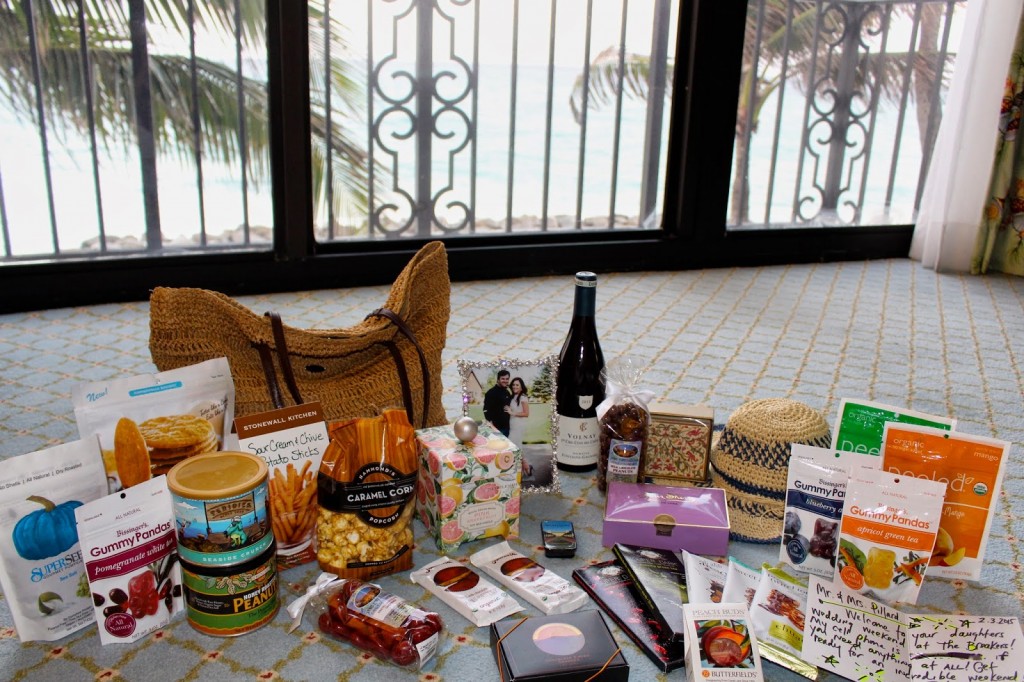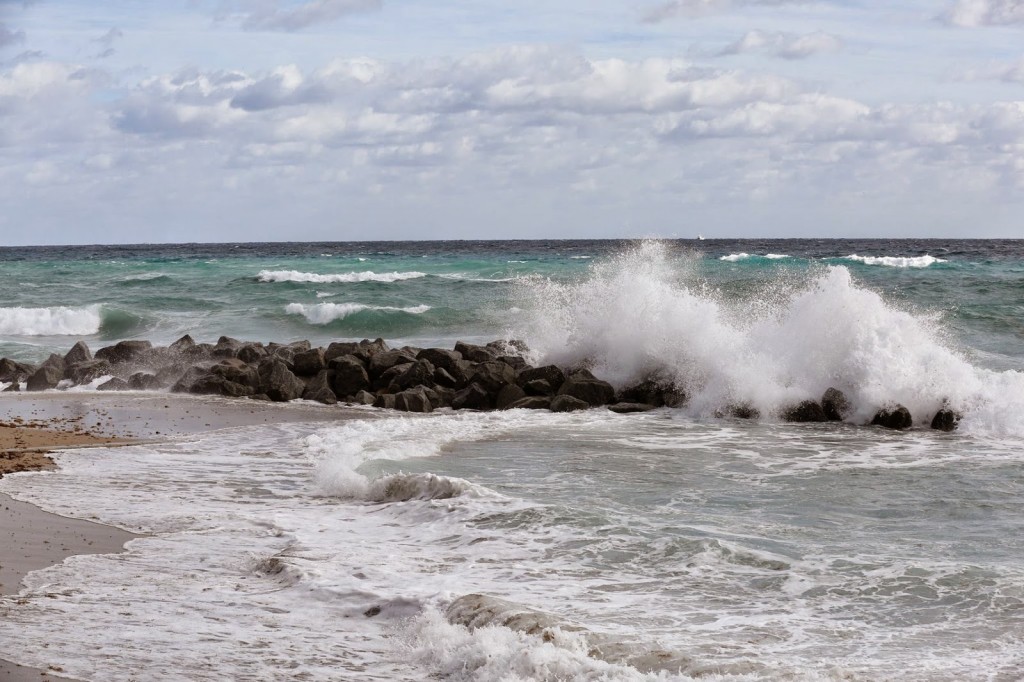 My uncle snapped this gorgeous photo of the waves.
One of the perks of having a wedding at The Breakers is all the pampering they do each time you visit the resort for the wedding… I'm a sucker for goodies and surprises.  The attention paid to every detail is impressive… They even had one of my dad's favorite wines and a photo of John and I in a gorgeous frame for my mom waiting in their room.
We had dinner Tuesday night with my parents in The Breakers' Seafood Bar.  There might have been key lime pie… #NoWeddingDiet.  I wore the evening-approved version of the travel outfit I described above… When you arrive somewhere after traveling it's so nice to make a couple changes to what you're already wearing and head out the door ten minutes later.
I'll be posting more Palm Beach outfits next week… Just in time for you to get your vacation/spring/summer wardrobe ready.
Bon Weekend!!