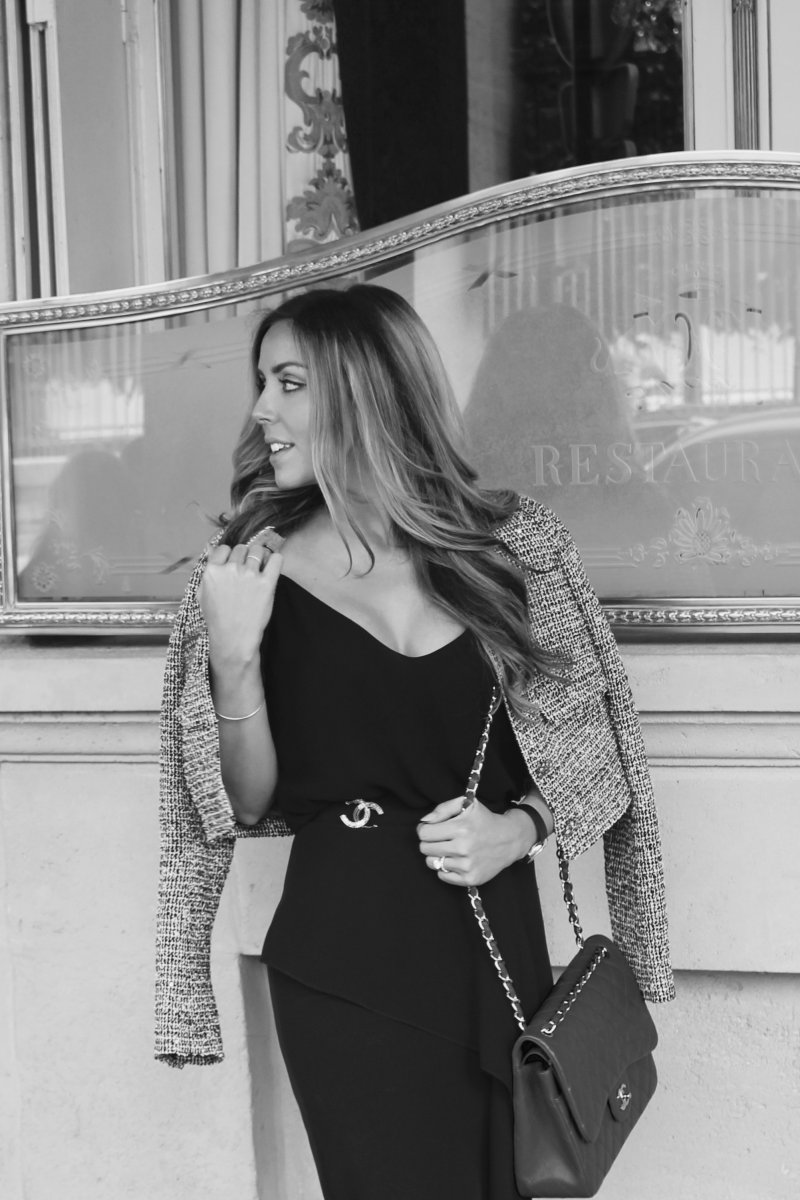 There was a certain hesitation in the air at the Chanel Les Talismans Gala Dinner the evening before. As the cocktail party in the courtyard progressed, people slowly became more comfortable pulling out their phones and capturing selfies, photos, and videos of the experience. At dinner, surrounded by ancient medical texts and the top creatives and businesspeople of Chanel, the hesitation came back. Nobody wanted to be the novice, snapping every moment and dinner course.
I experienced the same bittersweet feeling I got at my wedding reception – having the time of my life but feeling incredibly sad that this moment would come to an end. I think others were feeling the same way and those phones reemerged to capture the magicians who stopped by each table and the energetic mini fashion show which presented the beautiful new Haute Joaillerie collection on dainty models.
I could barely sleep that night since I was bursting with excitement for the Haute Couture show the next morning. Armed with our invites, we met the car waiting on us out front and began the short drive to the Grand Palais where all the Chanel shows are held.
As the glass dome of the Grand Palais in the distance became closer, the sea of black cars around us began to get tighter and tighter. When a black car pulled up to the carpet in front of the Grand Palais, photographers would scramble frantically, trying to capture their prized celebrity shots. Bloggers not attending the shows were lining up near the entrance in hopes of getting their photos taken for a coveted street style shot. Crowds of people began to form, anxious to see who would show up at the Haute Couture show.
We walked down the carpet, showed our invites at the gate, and walked up the steps to the main entrance. We waited anxiously with the other attendees for security to allow us in. My heart was pounding and the unusually hot Parisian sun was beating down on us, but I didn't even notice… I fully realized how few people were ever able to enjoy this even once in a lifetime and I was embracing every moment, every minute.
My husband and our Chanel host were not able to join us in the show, so it was just my mother and myself. Suddenly, security examined our invites again, scanned our names, and opened the gate for us. We went through security again inside – this time, a TSA-style search – before we entered the main part of the Grand Palais with the glass dome towering above us.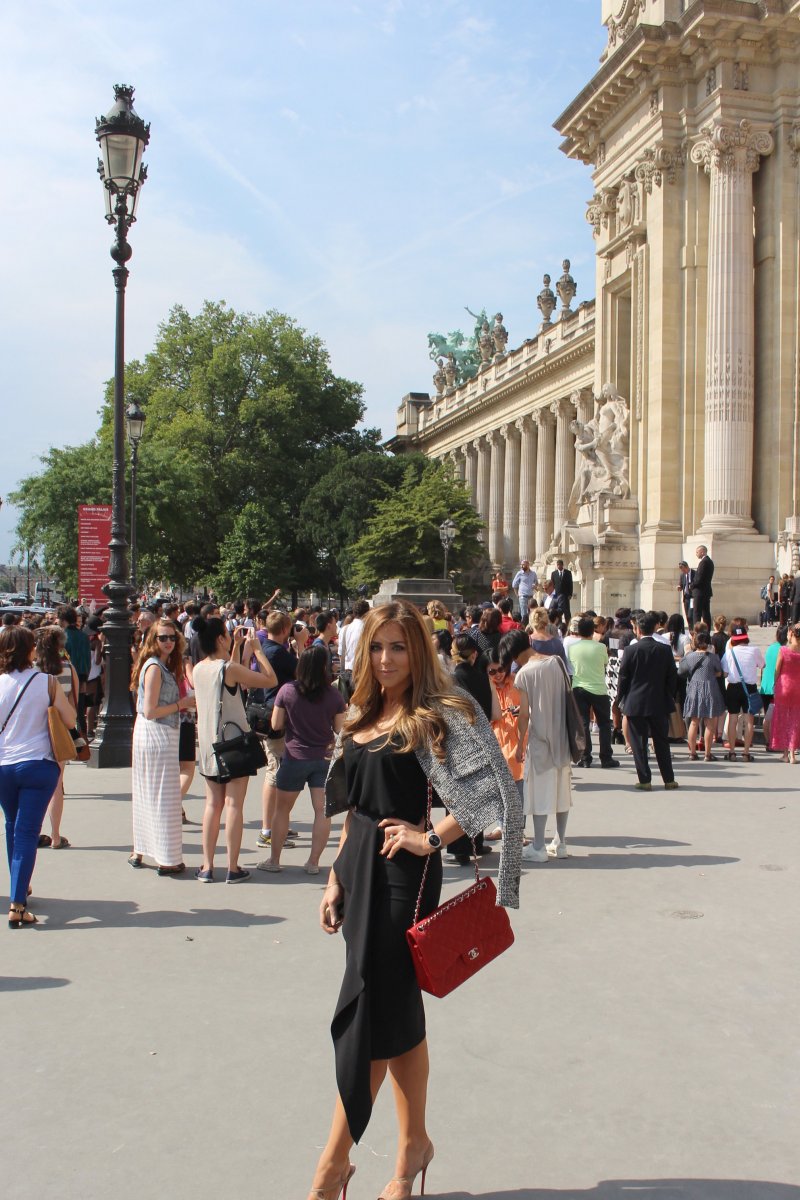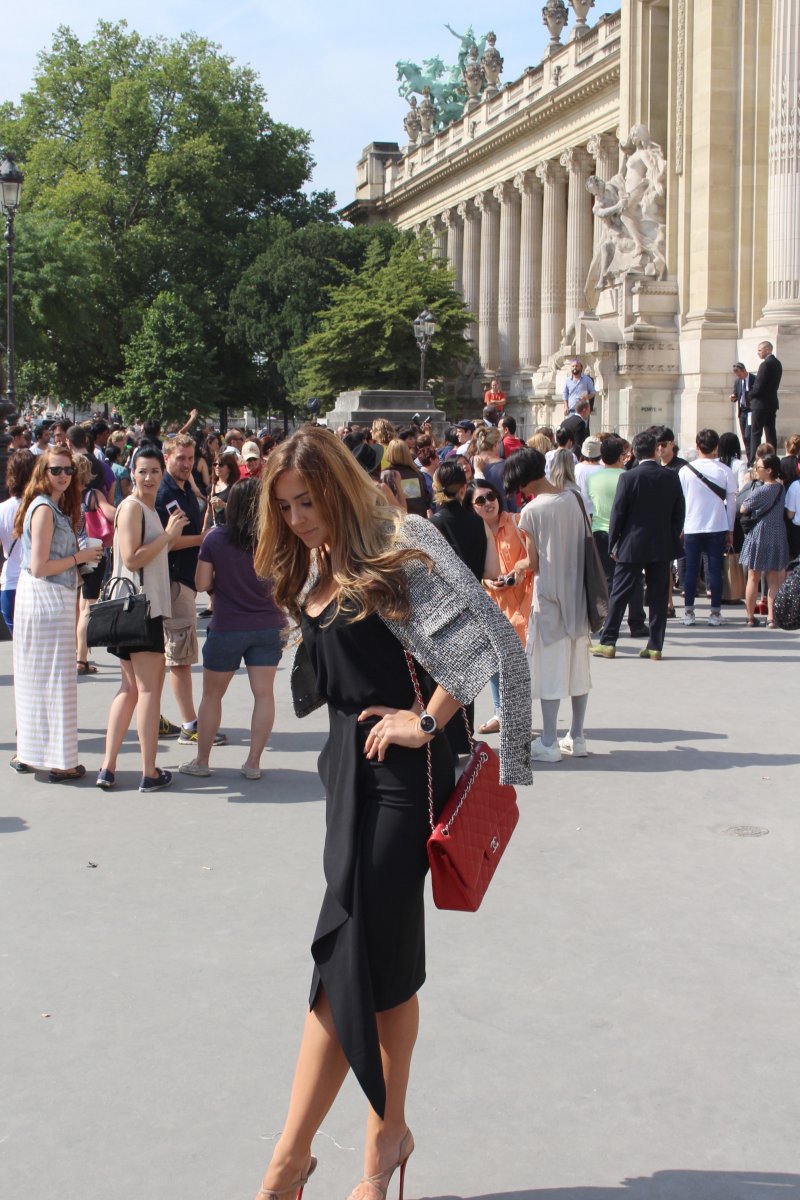 Once inside the domed portion of the Grand Palais, we saw a crisp white building constructed by Chanel. There were steps leading up to a double-C emblazoned entrance. Sleek, golden lights trimmed the entrance and above it were the words 'Le Cercle Privé'.
We stepped into the doorway and saw that Chanel had created an entire Chanel casino within the Grand Palais, complete with Chanel carpeting, Chanel slot machines and casino tables, and the kind of strange casino lighting that makes you unsure about the time of day. Everything glowed golden, light reflecting off the sleek white interior of the pop-up casino.
Remember how I mentioned there was a little hesitation at the Les Talismans Dinner Gala the evening before? All hesitation was gone once everyone set foot inside this glowing little Chanel casino. A middle-aged executive giddily pulled on a Chanel-themed slot machine's handle. A famous Chinese blogger took selfies relentlessly, capturing each facet of the casino in her backgrounds. A couture-bedecked American celebrity quickly uploaded her casino view to Snapchat.  All bets were off… Or should I say, on… Chanel.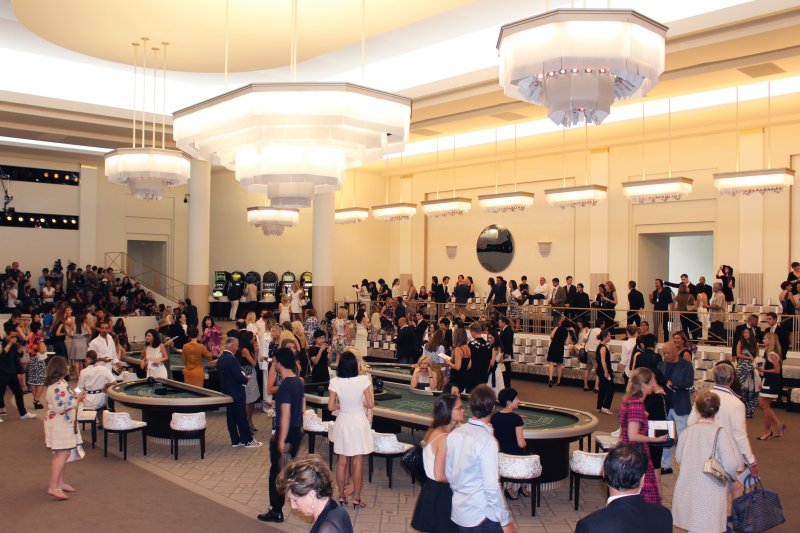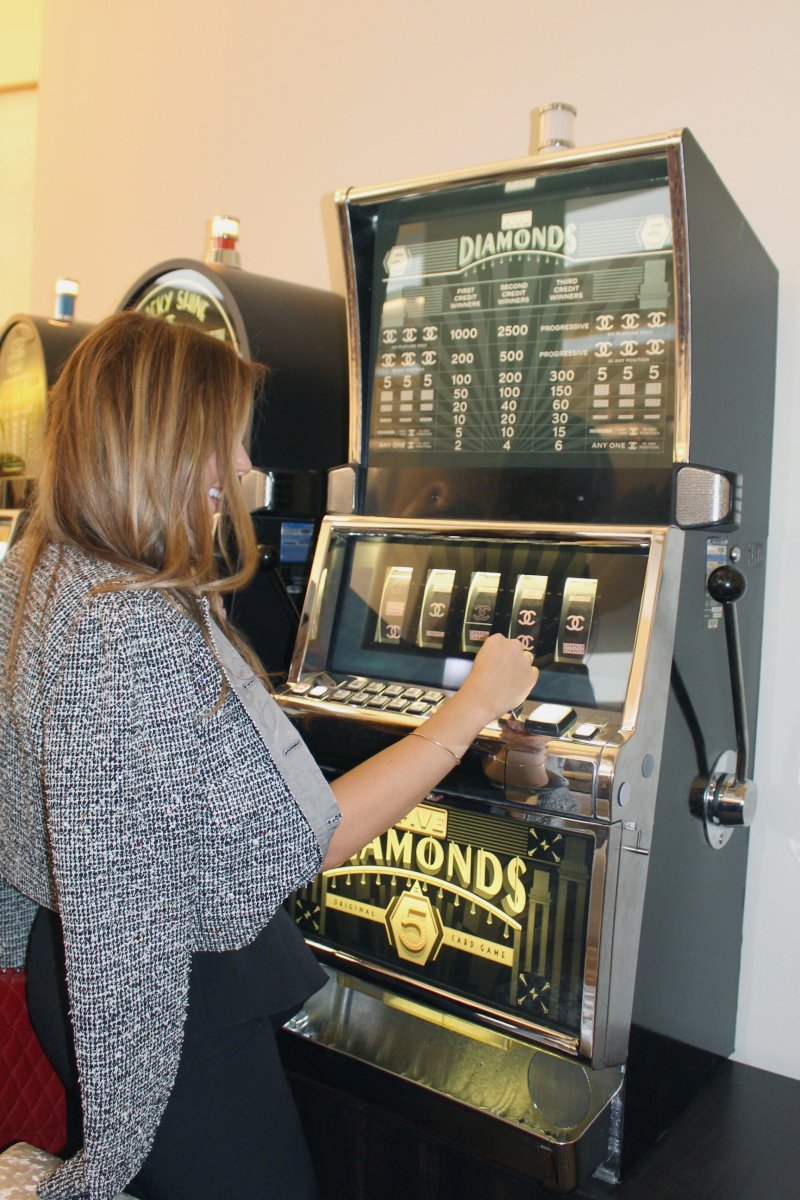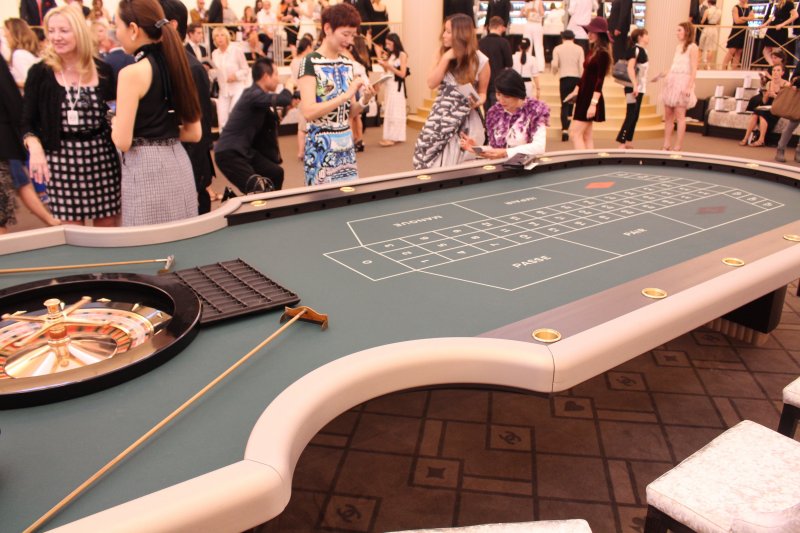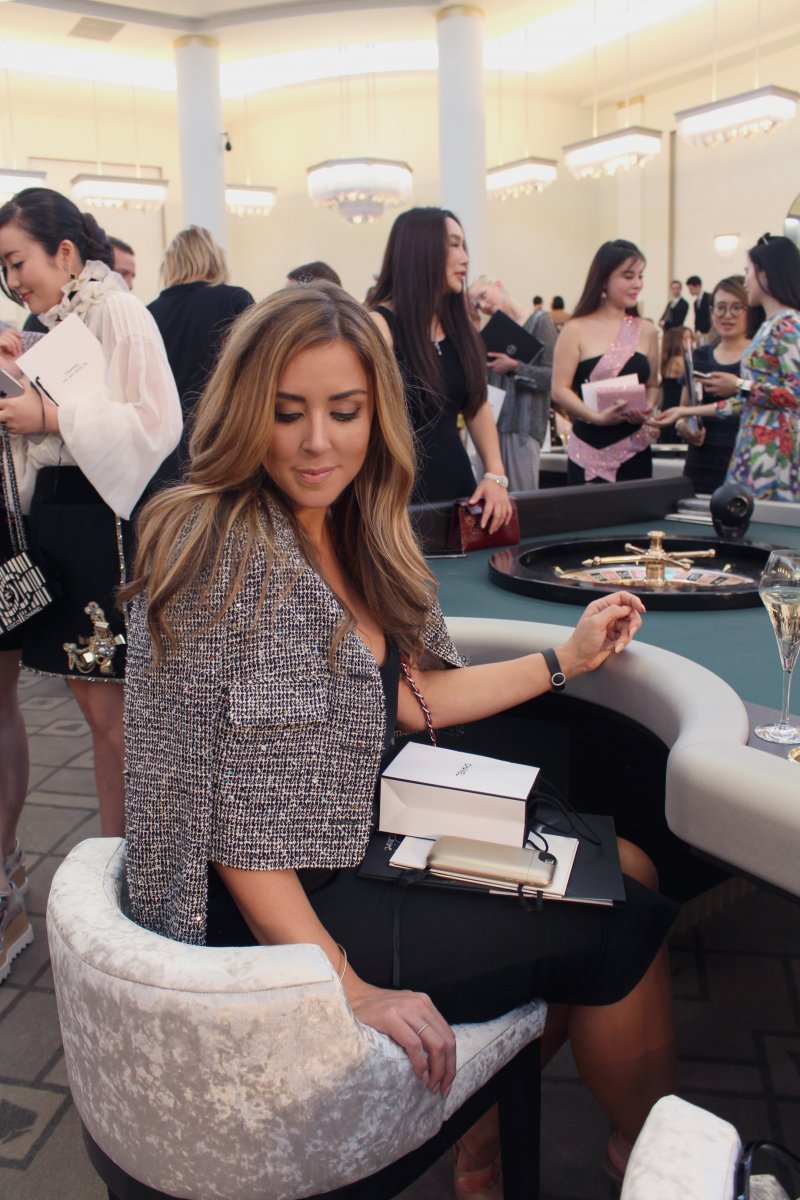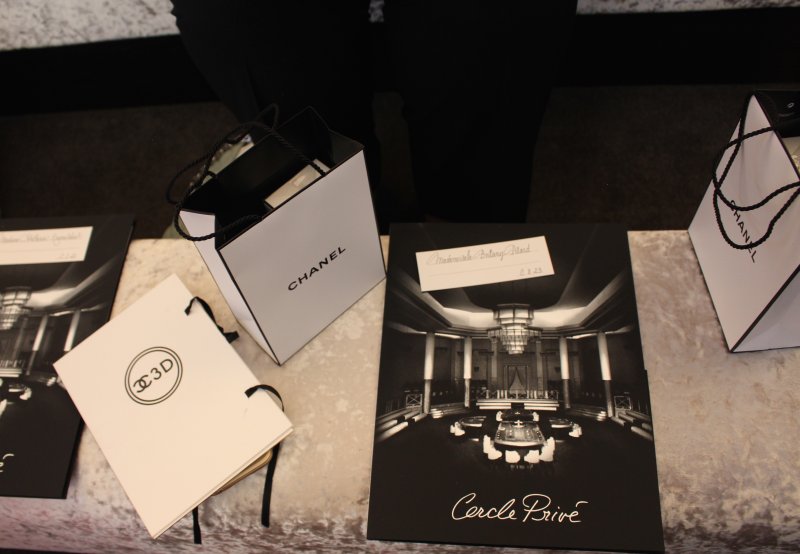 Everyone began to take their seats, thumbing through the elegant portfolio left at each place, and opening their gifts. Chanel had given everyone a bottle of the newest fragrance in their Les Exclusifs collection: Misia, a feminine blend of rose and violet with just a hint of leather.
Low, mysterious music started to surround us as men in suits came to the gambling tables and started setting out their chips. As the music built, celebrities began to emerge at the top of the steps surrounding the casino, cards in hand. Kristen Stewart, Rita Ora, Lily Rose Depp, Lara Stone, Lily Collins, Julianne Moore.
The music reached a thumping pitch as the models began to emerge, dressed in Chanel's new Haute Couture collection. Quilted suits made with 3-D printing technology and bedecked with sparkling crystals. Jackets and skirts made from the most luxurious tweed and set with stones and crystals that played in the lights. Dresses covered in the most delicately woven feathers, floating at the neck and hemlines as the models walked. Roomy silhouettes that played with proportion and movement. Beautiful, feminine shades of ivory, gray, lilac, emerald green, and lipstick red.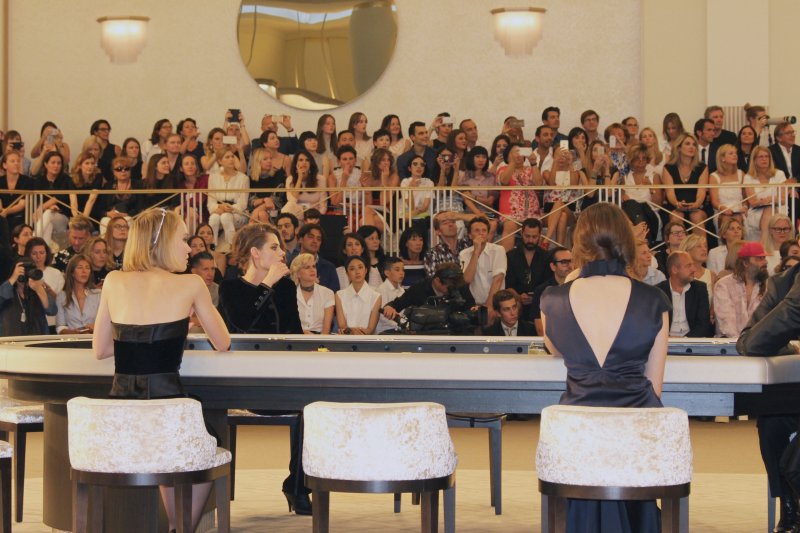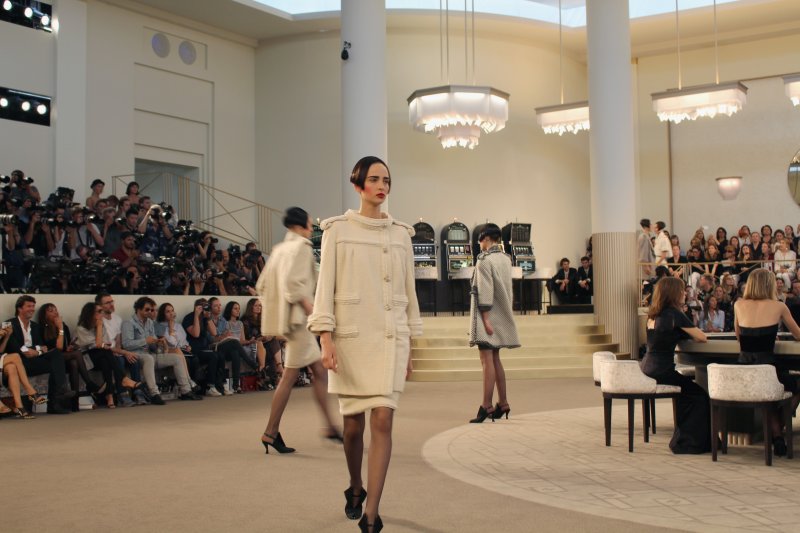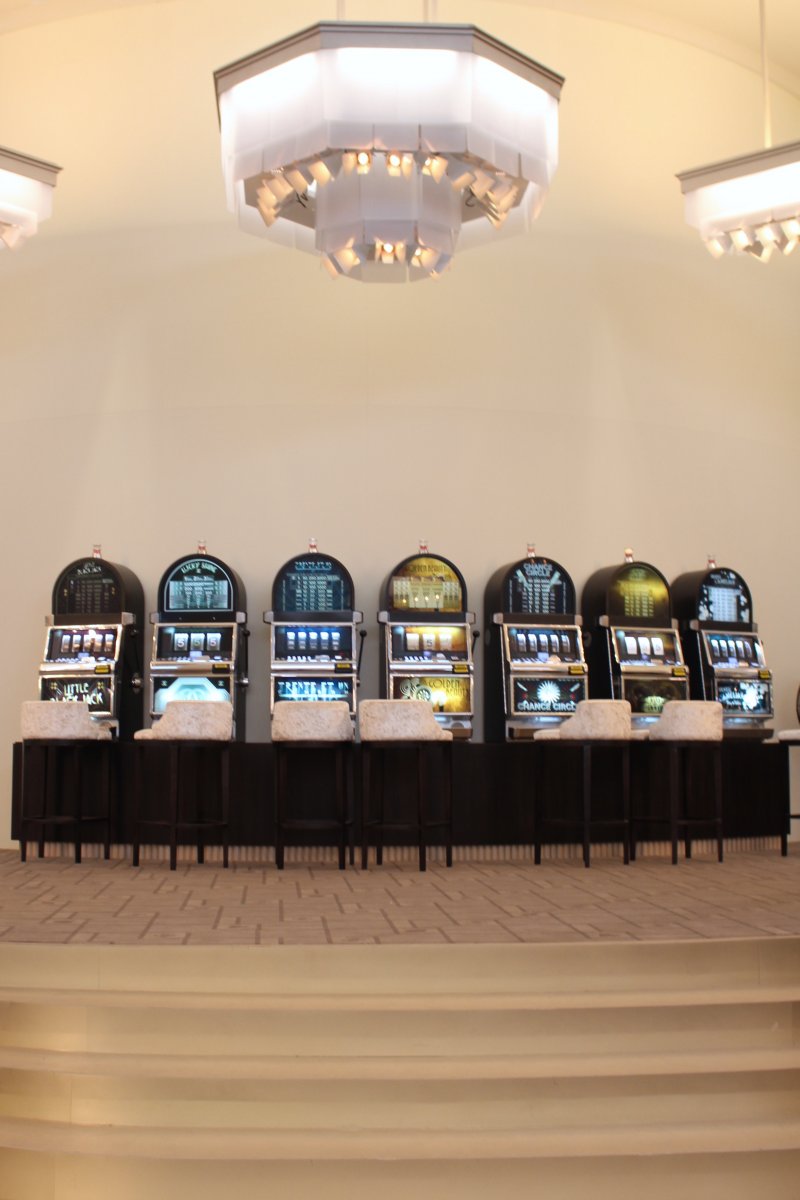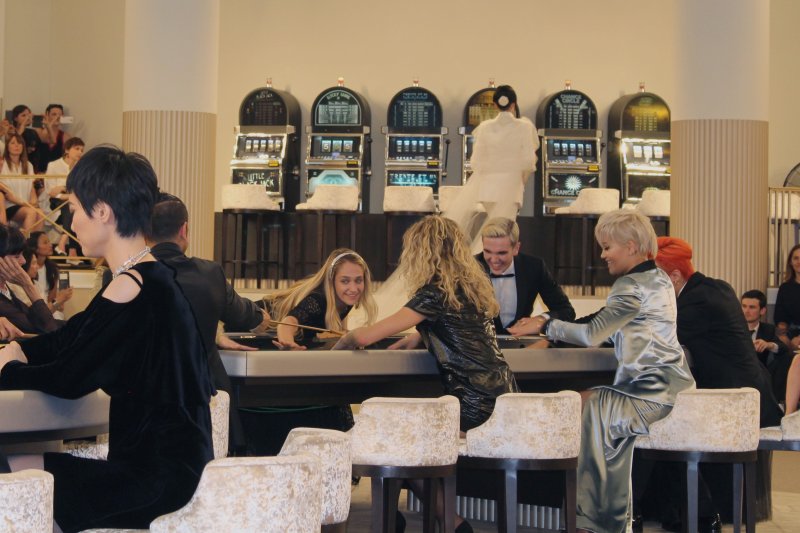 After the show, we went back to Le Meurice for lunch. Then we were driven to 31 Rue Cambon for a private tour of Coco Chanel's apartment above the enormous Chanel boutique and the Haute Couture salons. Chanel asked that photos from Coco's apartment be kept private and not be shared. I know there are plenty of photos online, but they gave us such an incredible experience and such wonderful memories I really want to respect their wishes and refrain from posting any myself.
My mom and I sat on Coco's couch and were able to see so many of her "talismans" I mentioned in previous posts. Her apartment was filled with books, beautiful antiques from all over the world, and lots of symbolism… Stalks of wheat for prosperity, the lucky number five, and her zodiac symbol the lion. It was a timeless place, full of Gabrielle Chanel's spirit. As we descended down Chanel's famous staircase, they gave each of us a beautiful keepsake book about her apartment.
After raiding the Chanel boutique (and indulging in their shoe sale) we went back upstairs to the Haute Couture salons for a presentation of the new A/W 15/16 collection. The magnificent pieces we just witnessed walking down the runway that morning were displayed on racks and available to gaze upon, touch, and drool over.
As I admired the craftsmanship of each piece, it only reinforced the idea that fashion of this level truly is an art form. Handmade buttons with chain detailing the width of a pencil stroke accented one jacket. Tiny woven feathers created a delicate cage around one evening gown. Intricate beading creating crystalline formations to trim the neck and shoulders of a dress. The newest collection is effortlessly chic intertwined with a breath of modernity, which is the essence of Chanel.
I so enjoyed this experience with Chanel and I will remember it for a lifetime. Thank you so much for allowing me to share it with all of you.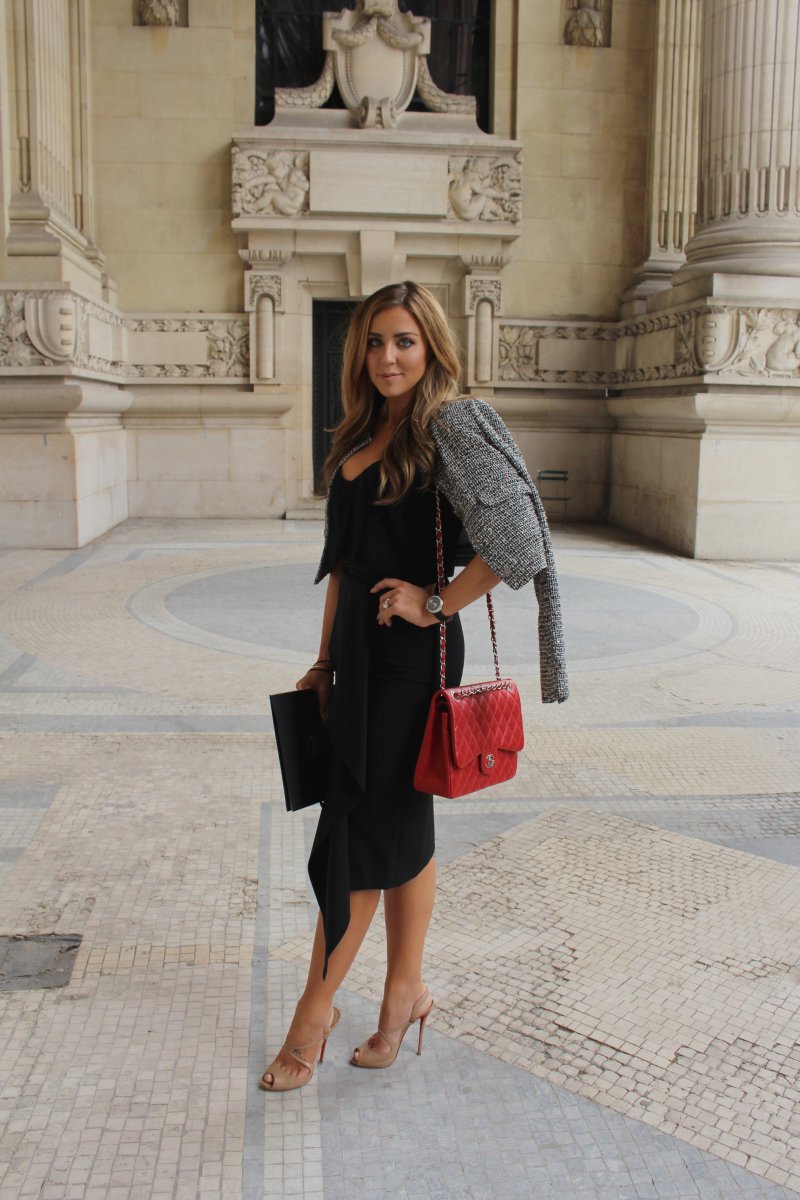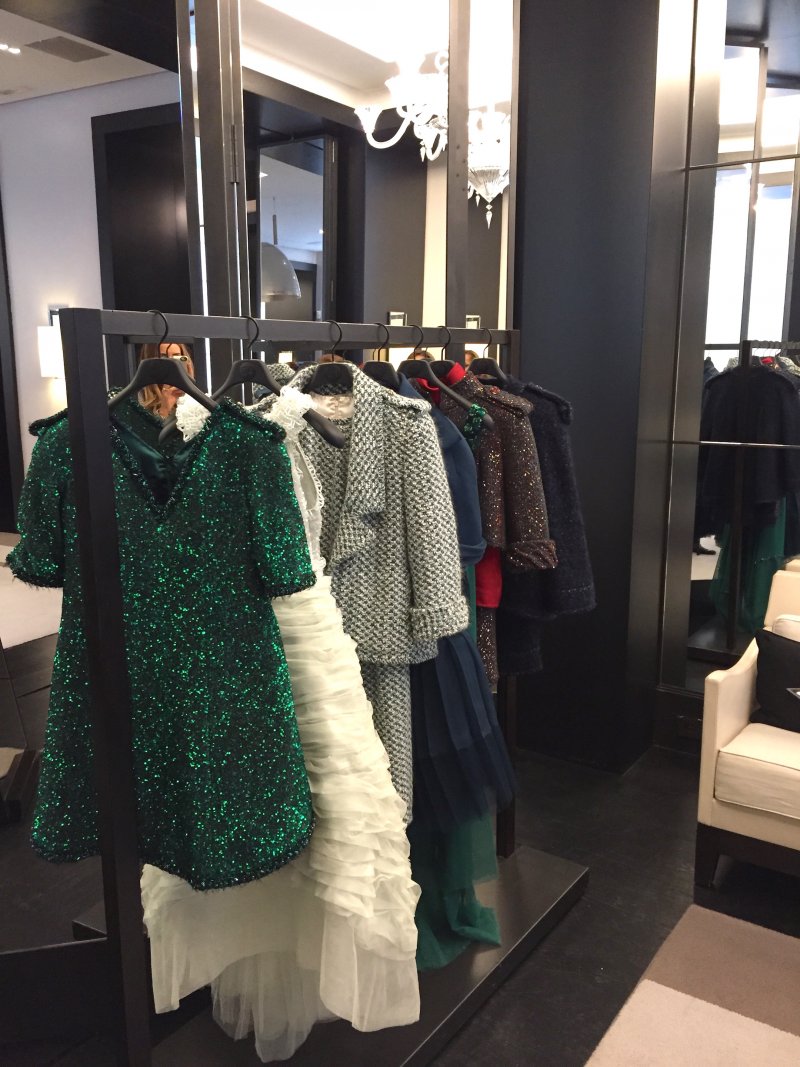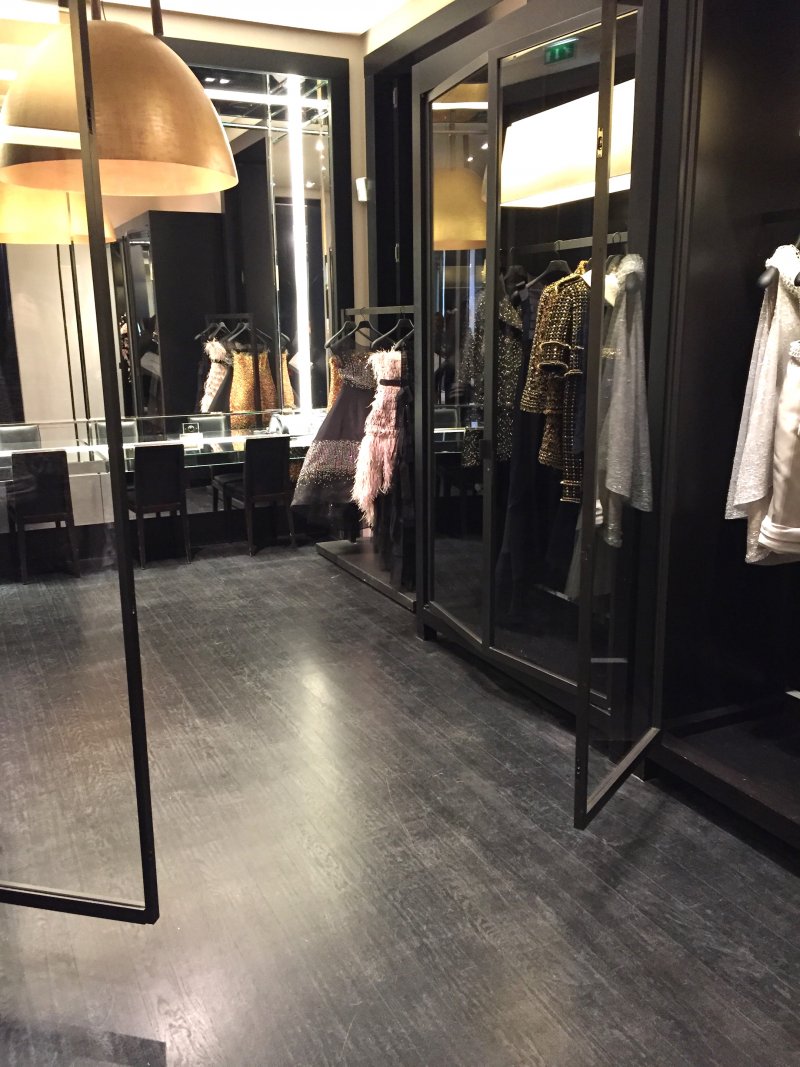 You can follow my Paris Couture Week adventures by searching the hashtags #TCGinParis and #TCGatPFW on Instagram and Twitter. You can see the entire Chanel Haute Couture show here. To get my outfit look, shop the links below.