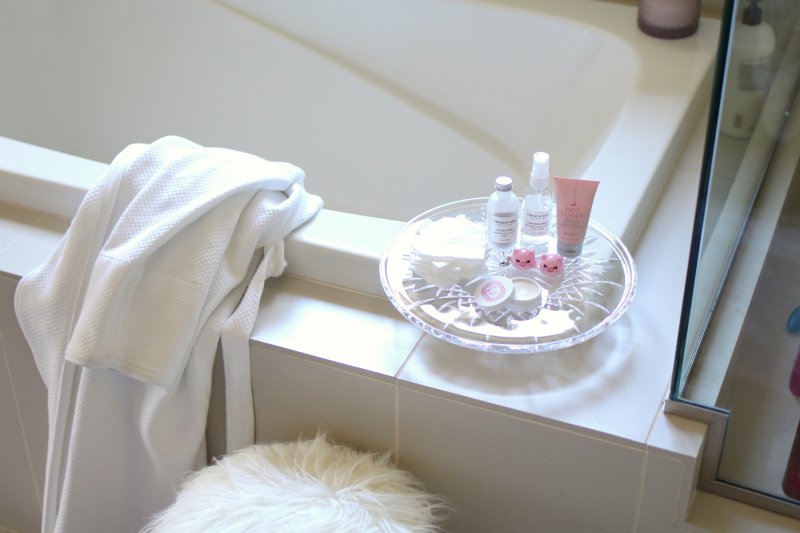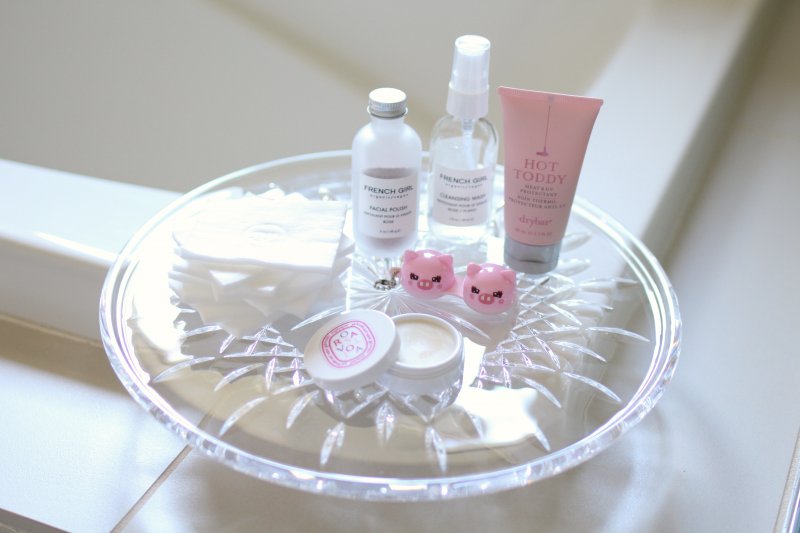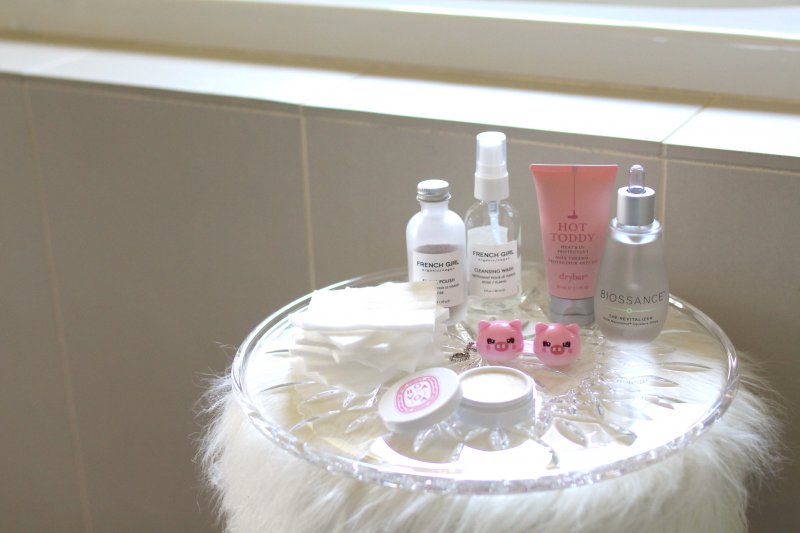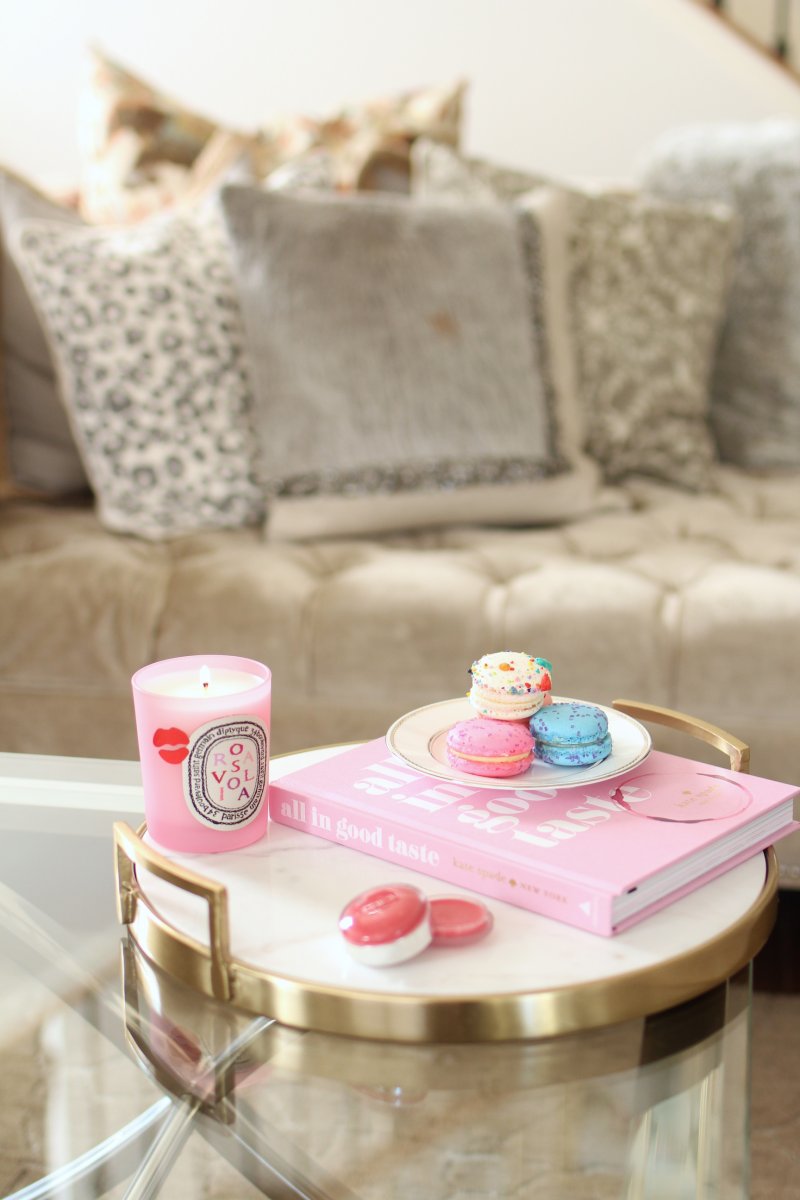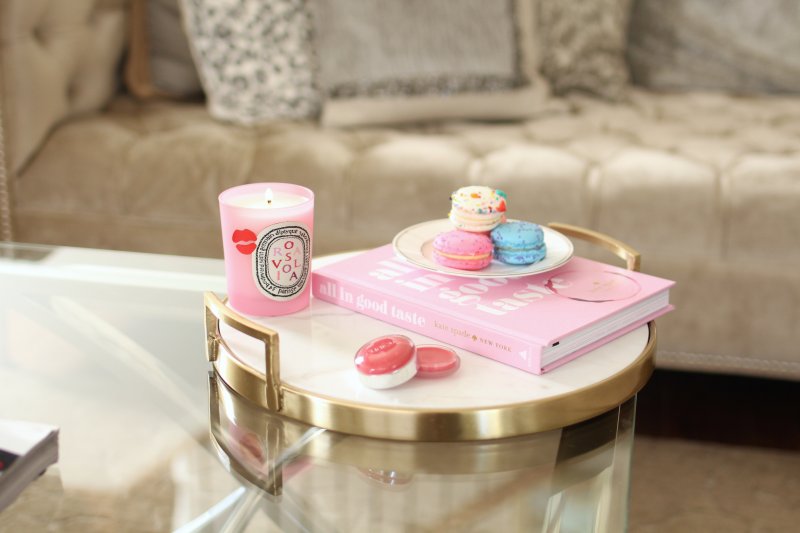 Apply this silky-smooth cream to hair once a week before washing to strengthen and rebuild your strands. There is a matching in-salon treatment as well, but this is what I use in between salon visits to keep my hair shiny and strong. This is the first time I've had my hair so light and so long and I attribute it to this product.
#2 – Hot Toddy Heat & UV Protectant
A lightweight lotion that protects hair from heat and damage when applied to slightly damp hair before styling. This doesn't weigh my hair down or cause it to feel sticky… One of the only heat protectants I can say that about.
#3 – Biore Deep Cleansing Pore Strips
I don't know why these got pushed to the back of my product drawer. I recently rediscovered these and they're amazing at clearing the pores around my nose.
#4 – French Girl Rose Facial Polish
A powdery scrub that smells incredible and gets skin glowing. I shake a small amount into my hand, wet with water, then exfoliate once a day.
#5 – French Girl Cleansing Wash
A gentle cleanser with a delicate rose and ylang-ylang scent. One of the only cleansers I've been able to use without breaking out… It's perfect for my sensitive combination skin.
#6 – Chanel Le Coton Luxe Cotton Pads
The most luxurious cotton pads you'll ever use. The cotton is so smooth and soft, they don't pull at my skin when taking off makeup or scratch my skin while applying toner. These cotton pads feel like a cloud and look incredibly chic when stacked in a little dish on the bathroom counter. A tip? Cut them in half to make them last twice as long.
#7 – Boscia Konjac Sponge Mini Trio
I finally understand why everyone has been raving about these little sponges. They transform into soft, bouncy little cushions when wet and provide gentle exfoliation while lathering cleanser at the same time.
#8 – Shiseido Anti-Dark Circle Eye Cream
When my insomnia catches up with me, this eye cream is my solution. It moisturizes without being too thick or greasy. The best part? My dark circles have greatly improved after using this dream cream.
#9 – Shiseido Tinted UV Protector #2
The smoothest, creamiest tinted sunscreen formulation I've ever tried. This lovely product is pigmented enough to cover flaws, but sheer enough to let your skin shine through. My go-to for my everyday look.
#10 – Colorescience Sunscreen Brush in Medium
I get so happy that wonder products like this exist. A water-resistant sunscreen in a loose mineral powder formula with a brush applicator. An essential for anyone… Simply brush onto face, neck, chest, and even the tops of hands to protect your skin from harmful rays.
#11 – Cailyn Cosmetics O! Wow Brush
This brush looks odd, but looks can be deceiving… Once you use it, you'll start wondering why every makeup brush isn't as soft and easy to use as this one. It will give your foundation a soft, airbrushed look. Available online or at Fluff Bar Denver.
#12 – L'Oréal Lumi Cushion Foundation in Classic Buff
A medium-coverage foundation in a handy cushion compact. This product is quick and easy to apply, making it perfect for everyday wear when mornings are rushed. The best part? It's handy to toss in your bag and touch up throughout the day.
#13 – L'Oreal Le Matte Lip Crayon in She's So Matte
I'm loving this fresh beauty look for spring… A matte lip crayon in a beautiful rose color. Looks great with MAC's lip liner in "Dervish".
#14 – Diptyque Rosaviola Scent
A limited-edition scent created by French designer Olympia Le-Tan and Diptyque. A feminine fragrance with notes of roses, lipstick, and a hint of leather. Candle still available.
#15 – Ankit Pig Contact Case
Because you should be able to look at two little pink plastic pig twins when you wake up in the morning. This contact case makes me smile every day. Check out the Ankit website for cute gift ideas and more things that will make you smile too.
#16 – Royal Scout & Co. Faux Fur
Royal Scout makes the most luxurious faux fur products. Add their Boot Cuffs to your closet and instantly maximize your boot collection. Or add a luxe touch and bit of warmth to your outfits with their Wolf Wrap.
**Not mentioned in video but pictured in photos: Biossance The Revitalizer serum/moisturizer and Clinique Sugar Pot in Sweet Rose scrub/balm combo.