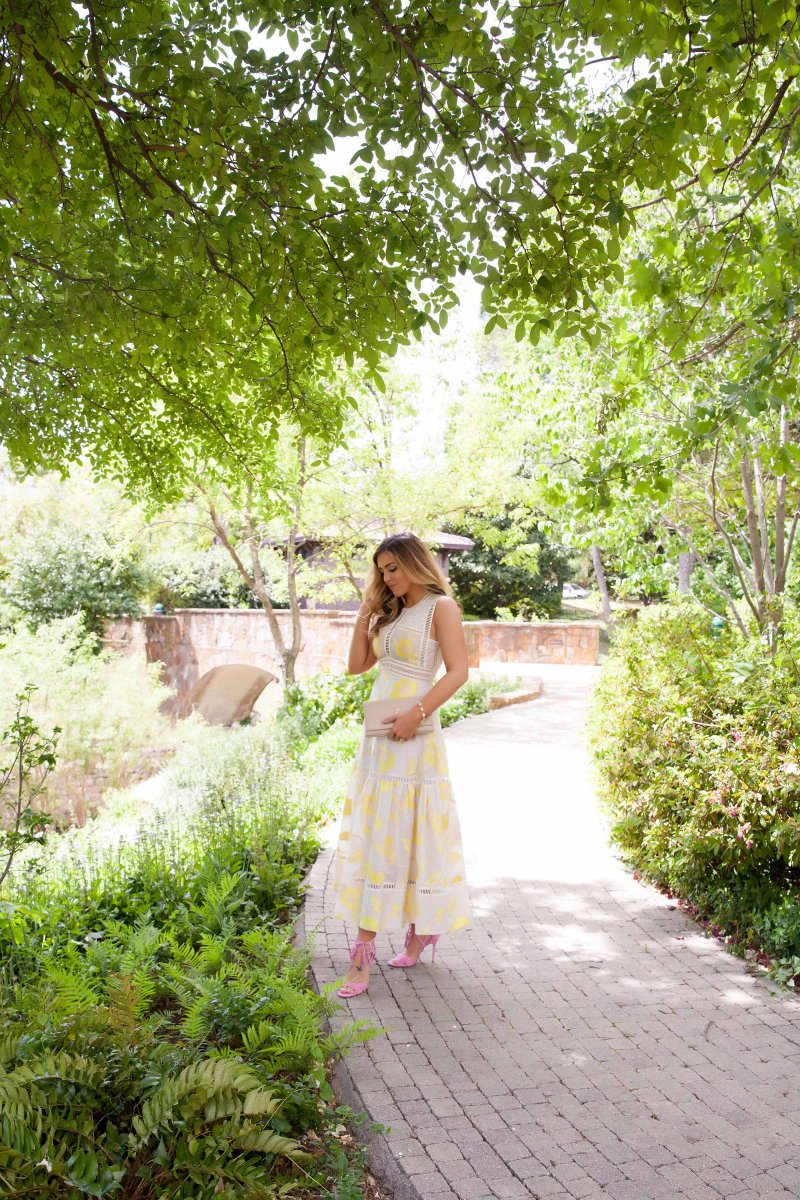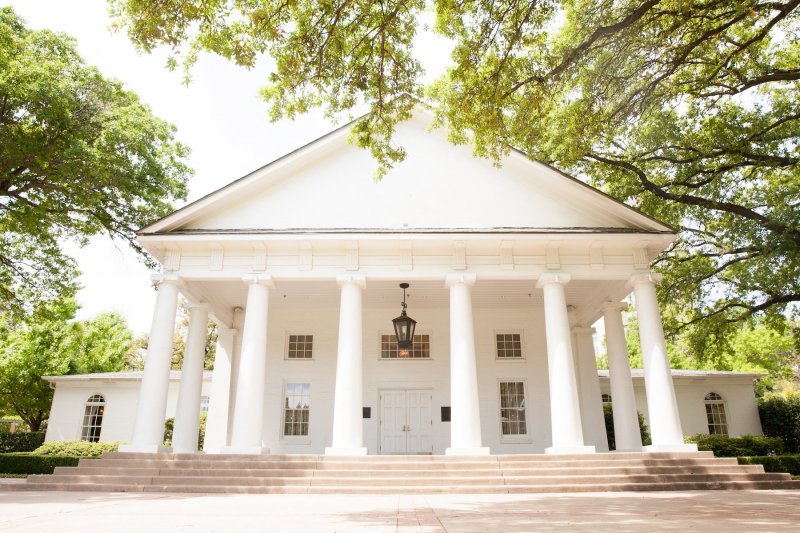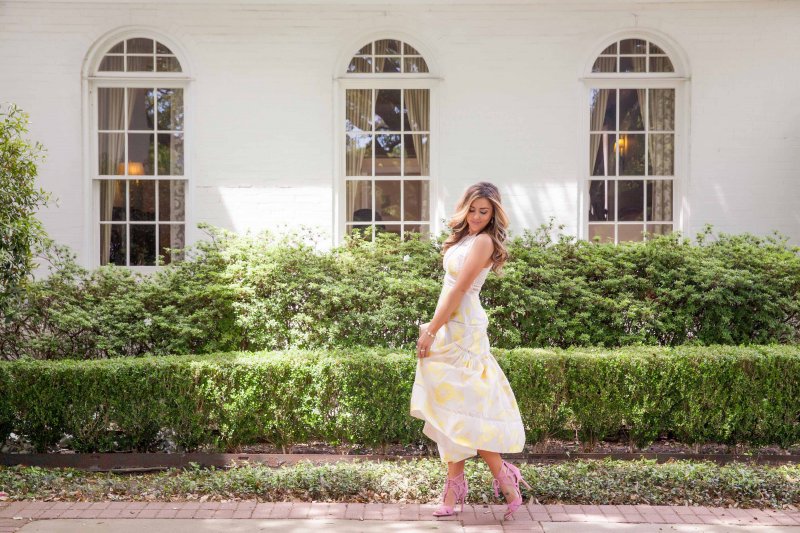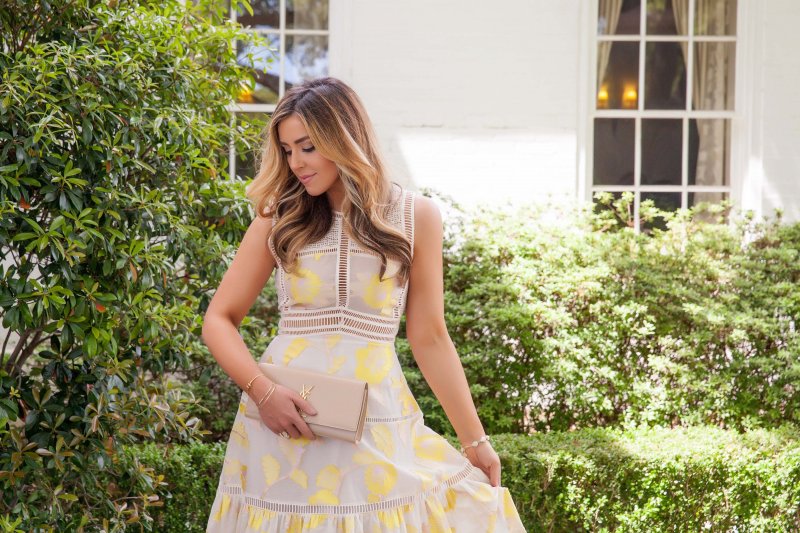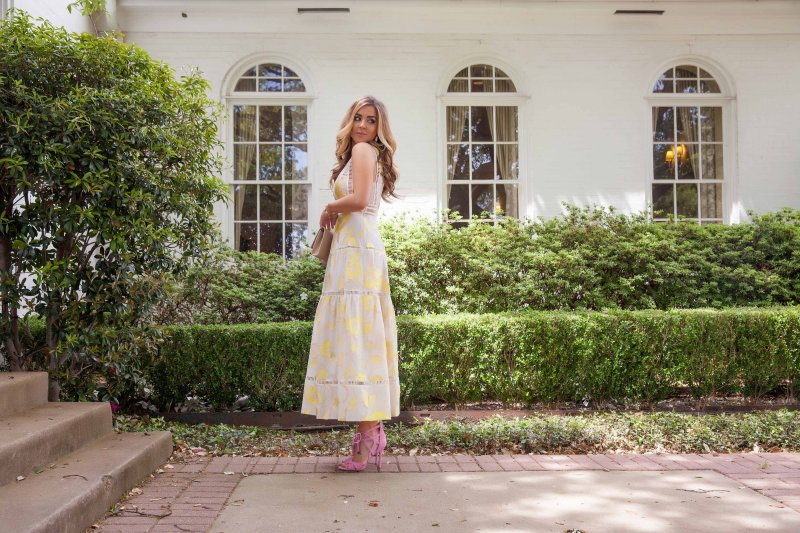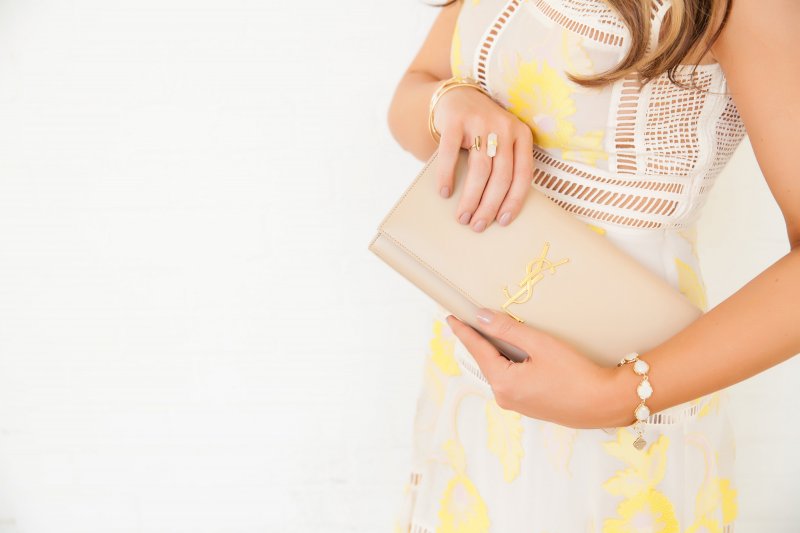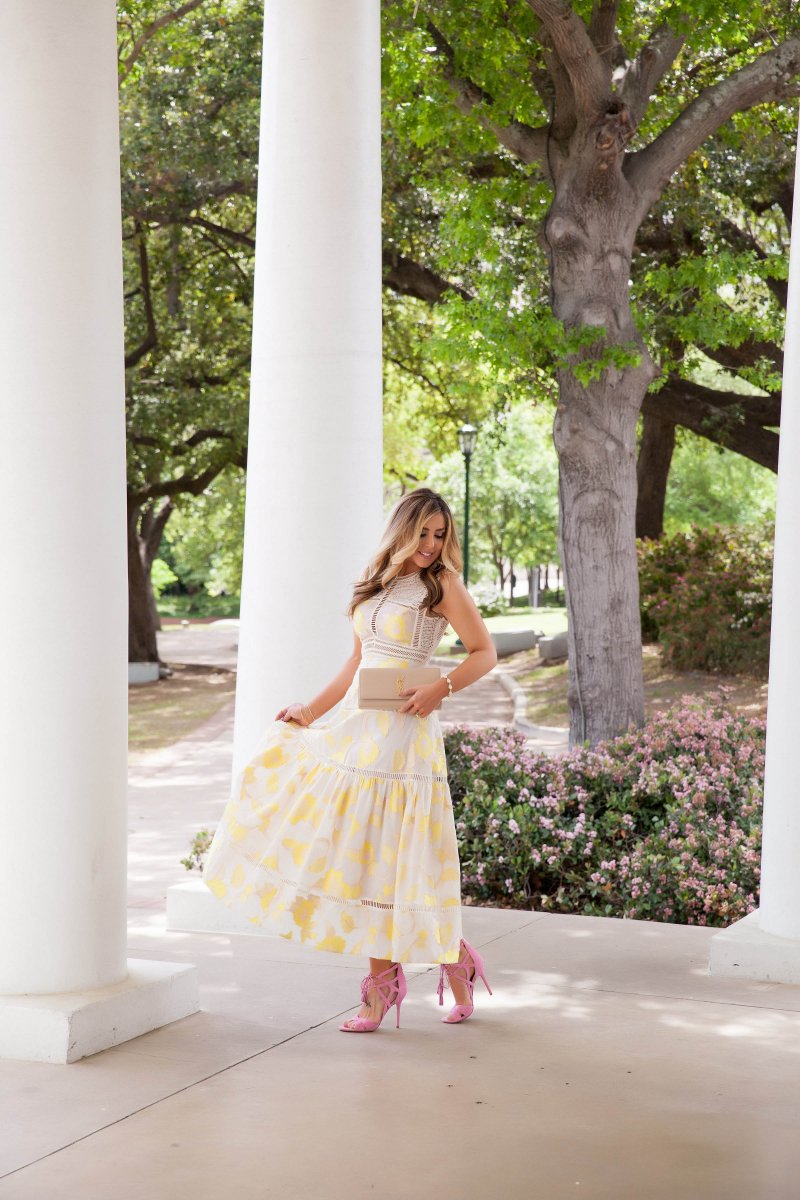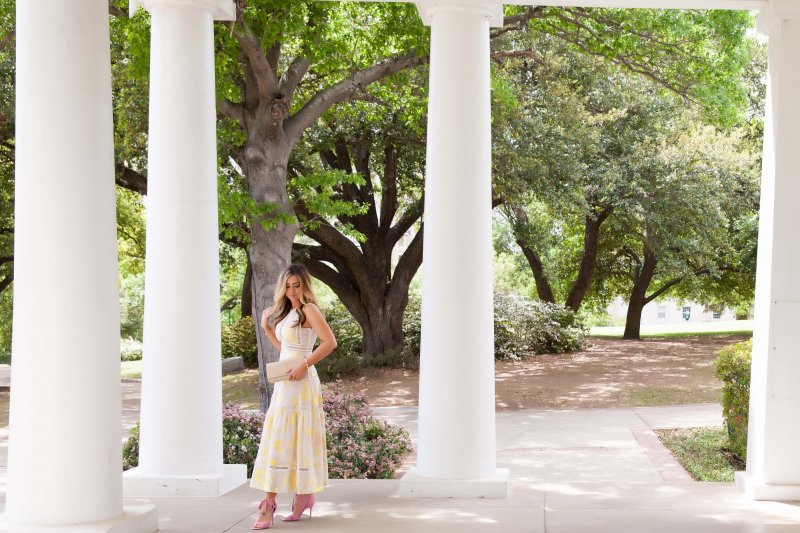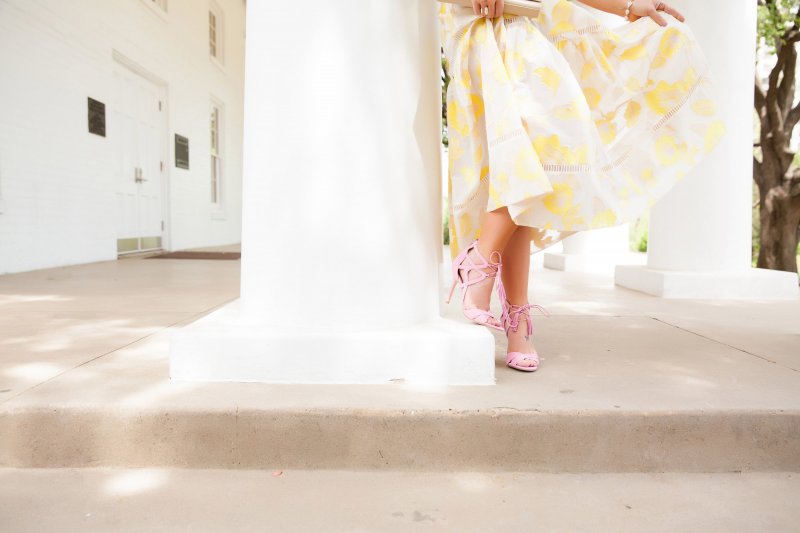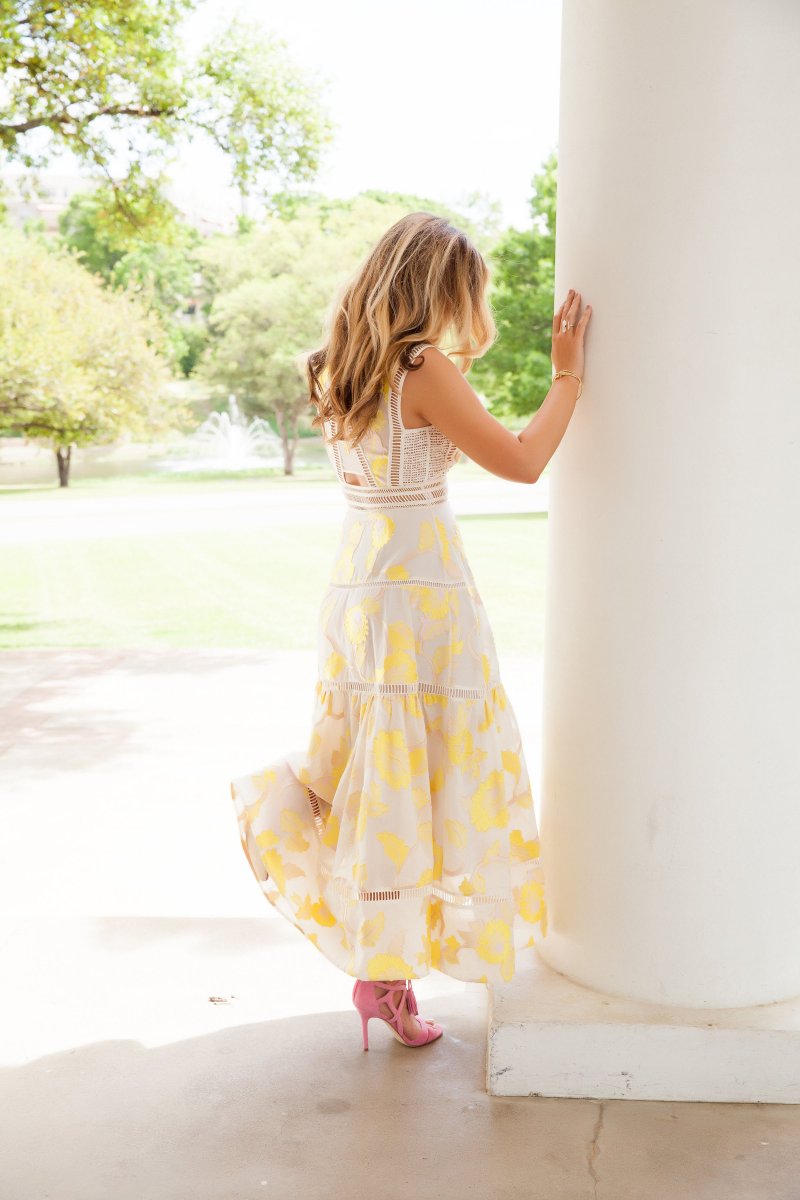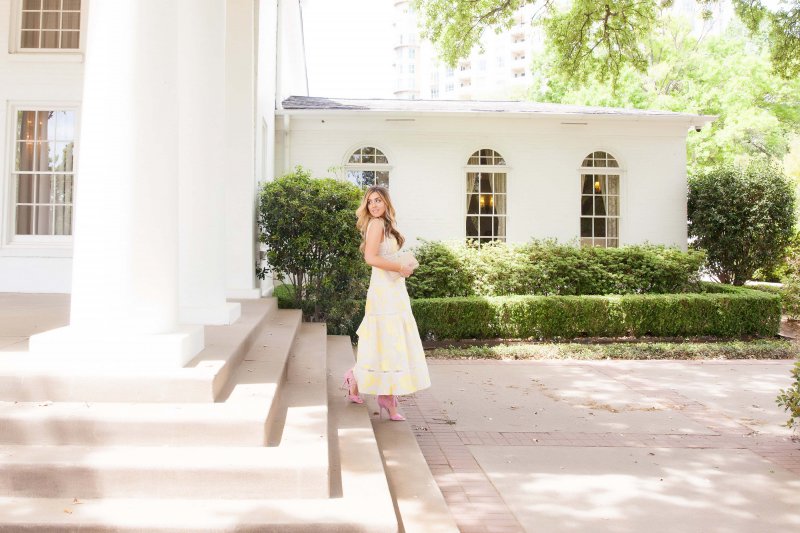 Earrings.  Dress.  Clutch.  Bracelet.  Ring.  Heels.
#rStheCon The Joule Hotel Review
After Day 1 at the rewardStyle Conference, we went to the Joe Fresh cocktail party in the Tasset Sculpture Garden across the street from The Joule hotel. We had gotten a peek at the decor through the gates of the park earlier that day between meetings and needless to say, seeing it up close and personal that evening did not disappoint. The garden was lined with giant wooden swings, covered in white orchids and big faux butterflies. The bars were covered in greenery and topped with white orchids and were even serving signature cocktails garnished with violets. A game of croquet was set up on either end of the long grass park.
When I packed for my Dallas trip, this dress wasn't the one I brought. In fact, I didn't bring any cocktail party dress because I ended up forgetting the one I was going to wear at the dry cleaner's. Oops. I am such a stickler for to-do lists and packing lists but occasionally something falls through the cracks. And looking back, I'm glad I didn't bring my original dress because it was black and long-sleeved and felt so much more wintery than this beauty I ended up with.
We darted into a shop before dinner… I was feeling rushed and was worried I wouldn't find anything to wear for the garden party. We didn't have a lot of time and we certainly had no time to order in a different size or alter anything. Then I saw this dress and I completely fell in love.
Airy, feminine, and slightly vintage, it fit my style to a tee. When I put the dress on, I instantly felt like the most feminine girl in the world; I just wanted to spin and twirl in that full skirt! And the dress's lightweight fabric and open panels were so light it made me feel as if I was wearing nothing at all. The beautiful fabric and intricate details are just breathtaking… It's one of those dresses that become a conversation piece when you wear it. And it's the perfect dress for weddings, bridal and baby showers, or vacations because its classic design ensures it won't go out of style. If you're looking to order it, it runs true to size… I probably could have worn the next size up, but this was the only size left at the store and I'm hoping it will fit better after a little more gym time.
I was so happy I found such a dream dress only hours before the cocktail party. Usually when I'm actually looking for something I can never find what I'm looking for… Does that ever happen to you? This dress set the stage for a great evening with new friends; when we feel great in what we're wearing we exude confidence everyone else can notice and that, to me, is the best part about fashion.
I just wanted to mention two coupon codes I have that would make for great Mother's Day gifts. The first is 15% off Daniel Wellington watches (see my airport style post) using code BRITTANYPILLARD at checkout on their site anytime now through May 15th. The second is 20% off the GiGi New York tassel clutch I've been carrying in my Instagram lately… Just use code GIGISPRING at checkout anytime now through Mother's Day.