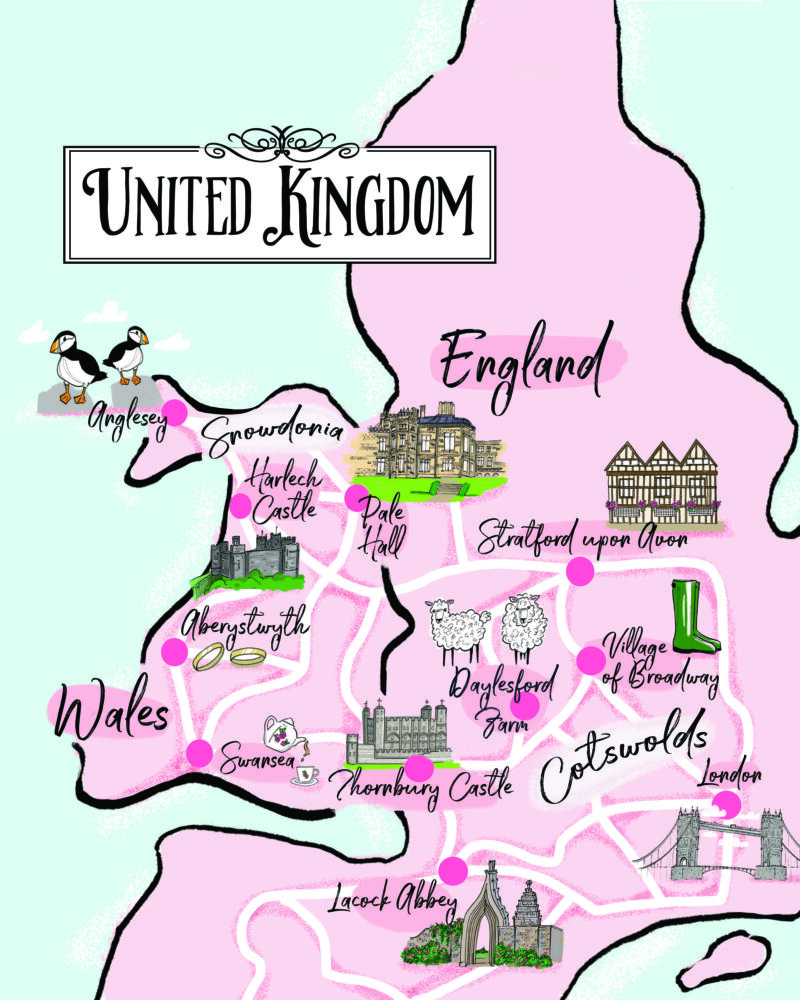 Map Illustration by Lori Burt.
Out of all my content, travel guides are probably my favorite to write and create. I love sharing the little details that make a destination truly special. I spend hours going through photos I've taken, trying to find the one that conveys the spirit of a place best; one that gets it just right. Which is why I was a little sad I wasn't able to share our incredible driving trip through the United Kingdom with you last year, even though I had the best reason possible.
Upon returning from our trip, I discovered I was pregnant with Georgina and began experiencing morning sickness almost immediately. I had planned to wrap gifts, pack up our car, and work on my travel guides while on the way and while at my family's home for Christmas. But I soon found out it was nearly all I could do to sit in the car and not be sick. I had serious morning sickness nonstop well into February. And by then, spring was around the corner and it seemed strange to share photos of chilly London and Christmas in the Cotswolds, so I waited and am happy to share with you a year later.
If you like this type of content, I've created many different travel guides you can search in the search bar or and browse in the 'Travel' category on this site. I also documented a similar driving trip through France – you can find the detailed itinerary here with links to travel guides for each destination.
This trip was less structured than our France driving trip because I lived in London when I was young and my mother's family still lives in Wales, so I was more familiar with these places than the ones we visited in France and we didn't need travel guides to interpret and explore new sites. And this trip was all about a cozy Christmas journey through the United Kingdom. Personally, I love the U.K. during the winter because their winters are very mild, all the holiday decorations are up, and the pubs feel extra cozy on a damp, chilly day. While our France trip focused on a spring/summer vacation, this trip is focused on seeing Christmas sights, venturing out to a few Christmas markets, and being cozy. Enjoy!
London
Is there a better place to experience the holiday season than London? I think not. The windows are bedecked in the most tasteful holiday decor, the doormen are wearing wool uniforms with gold buttons, and there are Christmas markets and holiday events galore. We stayed at the classic Stafford Hotel in London which was within walking distance to everything we wanted to see, but the newly opened Belmond Cadogan Hotel is also on my list since its in my old stomping grounds. I'll touch on all my favorite holiday stops in the city in my upcoming London Christmas Travel Guide.
Allow a few days in the city to soak in the magic of Christmas done the British way, then head out toward the countryside to relax, stopping at Shakespeare's birthplace Stratford-Upon-Avon for lunch and a bit of a walk. I suggest stopping through on a Sunday when you can enjoy a delicious Sunday roast at one of the original pubs; there's nothing like a cozy pub meal on a chilly day. There was a charming Christmas market going on when we passed through as well.
Wales
Continue the drive from Stratford-Upon-Avon into the northern part of Wales where fluffy wild ponies wander in beautiful Snowdonia National Park. Stay at Palé Hall, a stunning castle with an incredible restaurant tucked into the misty edges of Snowdonia. Wales is a romantic, mystical place; there's something very special about it that you'll feel as soon as you arrive. Waking up at Palé Hall felt like an absolute dream, from breakfast served bedside by the fireplace to seeing the ponies in the field and the forest surrounding us outside our windows.
Allow a couple of days to explore Snowdonia Park, walk through the impressive Harlech Castle, and meander the Isle of Anglesey where Prince William and Duchess Catherine lived when they were first married. I loved the seaside village of Aberystwyth where I purchased Welsh gold jewelry from the family-owned jeweler, Rhiannon. And I'm quite partial to my great grandmother's home of Swansea, where wild waves crash against the vibrant seaside village known as Mumbles.
As you make your drive toward The Cotswolds stay at Thornbury Castle, an actual Tudor castle set amongst original English gardens dating back to the 1200's. The castle has a fantastic restaurant nestled in between stone walls with a cozy fireplace, so there's no need to venture out for dinner.
The Cotswolds
English Countryside Travel Guide
While on your way from Thornbury Castle, you may want to make a few stops in the English countryside. Bristol and Bath are main cities along the way, and I wouldn't miss the charming villages of Castle Combe and Lacock.
The Cotswolds were probably my favorite part of this trip. John and I both love the country; pulling on our wool and wellies and mucking about if necessary. We enjoyed the more peaceful pace of the Cotswolds, the charming villages, and quaint restaurants. During this time of year there are Christmas markets galore here – I think we went to one in nearly every village we visited. With spiced wine and holiday carolers and little stands selling cozy things, it's definitely worth making the rounds.
We stayed in our own cozy little cottage at Dormy House, which manages to create a space that simultaneously captures the quaint nature of the Cotswolds with the sumptuous interiors and fine dining of a luxury hotel. You'll feel torn between having a slow morning, a day at their beautiful spa, and dinner at their restaurant… Or going out and about, exploring the charming Cotswolds villages. Luckily, you can do both. Dormy House is outside the village of Broadway, which was my favorite we visited. But I would allow at least a few days to visit the surrounding villages such as Chipping Campden, Moreton-in-Marsh, Stow-on-the-Wold, Chipping Norton, Burford, and Upper and Lower Slaughters. Allow a half day for lunch and shopping at the exquisite Daylesford Organic Farm near Kingham.
Back to London
On your way back into the city, I would suggest stopping to tour Blenheim Palace and visit the city of Oxford. Blenheim always has an absolutely stunning Christmas display throughout the house (you can purchase tickets ahead – it's worth every penny) and had a charming Christmas market going on while we were there. I would plan to visit Blenheim in the morning and leave after lunch, stopping in Oxford in the afternoon, and planning to arrive back in London in the evening. I would allow another night or two in London before you leave since there's inevitably something that couldn't be squeezed into the first stay.