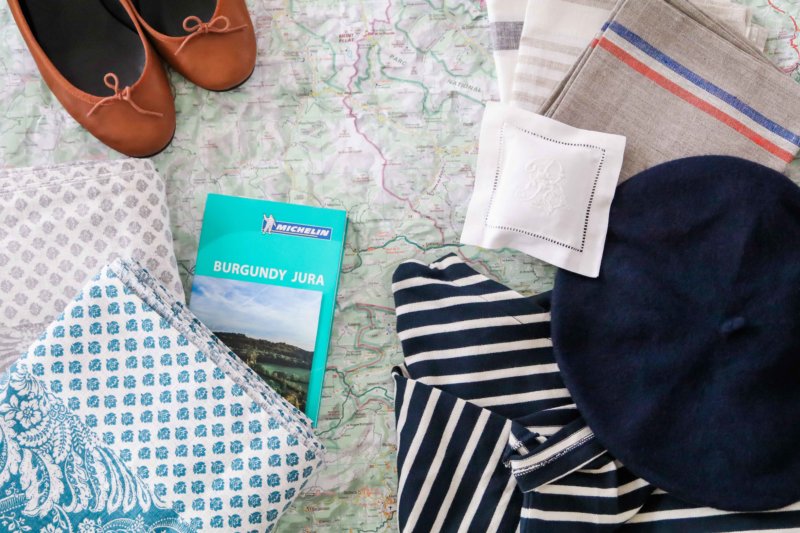 Something I always ask my readers pre-travel is, "What should I bring back?!" I love bringing back meaningful gifts to my friends and family at home; something that says, I wasn't only thinking of you… I was willing to sacrifice suitcase space for you! (Because aren't those the best presents?!) And of course, when traveling I always hope to find little mementos that remind me of my trip as well.
Keep reading to discover the items I would suggest picking up if you're traveling to France. And… Maybe a few pieces we Francophiles can get here in the U.S. as well!
Linens
This was the overwhelming response I received when asking about the best French souvenirs. The French have become masters at linen and you can find the best linen in the world in little French shops and marketplaces. A few of my favorites? Tablecloths, napkins, dish towels, and little sachets to tuck in drawers and cabinets. We got some beautiful tablecloths with matching napkins at a little shop in Les Baux de Provence; they're cottony-soft and will last for years and years. Shopping in the U.S.? Take a peek at this linen tablecloth, this grey stripe linen cushion, and these vintage striped kitchen towels.
Tips: Take measurements of your furniture beforehand and keep in mind a "table for four" in Europe is generally a bit smaller than what we would call a "table for four" here in the U.S. Ask for 100% linen or cotton products; some vendors sell ones mixed with polyester and these will become warped when steamed or ironed.
Traditional French Items
Ahh yes. Did you think I would forget about the beret?! I know, I know… It's cheesy. But delightfully so, wouldn't you agree?! My top three French staples would be a beret, a traditional Breton stripe top, and a leather ballet flat.
Take a peek at Laulhère, the only beret manufacturer still making berets start-to-finish in France. They have a shop in Paris, but I don't think they're shipping to the U.S. yet. I've actually ordered a few from their Amazon shop. And if you don't see this brand in France, just ask for a beret that is wool or cashmere and made (at least partially) in France.
My favorite Breton stripe manufacturer is Petit Bateau. I like the traditional Mariniere, but also got a drop-sleeve style this trip. Go one size down if you want yours a bit more fitted. And mamas, rejoice… Their shop makes me wish I had littles to dress because their things are so darling!
I fell in love with the Repetto brand years ago. Repetto made their first ballet shoes in 1947 and slowly celebrities like Brigitte Bardot and Audrey Hepburn began wearing their Repetto flats out on the street. They are the only shoe I can buy and immediately wear for hours comfortably; and they only get better with time.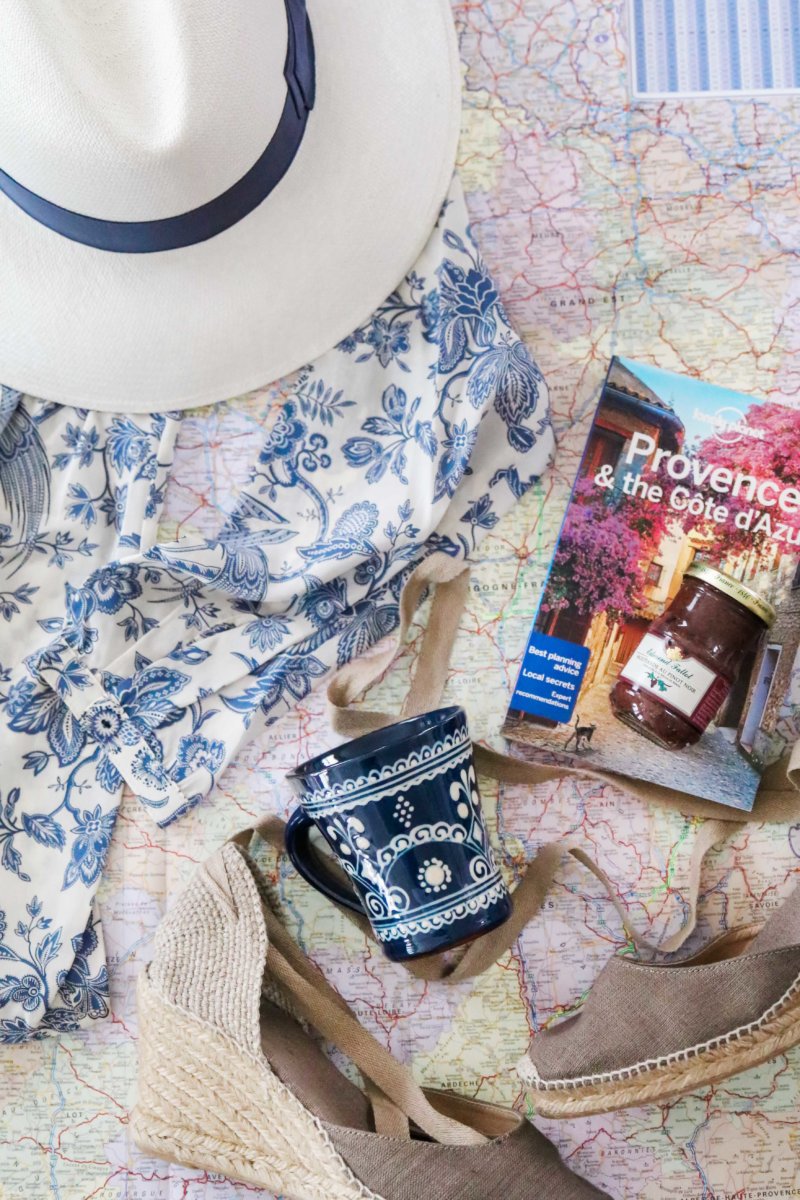 Region-Specific Items
This is something you might have to experience to decide, but each region in France has at least a few products they make exceptionally well. In Reims, of course, it was champagne. In Beaune, it was their wine and delicious mustards. In Provence, it was their hand painted pottery, beautiful printed textiles, lavender, and comfortable linen shoes. Everyone was wearing one of these Panama hats in Provence and though the one I purchased was Italian, I felt like I blended right in.
Tips: Simply ask your tour guide or the front desk at your hotel what items the region is famous for producing and where they prefer to shop for those items – you'll find the best local spots this way. Another idea is to walk the local market and browse; I found so many lavender items in Provence this way.
And you may discover a new brand simply walking around the local village; I stumbled upon Souleiado this way. The brand came into being during the 1700's when France banned the import of Indian block-printed textiles the people in Provence loved. So… Provence found a way to make their own printed textiles and Souleiado was born. Today the brand offers a selection of bright, colorful prints for both men and women. The beautiful silk blouses were my favorite. You can see a bit of the blue and white style I chose in the photo above.
Other gift ideas for the Francophile in your life? These Toni Pons espadrilles – order your regular size. Made in Spain, but they were quite literally everywhere in Provence. Put them on with a breezy dress and you'll feel Provençal in no time. Tuck a pack of Les Anis de Flavigny mints in their stocking. I fell in love with these in France; smooth and with just a hint of delicate flavor, they become addictive in no time and you'll feel just a little bit fancier pulling them out of your purse.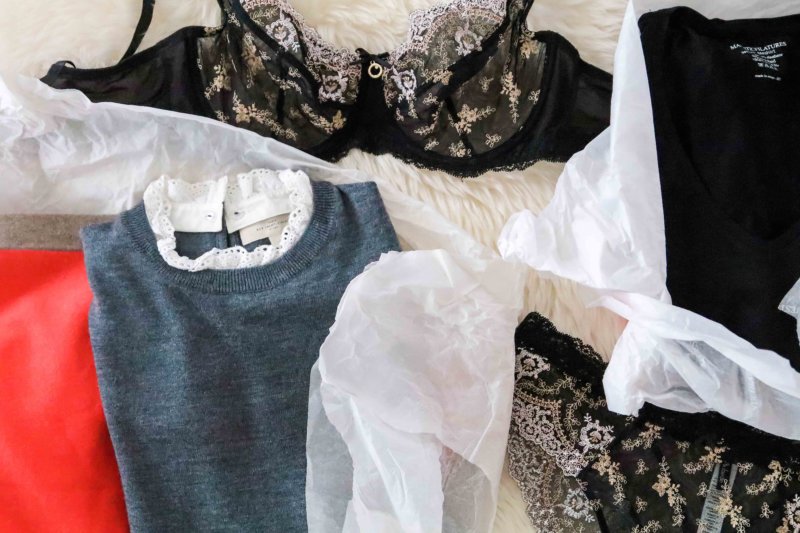 Fashion + Lingerie
Fashion is one of France's main exports and understandably so; walk around any French city or village and you'll see numerous women looking très chic. Aside from the famous French designers, there are a few lesser-known brands and items I love to pick up when I'm in France.
The first item? Knits. French women wear little sweaters, cashmere, and knit wraps so well. I can't quite put my finger on it, but their knits seem to look effortlessly elegant both during the day with jeans and at night with a pencil skirt or ankle pants. I like browsing around in local shops for cashmere finds, but one of my favorite U.S.-accessible French brands is Sézane. They just get their sweaters right – their styles with the removable collars are my favorites.
Another knit brand I love is Majestic Filatures. Their silky-soft knit tees and long-sleeves are so comfortable, but still look crisp enough to wear out under a blazer or jacket. This style is my favorite, but I've gotten several colors/styles/materials from them and have been pleased every time. You can find them for 30% to 50% off the U.S. price when buying in France, but I promise they're worth the investment.
Last, but certainly not least, lingerie. The French know lingerie. My favorite brands are never tacky, but always feminine. Aubade Paris, Chantelle, Eberjey, Lise Charmel, and Simone Perele. Any woman knows the confidence pretty underthings can give us, but quality undergarments can actually help clothing lay better on the body, creating a more flattering fit.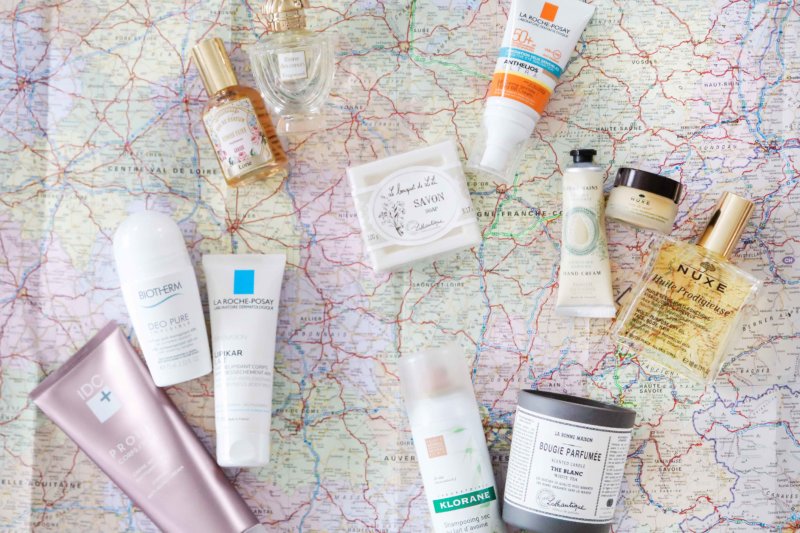 Beauty Products
The amount of articles I've read on "French skincare tips" is embarrassing – it should be banned by Google, really. But there is something to the whole European beauty phenomenon. Ever since I moved to Colorado and moved in with one of my top allergens (hello, shedding dog) my skin has become extremely sensitive. The downside? Rashes and allergic reactions at the most inconvenient times. But the upside is I have done a lot of research on skincare and am now extremely disciplined about my skincare routine and the products I use on my face and body. The E.U. has banned over 1,300 toxic ingredients in their skincare. The United States? Only 11. We shouldn't need a chemistry degree to understand the products we apply onto our largest organ each day and we shouldn't be forced to accept allergic reactions as 'normal' just because so many toxic ingredients exist in our products. When in France, I picked up a lot of beauty products for myself simply because the quality standards are so much higher there; I was able to test every one of those products without any reaction.
Among my favorites? The hydrating and soothing NUXE Rêve de Miel line – especially the lip balm and the face and body cleansing gel.  Biotherm's gentle Deo Pure invisible deodorant that worked well, moisturized, and didn't get white marks all over my clothing. Klorane Dry Shampoo for hair and La Roche-Posay Lipikar moisturizer for body. La Bonne Maison sophisticated home fragrances and candles. Any and all of the elegant Fragonard and Molinard fragrances, but especially Belle Cherie, Reine des Cœurs, and Le Rêve Nirmala.