September 14, 2021
Categories: Home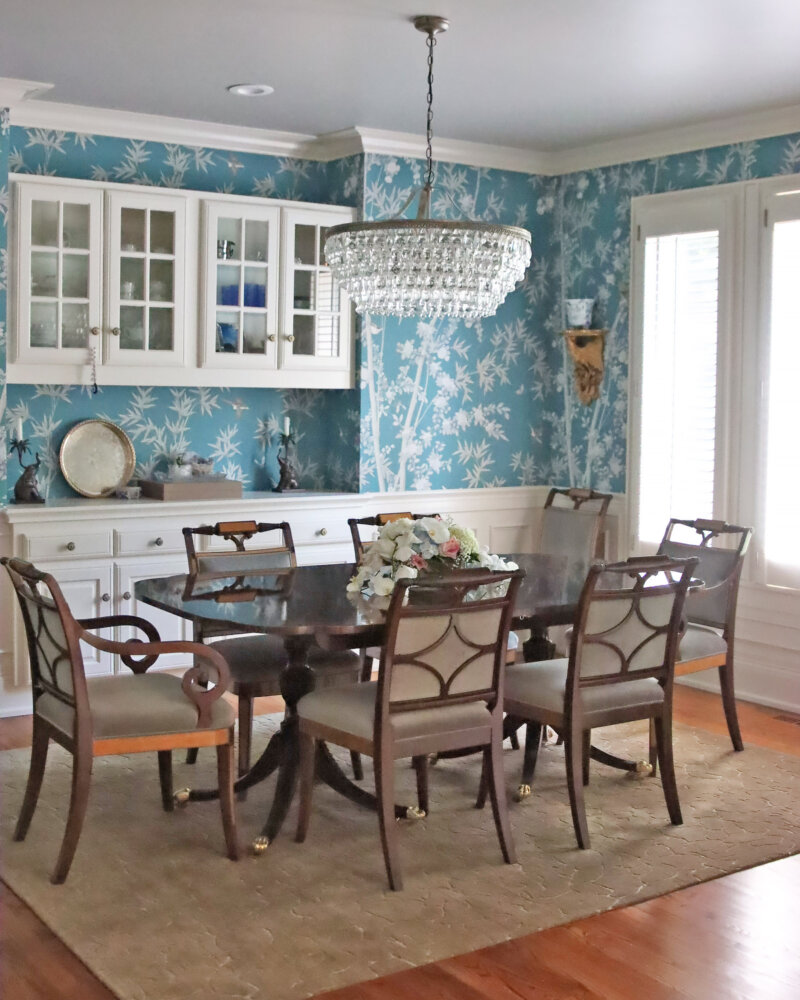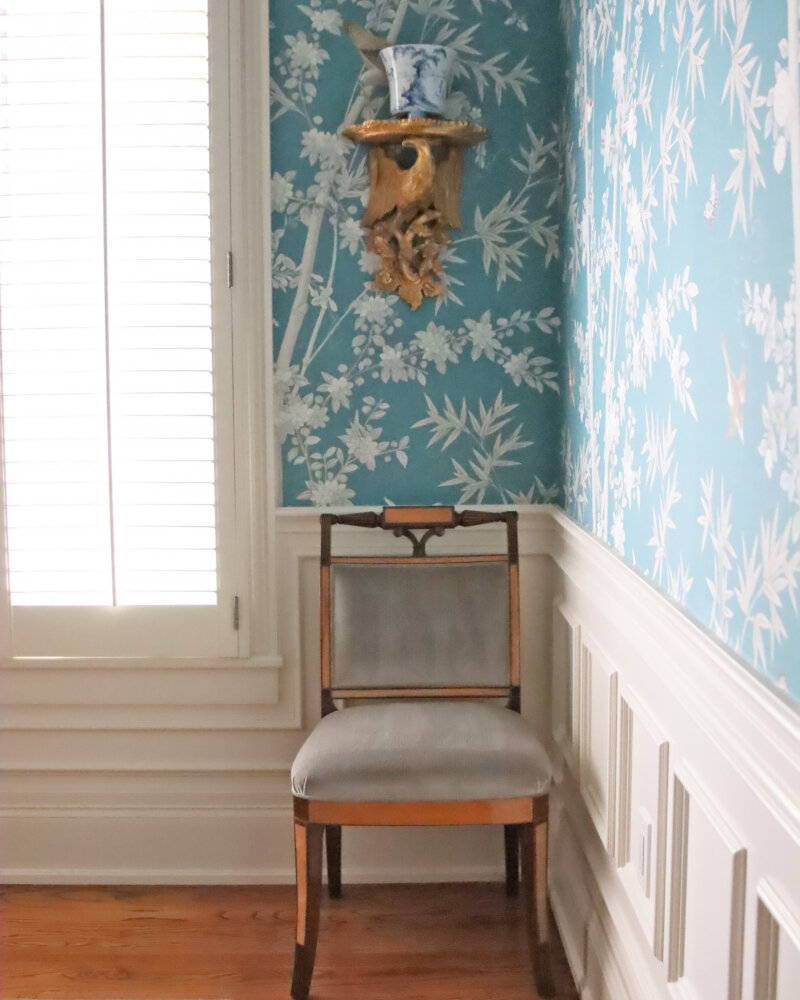 Ceiling Color: Sherwin-Williams "Light French Gray". Trim Color: Sherwin-Williams "Ivory Lace". Wallpaper: Schumacher "Brighton Pavilion" in Peacock. Table and Chairs by Kindel. Frontgate Telfair Sideboard. Gold Ribbon and Reed Knob Hardware. Chandelier: Old, came with house. Sconces, Mirror, Toile Vases: Antiques. Rug: Old, HW Home. Wallpaper and Dining Table + Chairs Ordered via DeWitt Designs.
See another before + after project at the new house: Georgina's playroom post.
I've seen people discussing whether formal dining rooms are unnecessary – do we really need one when we have breakfast tables and kitchen islands? But I can't imagine not having one in a "forever home". My family's dining room is full of my childhood memories – holidays spent together, birthday celebrations, friends surrounding the table until the wee hours of the morning. We can't wait to make memories as our own little family around this table.
We had been wanting to redo the dining room at our previous house, but decided to wait until we moved to the new house. And it was worth the wait; it has become one of my favorite rooms in the house. I am in love with the beautiful trim and moulding in this space. And the extra built-in storage was welcome for someone like me who adores tableware and table linens. (I even have a little room to expand my collection!)
When I saw the room for the first time, I pictured a specific wallpaper in my mind. I had browsed online and when our decorator pulled this wallpaper out of a suitcase full of samples, I instantly knew it was the one I had envisioned for our dining room. I love the chinoiserie design, curious birds and butterflies peeking throughout, and the pop of color to add a little life to my otherwise neutral decor palette. Each time I walk through this room, I feel happy.
We chose a table and chair set from Kindel Furniture; they are one of the last furniture manufacturers to make their pieces entirely in the United States. Everything about this dining set makes me swoon; the shiny lacquer finish is elegant and timeless, the inlay work is beautiful, and the upholstered chairs are as comfortable as they are gorgeous. We hope to make many memories as a family around this table in the years to come. If you are looking for a less pricey version of this table and chairs, I suggest searching "Duncan Phyfe table and chairs" in your local area – either eBay pickup, Craigslist, or Facebook Marketplace. This style is a bit more scarce out West where we live, but there is a treasure trove of beautiful pieces at fantastic prices, especially on the East Coast and in the South.
Small changes I made were having the ceiling painted to complement the wallpaper (Sherwin-Williams "Light French Gray") and switching to these more ornate gold knobs. I also switched the hardware on the painted sideboard to create a more cohesive feel, although I'm wondering if a matching Kindel sideboard wouldn't be the perfect touch in the future. I kept our old wool + silk rug, which adds a fresh contemporary feel to this traditional room. And after finally receiving our dining set, I'm considering switching out this chandelier… Wondering if all-gold would be too much? Would all-crystal be too formal? The saying is true… Decor/design is never truly finished. We just keep tweaking our spaces as time goes on.
Here's for formal dining rooms; may they never disappear, despite what the current trends say.